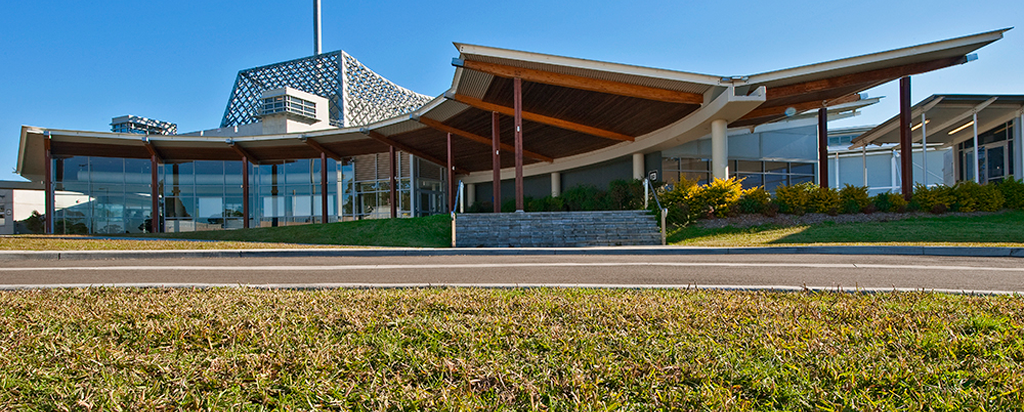 Lucas Heights
ANSTO's Lucas Heights campus is 40km south-west of the Sydney CBD.
Getting to ANSTO by car is easy and there is plenty of free onsite parking for all visitors.  
Address: New Illawarra Road, Lucas Heights, NSW 2234
Public Transport
ANSTO provides a mini-bus service between ANSTO and the Sutherland bus interchange, on weekdays only (Monday to Friday, excluding public holidays).
The bus accommodates 24 passengers – Please note due to COVID the bus driver will limit the number of passengers in line with current rules and regulations.
The ANSTO mini-bus leaves from Bus Interchange Bay B as seen below.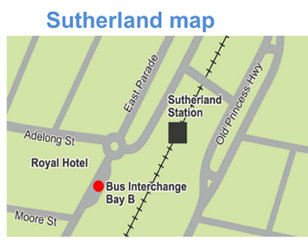 Timetable
AM Shuttle

 
 
Depart

Sutherland Station

Leave

ANSTO MOTEL

Leave

ANSTO MAIN ENTRANCE




(Back to Sutherland)

7:30 am

7:44 am

7:45 am

8:00 am

8:14 am

8:15 am

8:40 am

8:54 am

8:55 am

9:15 am

9:29 am

9:30 am

10:00 am

10:14 am

10:15 am

11:00 am

11:14 am

End of AM service
(Does not return to Sutherland)
PM Shuttle

 
 
Leave

ANSTO MAIN ENTRANCE

Leave 

ANSTO MOTEL




(Back to Sutherland)

Leave Sutherland Station
(Back to ANSTO)

4:05 pm

4:06 pm

4:30 pm

5:05 pm

5:06 pm

5:30 pm

6:05 pm

6:06 pm

6:25 pm

6:50 pm

6:51 pm

End of PM service
(Does not return to ANSTO)
Ticket cost
Individual tickets are $3 each or $30 for a 10 pass booklet. Tickets can be purchased from the ANSTO Discovery Centre. No concessions available.
The bus driver is unable to sell tickets however new users will be accommodated on their first trip to ANSTO.
COVID restrictions – At peak times the driver may instruct passengers to wait for the next service due to over crowding on the bus – Please ensure you assist the driver and your fellow passengers by staying safe and following directions from the shuttle service staff at all times.
Reception
If you're visiting ANSTO for business or research purposes you will need to check-in at reception. 
Cafe
The Cafe is open weekdays from 7am.
Breakfast is served All day and lunch is available between 11am to 2.30pm.
Our Barista made coffee, cakes, grab 'n' go packs, sushi and rice paper rolls and fruit salad packs are served all day.
The ANSTO Cafe is operated by The Peter Rowland Group and also offer catering for external functions.
Discovery Centre
The Discovery Centre is open weekdays from 9am to 5pm.
Tours of ANSTO's Lucas Heights facility are available for the community, school groups and private or special interest groups. 
The Discovery Centre is located by the front entrance of ANSTO, opposite the cafe.
Accommodation
The Lucas Heights Motel offers 3.5 star accommodation and includes 18 standard motel rooms and two self-contained family units that sleep four people.
Phone number: +61 2 8525 4400
Site safety and security procedures
To help maintain the safety and security of the ANSTO site, it is important that all of our visitors follow ANSTO's safety procedures and are familiar with the conditions of entry prior to arrival. If you are entering the secure areas of our Lucas Heights facility, you will be asked to present appropriate identification upon arrival.
Read more

To help maintain the safety and security of the ANSTO site, it is important that all our visitors follow ANSTO's procedures and are familiar with the conditions of entry to the site. 

When visiting ANSTO, you will need to:   

Be prepared to show proof of double COVID vaccination if requested by ANSTO staff

Have the visit pre-arranged
Present to ANSTO Reception or the Discovery Centre 
Provide identification such as
- an Australian or foreign passport
- an Australian driver's licence
- a Proof of Age card
- an Australian government issued photo ID card
- two alternate forms of non-photographic identification such as marriage certificate, birth certificate, bank document or credit card
Be signed in and escorted by an ANSTO ID Pass holder
Display a visitor ID Pass

 

You will also need to be aware that:
 

Visitors must declare all electronic devices they are carrying that have embedded camera capability upon arrival. A decision will be made as to whether this device may be brought onsite
Visitors cannot take photographs or recordings on site without written approval
Laptops and memory sticks may be taken on site but must also be declared upon arrival
Lockers are available for visitor use
Additional visitor guidelines have been developed for journalists, media and visitors to sensitive areas. Onsite requirements will be communicated upon arrival