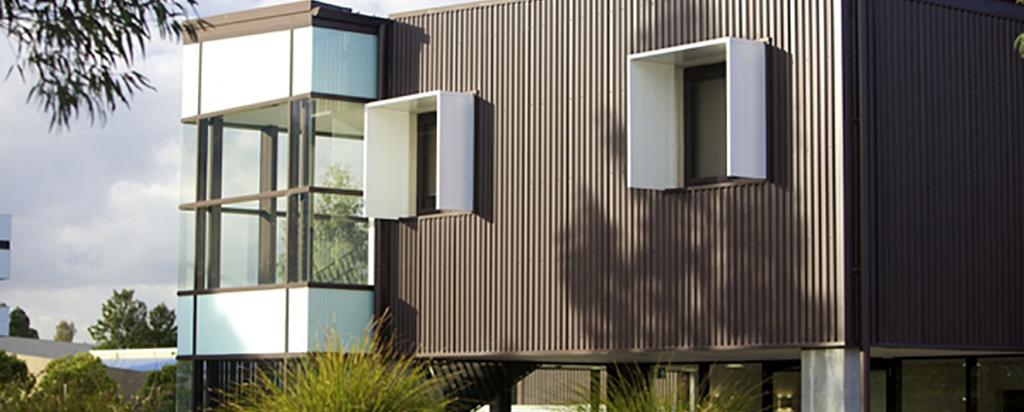 IMPORTANT FACILITY UPDATE 01.05.23
We are currently undertaking significant excavation and construction work at the Australian Synchrotron facility. This activity is not slated for completion until the end of 2023.
As this work has severely impacted pedestrian access to the guesthouse, we have conducted a review of our safety protocols. To ensure all personnel can safely and effectively navigate site, we are restricting guesthouse stays to only those guests participating in beamtime, or onsite ANSTO meetings.
We are therefore unable to offer accommodation to friends and family members during this time. Please contact the ANSTO Victoria User Office for further information.
AUSTRALIAN SYNCHROTRON GUESTHOUSE
The Australian Synchrotron has an on-site guesthouse that is available for all users and guests. Bookings can be made by filling out the Accommodation Application Form below and emailing the form to the User Office. The User Office does not accept bookings by phone. By downloading and submitting this application you are agreeing to the terms and conditions.
To check availability for a group booking at the guesthouse, please email the User Office. 
Accommodation Application Form
Users participating in beamtime at the Australian Synchrotron should submit their funding and/or accommodation request via the Australian Synchrotron User Portal.
Guesthouse Rates
 AS Affiliated guests - Guests that are staying in the guesthouse in relation to Australian Synchrotron business, eg. beamtime#
Non-AS Affiliated guests - Guests that are not attending the Australian Synchrotron while staying at the guesthouse. 
Please note: A guesthouse rate re-structure will be applied from 01 January 2020. This will mark the first rate change since guesthouse inception in 2012.
 

AS affiliated guests

Non-AS affiliated guests

Twin Share
 $110 per night
$150 per night
 Containing two single beds in a shared room, plus ensuite  (max 2 guests)
Queen Room
 $110 per night
$150 per night
 Containing one queen size bed, plus ensuite  (max 2 guests)
2 Bedroom Apartment
 $140 per night
 $180 per night
 Containing a queen size bed in one room and a single bed in the second room, plus bathroom (max 3 guests)
Charges are for the room or apartment (not per person) and are inclusive of GST
Payment is required prior to arrival. A credit card payment link will be provided by the User Office upon confirmation of booking.
Check-in procedure
Monday - Friday, between  8:30am and 4:30pm, please proceed to the User Office to check in - located in the National Centre for Synchrotron Science (NCSS). Check-in is not available at the guesthouse building.
After hours, please proceed to the security desk located in the foyer of the Australian Synchrotron building. If the desk is unattended, please contact 03 8540 4120 or 0437 103 891 from the phone provided.
Facilities
Check-in time from: 2:00pm
Check-out by: 10:00am

*After hours check-in available

 

Wi-Fi is available throughout the guesthouse free of charge

The guesthouse has tea and coffee-making facilities in the communal kitchen and now in all guestrooms

Laundry facilities are available on site and washing powder is supplied

Breakfast cereal is supplied, as well as refrigerators, cooking appliances and cookware for guest use

A supply of toiletries is provided for your first night. You will need to supply your own beyond this time. Toilet paper is supplied throughout

Your room key will provide you with access to the AS guesthouse building

Bed linen and towels will be refreshed if your stay is over a week

There is STRICTLY NO SMOKING anywhere in the AS guesthouse

The Australian Synchrotron is a no-alcohol facility. Alcohol consumption is not permitted
*Failure to vacate your room by 10am will incur the cost of an additional nights accommodation. Please ensure you remove all personal belongings at time of check-out.
Please note: no accommodation is available for pets 
Contact the User Office
Contact the Melbourne User Office
Office Hours:  Monday to Friday 8.30am - 4.30pm