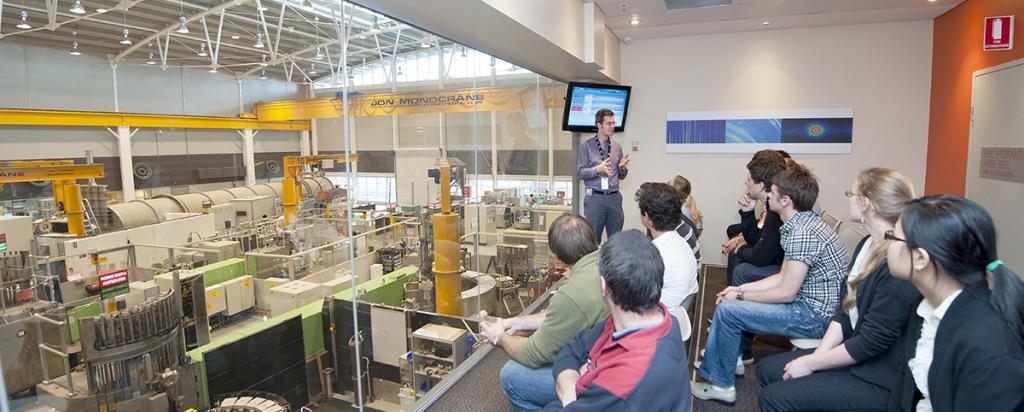 ANSTO campuses are open to the public and you're invited to visit and learn more about the amazing world of nuclear science.
Frequently asked questions about ANSTO
Who runs ANSTO?

ANSTO is run by the Australian Government and is funded by taxpayers. The ANSTO Act sets the parameters of our work and our CEO reports to the Board appointed by the Governor-General.
Who regulates ANSTO?
Where is ANSTO located?
How does ANSTO's operation help the local community?

ANSTO is helping to improve our health with most Australians benefiting from the nuclear medicines produced using OPAL research reactor when being diagnosed and treated for serious illnesses such as heart disease and cancer. ANSTO also produces research outcomes for the environment and industry.
What ANSTO facilities can the community access every day?

Members of the public can book in to take a tour of ANSTO's Lucas Heights facilities. ANSTO also has a café onsite and a motel which is available day to the public. ANSTO also has a great childcare centre with places available to families in the community.
Why is there security at Lucas Heights?

Strict measures are enforced with gaining access to ANSTO because of the safety of visitors and for the protection of the public. The site also has highly valuable infrastructure and equipment that needs to be secure.
Who can I contact for more information about ANSTO? 
Questions about OPAL
What is the OPAL research reactor and what does it stand for?

OPAL stands for Open Pool Australian Light-water reactor and is a research reactor that is designed to produce neutrons used in research and to produce radioisotopes.
What powers OPAL?

OPAL is fuelled by low-enriched uranium and capable of generating 20 MW (megawatts) of thermal power. However OPAL does not produce electricity and its sole function is to produce neutrons for research purposes and for products and services.
How safe is OPAL?
What would happen if a plane flew into OPAL?

If a plane flew into OPAL there would be no damage to the reactor itself as it is protected against severe impacts by its design. OPAL is protected by a strong containment building that has thick concrete walls.
If there was an earthquake how would this affect OPAL?

OPAL is able to withstand an extreme earthquake and in this situation, OPAL would be safely shut down as a safety measure.
Where can I learn more information about OPAL?
Questions about Safety
Does ANSTO have an emergency response plan?

Yes. Our emergency plan ensures that in an emergency all individuals can safely get off site. The plan is carried out in accordance with the NSW emergency planning framework. 
Does ANSTO have a fire safety plan?

Yes. ANSTO prepares for the NSW bush fire season by implementing a range of bush fire hazard reduction programs. Our plan ensures we take the necessary measures to safeguard lives and to protect buildings and critical infrastructure.
Where can I find more information about how to be prepared for an emergency?

The NSW Police and Emergency Services provide information on how to be prepared for an emergency. 
How can I develop my own emergency plan?

You can develop your own emergency plan so you know what to do in a bush fire, flood or storm emergency. 
How is radioactive waste managed?