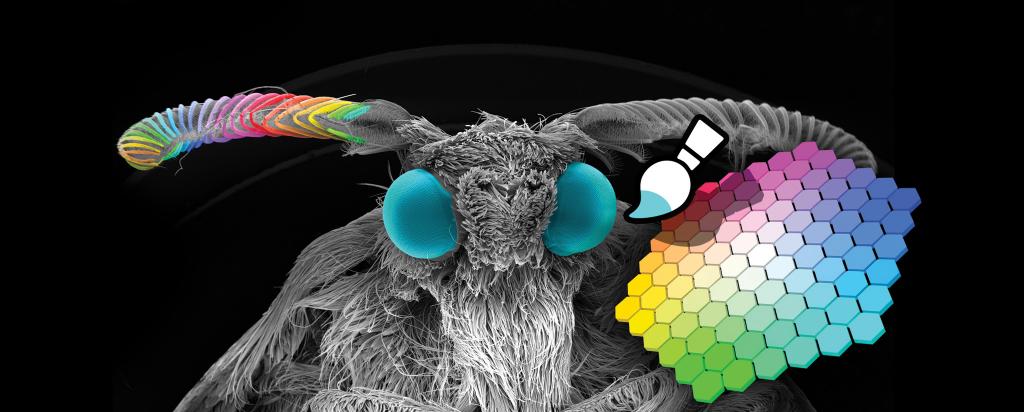 ANSTO's first digital colouring competition combined science and creativity giving students the opportunity to colour an electron microscope image.
The image captures an incredibly close view of an insect from one of the instruments taken by ANSTO scientist, Dr Daniel Oldfield, at ANSTO's Electron Microscopy Facility.
Instead of his usual type of industrial and biomedical materials, Dr Oldfield provided images of a bee, fly, caterpillar, mosquito, and moth for the competition.
One hundred and fourteen primary and 64 high school students in Kindergarten up to Year 11 submitted entries.
The standard of entries was of a very high standard and ANSTO commended all participants for their efforts. Dr Oldfield, who blind-judged the entries, found it "an extremely difficult choice."
The winner in the high school student category was Jorja S, a Year 9 student from West Hoxton, NSW.
"The colour composition, the attention to fine detail, and several different colour transitions, made this Moth Eye image an outstanding piece," said Dr Oldfield.
The entry by Cate C, a Year 10 student from Yowie Bay, NSW, was runner up in the high school category: "The student did an incredible job. The image is very dark, so it was extremely impressive to see the focus they placed on the finer (and somewhat obscured) details".
The winner in the primary school student category was Hayley W, a Year 5 student from Kedron, Queensland, for her Fly Eye colouring.
Dr Oldfield commented, "I like how the colour scheme is unique for each segment of the compound eye – this shows real creativity."
The runner-up for the primary student category was Sophia W, also in Year 5 from Kedron, Queensland. Dr Oldfield said: "I love the vibrant colour in this work!"
Other Top 10 finalists in the high school student category are: Alison S (Year 7) from Swan View WA, Marian B (Year 10) from Penshurst NSW, Susannah W (Year 8) from Kellyville NSW, Claire S (Year 8) from Towradgi NSW, Azariah W (Year 10) from Mission Beach QLD, Faustina L (Year 9) from Macquarie Fields NSW, Mia B (Year 9) from Wallacia NSW and Charlotte Y (Year 9) from Pheasants Nest NSW.
Other Top 10 finalists in the primary student category are: Zane B (Year 5) from Austinmer NSW, Alexandra V (Year 4) from Lewisham NSW, Mackenzie W (Year 6) from Padstow Heights NSW, Mena D (Year 6) from Altona North VIC, Nova M (Year 5) from Kedron QLD, Cathy L (Year 6) from Earlwood NSW, Catelyn A (Year 3) from Wollstonecraft NSW and Anvi K (Year 6) from Schofield NSW.
All finalists will receive a certificate. Winners will receive a certificate and prize pack.
Top 10 - High school entries
Top 10 - Primary school entries