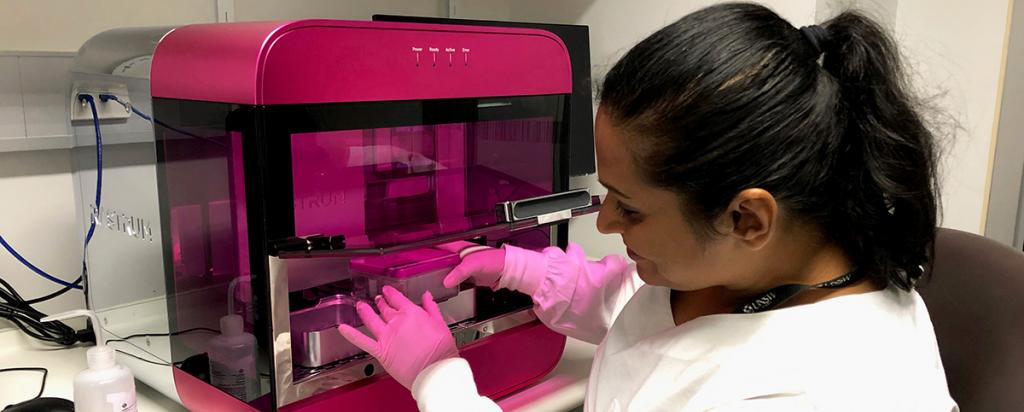 Published on the 11th October 2021 by ANSTO Staff
Researchers and industry partners from UNSW Australia, the Australian Centre for Nanomedicine, Children's Cancer Institute and Inventia Life Sciences Pty Ltd have been awarded the 2021 ANSTO Eureka Prize for Innovative Use of Technology for their method to rapidly-produce 3D cell structures. 
The 2021 Australian Museum Eureka Prizes were held last week at a virtual event.
Team Rastrum has developed a breakthrough bioprinting system that can rapidly produce 3D cell structures with unprecedented cell viability and tunability. It is seen as a game-changer for cancer research and therapeutic development as current enhanced 3D methods are slow and expensive.
The team comprises Professor Justin Gooding, Professor Maria Kavallaris AM, Dr Julio Ribeiro, Dr Aidan O'Mahony, Dr Robert Utama and Dr Lakmali Atapattu.
It was one of 17 prizes awarded to honour excellence across the areas of research & innovation, leadership, science engagement, and school science.
A panel of eminent and qualified individuals judge Australia's most comprehensive national science award program.
ANSTO Board Chair the Hon Dr Annabelle Bennett AC SC awarded the ANSTO Eureka Prize for Innovative Use of Technology at the online event on 7 October.
ANSTO has proudly sponsored the Australian Museum's Eureka Prizes Innovative Use of Technology award for ten years.
"In the decade that ANSTO has sponsored the Eureka Prizes, we've been proud to witness some of Australia's biggest game-changers in innovation recognised and awarded for their outstanding achievements," said CEO Shaun Jenkinson.
 
Previous recipients of the ANSTO Innovative Use of Technology include:

2020
Monash Pharmaceutical Milkshake Team
Monash University and ANSTO
The Monash Milk Team has developed novel synchrotron-based methods for studying the interaction of milk and milk-like systems with drugs. Their work has potential applications across a wide range of drug classes and diseases and has already advanced the development of safe and effective drug formulations for children, including the first single-dose cure for malaria.
2019
Synthetic biomaterials to heal bone defects
Professor Hala Zreiqat, University of Sydney
Professor Hala Zreiqat and her team have developed the world's first synthetic biomaterials capable of healing large bone defects, even in load-bearing positions like the spine or lower limbs. Using mathematical modelling techniques and customised 3D-printing technology, they have also developed the capabilities to print these strong, bioactive and bioresorbable biomaterials in any size or shape.
2018
Detecting abnormal chromosomes in leukaemia cells
Professor Wendy Erber, Dr Kathryn Fuller and Henry Hui, University of Western Australia
The groundbreaking invention by Professor Wendy Erber, Dr Kathy Fuller and Henry Hui can detect abnormal chromosomes inside leukaemia cells. This fast, accurate and sensitive automated method can detect just one leukaemia cell in 10,000 normal cells, a major advance that will lead to personalised treatments and better patient care.
2017
FREO2
University of Melbourne
The FREO2 Siphon concentrator produces, stores and delivers medical-grade oxygen to critically ill newborn babies without needing a secure source of electricity. This innovative technology has the potential to substantially reduce infant mortality rates arising from hypoxic illnesses in low-resource settings, such as Papua New Guinea, East Timor and sub-Saharan Africa.
2016
Hyperspectral imaging technology
Professor Ewa Goldys, Macquarie University and ARC Centre of Excellence for Nanoscale BioPhotonics; and Quantitative Pty Ltd
The hyperspectral imaging technology, developed by Professor Ewa Goldys and Dr Martin Gosnell, enables the colour of cells and tissues to be used as a non-invasive medical diagnostic tool. This powerful approach is easily accessible and yields translational outcomes for patients and industry.
2015
Storing electricity for cooling purposes
Associate Professor Frank Bruno, Dr Martin Belusko and Dr Steven Tay, University of South Australia
Associate Professor Frank Bruno and his team have combined a number of innovations to provide an inexpensive alternative for storing electricity to be used for cooling. These innovations include concepts such as dynamic melting, 'coil-in-tank' and a low-cost storage medium, all of which can be integrated with renewable energy sources.
2014
DIY Droplet Lens
Garvan Institute of Medical Research and Australian National UniversityThe traditional light microscope is bulky and expensive. Dr Tri Phan and Dr Steve Lee used gravity to manufacture high-performance polymer lenses. These can be seamlessly integrated with 3D printing and mini-LEDs to produce a cheap, portable microscope device that is digital and web-enabled to transform smartphones into mobile laboratories, all for just $2 each.
2014
Handheld 3D Laser Scanner
Zebedee Team, CSIR
Zebedee is a handheld laser scanner that generates 3D maps of challenging environments in the time it takes to walk through them. Zebedee can localise itself solely using its own measurements and thus it can operate in GPS-denied environments and is well-suited to various scientific and commercial applications including forest and cave surveying, building maintenance, security inspection, mining, manufacturing, emergency services, and cultural heritage mapping.
2013
Bioactive Paper Diagnostics
Monash University
This Monash University team, led by Associate Professor Wei Shen, and colleague Professor Gil Garnier, have successfully developed a low-cost bioactive paper device for blood typing tests. Inspired by Harry Potter, the test quickly spells out your blood type in written text on paper enabling non-professional users to interpret the test results.
2012
Pressure sensing catheter
Dr John Arkwright, CSIRO; Dr Philip Dinning, Flinders University
Using a fusion of fibre optic technology and clinical expertise, Dr Arkwright and Dr Dinning have developed a pressure sensing catheter that provides intricate detail of muscular contractions from deep within the human colon. These devices are providing new hope in the search for therapies for socially taboo diseases such as constipation and incontinence.