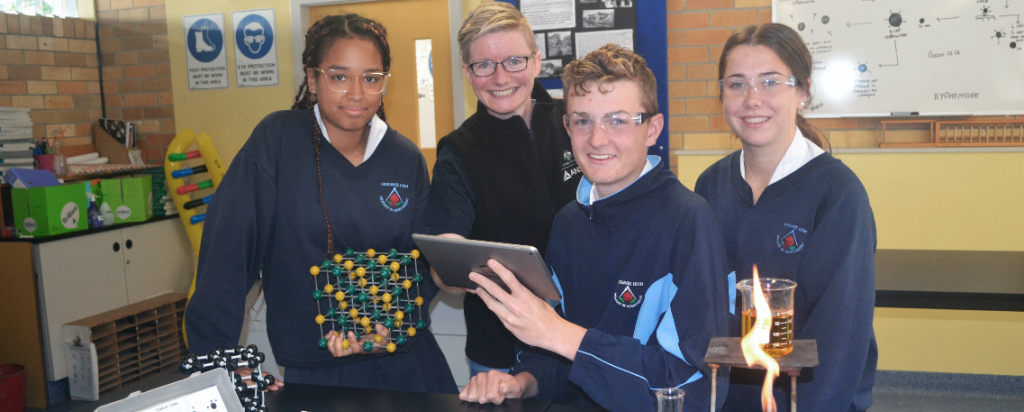 Published on the 12th August 2019 by ANSTO Staff
Launching in time for National Science Week, from today ANSTO periodic table posters in schools across Australia will be able to activate the ANSTO XR augmented reality app for free.
Simply by scanning the periodic table with your IOS or Android device, key elements across the periodic table are brought to life – literally jumping out off the table as key facts are shared with the students.
Minister for Industry, Science and Technology, Karen Andrews, said it is essential that STEM subjects are appealing and interesting for our next generation.
"It's so important that we get as many children as possible studying these subjects, because so many of the jobs of the future will require the skills," Minister Andrews said.
Dr Adi Paterson, CEO at ANSTO, said ANSTO is committed to engaging the next generation with STEM and by using virtual reality and now augmented reality apps, we can introduce science in new and ingenious ways. 
"This app is set to change Australia's science classrooms as we know them. It has the potential to foster an early interest in science that could lead to more students choosing STEM subjects at university," Dr Paterson said.
"Every single ANSTO periodic table, in every science classroom in Australia can from today be used to activate the augmented reality app, which is free to download."
Year 9 Kirrawee High School student, Elena Mbeya, who recently trialled the app, said it's a great and engaging way to learn science.
"When I grow up, I would love to be a material science engineer, so I really enjoyed using this app. It's definitely a great way to make science more fun and engaging," Elena said.
2019 is the UNESCO International Year of the Periodic table. For the past 10 years, ANSTO has been providing schools with periodic table posters.
ANSTO continues to apply new technologies to develop multi-sensory experiences to help engage students in STEM. 
The periodic table of elements is a key feature of the Australian science curriculum and is introduced to all students in yr 9.
ANSTO launched a Virtual Reality experience of the OPAL Multi-purpose reactor in 2018 which has been extremely popular and ranked within the top 100 education apps in 2018 by Apple.  
For information on how to download ANSTO XR and what devices are supported click here.
Schools who don't yet have an ANTSO compatible periodic table can download one.
Apple iOS 11.3 or Android 7.0 is required to use ANSTO XR.
For video of the virtual reality click here
Media Contact: Phil McCall 0438 619 987