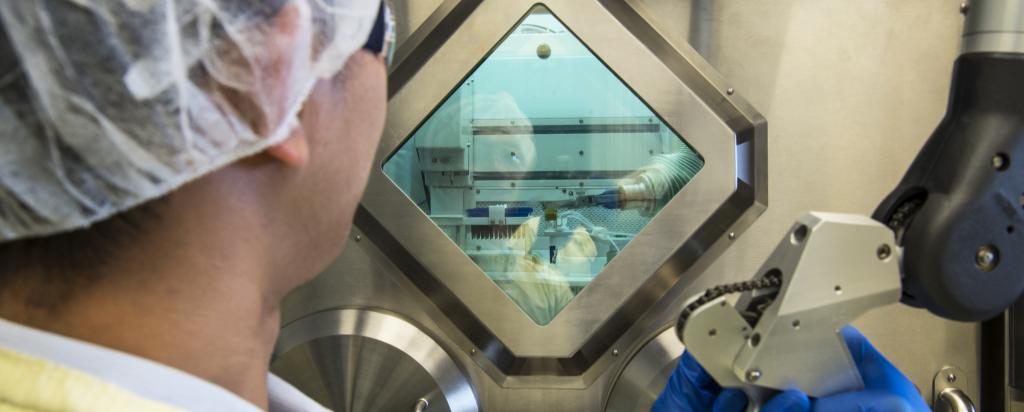 Published on the 14th February 2022 by ANSTO Staff
Applied Molecular Therapies (AMT) has announced a successful TGA licence upgrade for the GMP manufacture of an emerging prostate cancer therapy, following the launch of a new joint venture between Cyclotek and ANSTO.
177Lu(n.c.a.)-PSMA-Therapy is a molecular targeted radiopharmaceutical that binds to the PSMA (Prostate Specific Membrane Antigen) in men living with prostate cancer.
Prostate cancer is the second most common cancer diagnosed in Australian men and the third most common cause of cancer death. It's estimated more than 18,000 new cases of prostate cancer will be diagnosed in Australia this year.
While early detection and treatment can significantly improve the survival rate, more than 3,000 Australian men still die of prostate cancer each year.
In recent years much attention has focused on Lutetium-177 PSMA as a treatment for late-stage prostate cancer with several Australian and international trials providing strong evidence that this therapy improves clinical outcomes and can prolong survival.
AMT CEO Greg Santamaria explained that PSMA molecule targeting diagnostics and therapies are advancing globally to support prostate cancer patients and AMT seeks to ensure Australia and New Zealand have equity in access to highest quality products.
"Positive clinical trials globally, including Australia, have shown benefits in the use of Lutetium-177 and PSMA as a radiopharmaceutical in assisting men living with metastatic prostate cancer and improving treatment outcomes," said Mr Santamaria.
177Lu(n.c.a.)-PSMA-Therapy will only be available for use under the TGA special access scheme and within clinical trials.
The availability of a GMP manufactured product for use in Australia and New Zealand provides patients and clinicians with the confidence that these therapeutic products meet all the safety and quality standards expected of therapeutic products.
"Using Lutetium-177 produced by ANSTO, enables agile production and ensures best in class radioisotopes are being used for our customers confidence and patient benefit," said Mr Santamaria.
AMT collaborated extensively with both Cyclotek and ANSTO to develop 177Lu(n.c.a.)-PSMA-Therapy ensuring that the product meets the regulatory standards for a sterile injectable product with a suitable stability and shelf-life profile that allows for shipping across Australia and New Zealand.  
"Our engagement with ANSTO researchers has been a true joint venture with a systematic approach to great chemistry and quality driving the success in bringing this product to life," explained AMT Director, Dr Rob Ware.
"It's an outstanding testament to the skills and commitment of so many within the Cyclotek and ANSTO collective teams."
ANSTO CEO Shaun Jenkinson added, "One of our core missions is to support advanced manufacturing, and to advance the use of radiopharmaceuticals to improve the health of Australians.
"This JV is a significant step in establishing a sovereign manufacturing base to enable supply, delivery and greater access of new theranostic radiopharmaceuticals."
For more details: www.appliedmoleculartherapies.com
---
Applied Molecular Therapies:
Applied Molecular Therapies Pty Ltd (AMT), is a joint venture company established by Cyclotek Theranostics Pty Ltd (Cyclotek) and ANSTO, to establish Australia's first GMP (Good Manufacturing Practice) theranostics facility in Melbourne, Australia. 
These two leading nuclear medicine enterprises came together to develop, manufacture and supply the next generation of therapeutic radiopharmaceuticals for cancer treatments as a Contract Development and Manufacturing Organisation (CDMO), across a range of targeting molecules and various therapeutic radionuclides.
n.c.a. Lutetium-177
No carrier-added Lutetium-177 (n.c.a. 177Lu) chloride, is a radiopharmaceutical precursor used in targeted radionuclide therapy for the treatment of various diseases, like cancer. When labeled with a tumor-specific targeting molecule (e. g. peptide or antibody), the targeted radiopharmaceutical binds to a tumor-specific receptor, according to the lock and key principle. n.c.a. 177Lu has a half-life of 6.647 days and provides the highest specific activity of more than 3,000 GBq/mg at Activity Reference Time (ART). No carrier-added (n.c.a.) 177Lu exhibits an extraordinary level of radionuclidic purity and does not contain metastable Lutetium-177m circumventing cost intensive clinical disposal management. n.c.a. Lutetium-177 is manufactured by ANSTO in Australia.
177Lu(n.c.a.)- PSMA-Therapy
177Lu(n.c.a.)-PSMA-I&T is a beta particle emitting therapeutic radiopharmaceutical for treating prostate cancer.
The molecule's mechanism of action is to bind to the enzymatic site of a cell surface receptor known as Prostate-Specific Membrane Antigen (PSMA), causing enzyme inhibition with subsequent internalization. As PSMA receptors are present in very large numbers in aggressive prostate carcinoma, but only low numbers in most normal human tissues 177Lu(n.c.a.)-PSMA-I&T functions as a highly targeted therapeutic for internal radiation of PSMA-expressing prostate cancer.