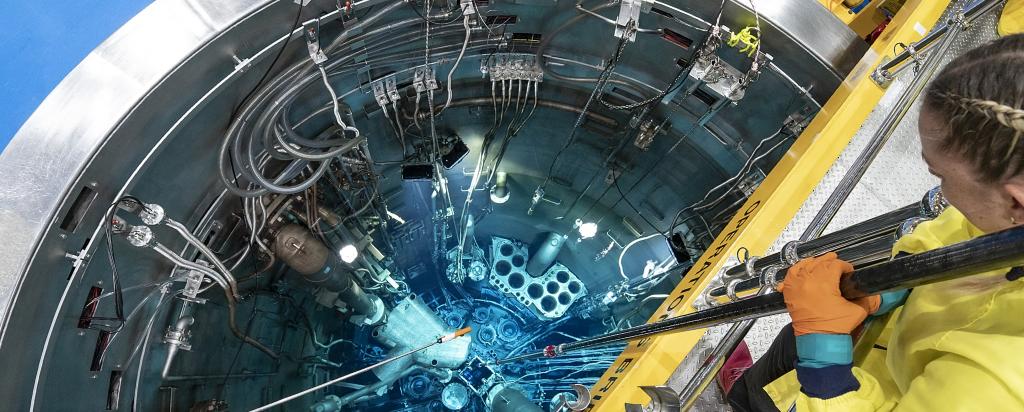 Published on the 28th February 2023 by ANSTO Staff
The Australian Nuclear science and Technology Organisation (ANSTO) has been steadily building Australia's nuclear expertise over the past 70 years. Today, despite being small in scale, Australia is amongst the world's most complex and sophisticated nuclear nations.
During his visit to Australia in July 2022, International Atomic Energy Agency (IAEA) Director General Rafael Grossi expressed deep confidence in Australia, acknowledging the solid foundations established through ANSTO since its formation, which has demonstrated Australia's mature nuclear capability and stewardship credentials.
In December that same year, ANSTO completed the largest co-ordinated safety and security review of our Open Pool Australian Light-water (OPAL) multi-purpose reactor as part of a new world-leading approach to performance assessment.
The review was one of the first Periodic Safety and Security Reviews of its type in the world. Using an approach designed by the IAEA for assessing the safety of power reactors, it was adopted by ANSTO and covered 15 safety and 19 security factors.
This rigorous assessment provides steadfast assurance of the ongoing operations and reliability of the OPAL multi-purpose reactor. After 15 years of operation, this review confirms that OPAL is one of the safest and most reliable reactors in the world today.
'Nuclear stewardship' is a phrase used in the nuclear community. At ANSTO, it refers to the responsible planning, operation, application, management and leadership of nuclear facilities and technologies to ensure that the highest levels of safety, security, safeguards and sustainability are achieved to maximise utilisation, benefit and assurance for the Australian people.
Effective nuclear stewardship is attained by an array of underpinning and cross-cutting functions spanning safety, security and safeguards enabled by a base of scientific and technical capabilities. This role has been central to ANSTO's operations and our international standing over the past 70 years.
The dedicated nuclear stewardship science group at ANSTO provides expert and reliable scientific and technical advice internally as well as to to the Australian Government, industry, and the international community on nuclear stewardship activities. 
Expert radioanalytical and environmental monitoring services meet the needs of ANSTO's nuclear operations, research and commercial activities. These capabilities also support national and state emergency response services and provide international leadership in security operations, nuclear forensics and border security technology. 
A team working within this important technical platform also maintains the national standard for the measurement of radioactivity, the Becquerel. Staff also operate national programs to disseminate Australian standards for the use of radioactivity in Australia's nuclear medicine industry, leading to improved patient outcomes.
ANSTO participates in and fulfils obligations as Australia's delegate to the Consultative Committee for Ionizing Radiation (CCRI) of the International Bureau of Weights and Measures (BIPM), the Asia Pacific Metrology Programme (APMP) and the International Committee for Radionuclide Metrology (ICRM).
ANSTO experts contribute technical global leadership in the areas of nuclear forensics, non-proliferation, radioanalytical measurement and radionuclide metrology. This includes selected international bilateral and multilateral partnerships with a focus on the South-East Asia and the Pacific regions.
ANSTO's strong stewardship of its own nuclear facilities forms the largest part of Australia's nuclear credentials which are complemented by the strong independent expertise of our Commonwealth regulators, the Australian Radiation Protection and Nuclear Safety Agency (ARPANSA) and Australian Safeguards and Non-Proliferation Office (ASNO).