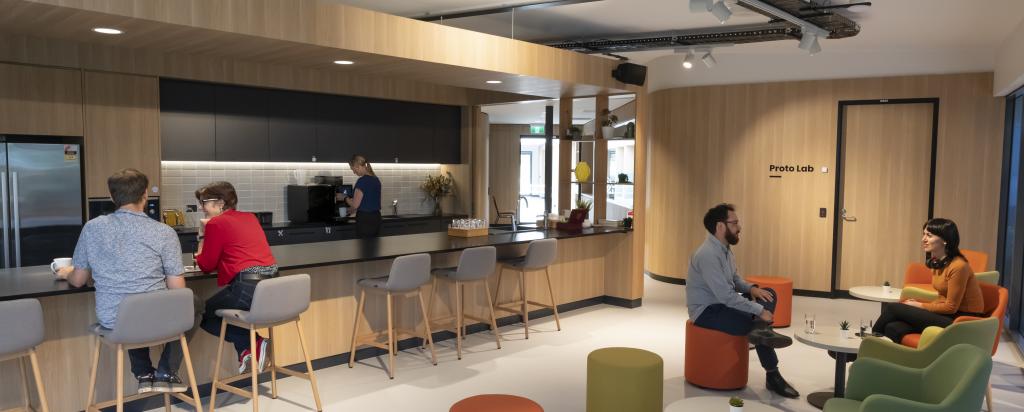 Published on the 26th August 2022 by ANSTO Staff
Jobs supported through the nandin Innovation Centre at ANSTO have skyrocketed 360 per cent since opening, with member businesses raising more than $3.9 million in capital, in a major boost for the local Sutherland Shire economy.
nandin now supports 35 businesses and startups which are developing and commercialising new cutting-edge technologies and designs.
ANSTO's Director of Innovation and Commercialisation, Dr Tim Boyle, said nandin's vision is to foster a collaborative and creative environment.
"We support our members at every stage of development, from providing the opportunity to connect with ANSTO's phenomenal research capabilities and knowledge, right through to getting their product to market," Dr Boyle said.
"nandin has an incredibly vibrant community involving startups, graduates, researchers and small business. By working together these relationships provide a combined knowledge and opportunity to develop ingenious solutions to solve the challenges and problems we're facing as a modern society.
"And it's not just about developing those ideas and solutions - but bringing them to life as innovative products and services," Dr Boyle added.
nandin has also been awarded a $430,000 NSW Government Boosting Business Innovation Program (BBIP) grant to further enhance and expand its innovation ecosystem.
"To be a recipient of this grant is recognition of the impact nandin is having not just here in Sydney, but across the state, the country and even the globe," Dr Boyle said.
"This kind of funding is vital to not only maintaining the high level of success we're already seeing, but to expanding the program and ensuring we continue to grow and support more innovative ideas and technologies into the future."
Members of nandin say the support and resources received are crucial to the success of their ideas, with the feedback provided overwhelmingly positive.
"Everyone is supportive and no idea is too crazy," Maree Stewart from MAS Management systems said.
"nandin is a community of leaders that help you realise your vision. nandin offers something quite unique within Australia and something few places in the world offer," Jamie Waldon from Bioair said.
"We are part of an incredibly capable and professional innovation and science community within nandin and ANSTO. Nandin is really helping ideas come to life," Mr Waldon added.
The word nandin means 'look ahead' in the language of the Dharawal people, the traditional owners of the land on which ANSTO is located in southern Sydney. The name was gifted to ANSTO for use in the Innovation Precinct by one of the late Dharawal elders.
Media Contact: Mia Burns 0431 465 306