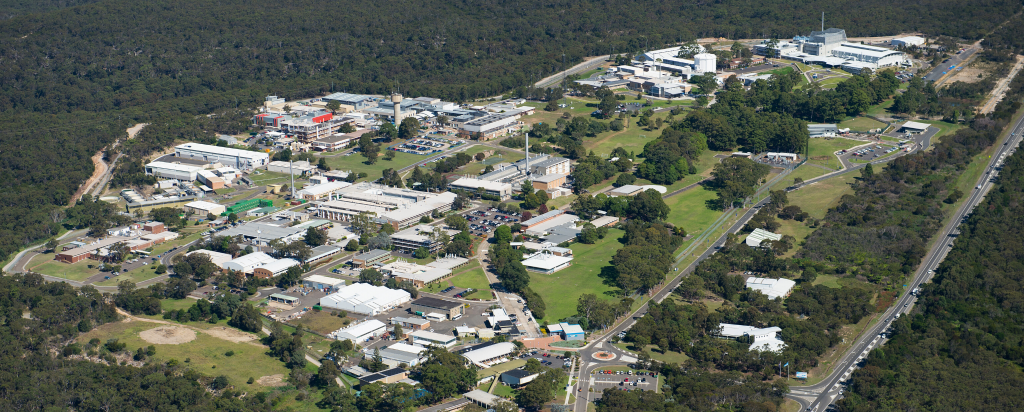 Published on the 15th May 2020 by ANSTO Staff
ANSTO's Lucas Heights campus is undergoing a transformation to become Sydney's newest nexus where industry connects with science, and the local community connects with the world. 
Under the plan, science will be put to work delivering innovation for industry and jobs of the future for Greater Sydney's South District.
The ANSTO Collaboration Area Place Strategy was launched today by Greater Sydney Commission, paving the way for a precinct devoted to science, innovation, industry, and the jobs of the future.
The strategy was designed by the Greater Sydney Commission (GSC) in conjunction with 17 businesses, local, state and federal government representatives, policy groups and other stakeholders.
ANSTO's CEO, Dr Adi Paterson, said ANSTO's Collaboration Area Place Strategy will further position both ANSTO and the Sutherland Shire more broadly as a leader in global innovation.
"ANSTO's Lucas Heights campus will become the place where some of Australia's best and brightest scientists, engineers and graduates connect with emerging industries and entrepreneurs to develop the new solutions that will support our economy and jobs growth into the future," Dr Paterson said.
The strategy outlines a bold vision for ANSTO's Innovation Precinct to become a globally connected community with government researchers and startups creating solutions in a well-connected campus.
It's supported by nine shared objectives and four immediate imperatives, including development of a travel report for Transport for NSW, to inform future transport plans to ANSTO.
The other immediate imperatives include: investigating opportunities for short to medium term visitor accommodation; conducting discussions with NSW Health about commercialisation opportunities; and establishing a governance group to guide implementation.
"ANSTO is already well connected globally and is also one of the largest employers in The Shire. This strategy will help build on those features through improvements to public transport access, accommodation and connections throughout the campus," Dr Paterson said.
"I would like to thank Greater Sydney Commission and all members of the Collaboration Area Stakeholder Group whose efforts and hard work have led to this planning milestone."
Sutherland Shire Council Mayor, Carmelo Pesce, said the strategy offers significant opportunities for the Sutherland Shire residents.
"Delivering this vision will mean more smart jobs and more visitors in the Sutherland Shire. It's a big win for the community and I am looking forward to seeing its implementation," Cr Pesce said.
Peter Poulet, South District Commissioner of the Greater Sydney Commission, said it is the product of a multi-stakeholder initiative which will deliver real, tangible results.
"The Commission and the Stakeholder Group met regularly to discuss and refine emerging priorities and actions for the ANSTO Collaboration Area," Mr. Poulet said.
"The strategy will be implemented collaboratively by councils, state agencies, universities and other stakeholders, for the benefit of both the local region and industry and the economy more broadly.
"ANSTO already has all the right building blocks; the strategy takes this foundation and looks at how we can work, plan and invest collaboratively for the benefit of both the local economy and the international science community.
"Delivery of this plan will benefit many generations to come, in the Shire, Australia and around the world."
The Commission has worked with councils, State government agencies and other key stakeholders to develop Place Strategies for seven other Collaboration Areas across Greater Sydney, including: Liverpool, Kogarah and Bankstown.
To access the ANSTO's Collaboration Area Place Strategy click here.
To view ANSTO's video launch click here.
For more innovation news at ANSTO or to join our innovation EDM list click here.
Media Contact: Phil McCall 0438 619 987
About ANSTO
ANSTO leverages great science to deliver big outcomes. We partner with scientists and engineers and apply new technologies to provide real-world benefits. Our work improves human health, saves lives, builds our industries and protects the environment.
ANSTO is the home of Australia's most significant landmark and national infrastructure for research. Thousands of scientists from industry and academia benefit from gaining access to state-of-the-art instruments every year.
The ANSTO Collaboration Area Group consists of
ANSTO

Sutherland Shire Council

Transport for NSW

Department of Planning, Industry and Environment

NSW State Emergency Service

Sydney Water

National Broadband Network

Fire and Rescue NSW

NSW Rural Fire Service

Treasury

Property NSW

Customer Service NSW

Create NSW

Museum of Applied Arts and Sciences

Representatives of the Aboriginal community

NSW Health (Office for Medical Health and Research)

Ausgrid.