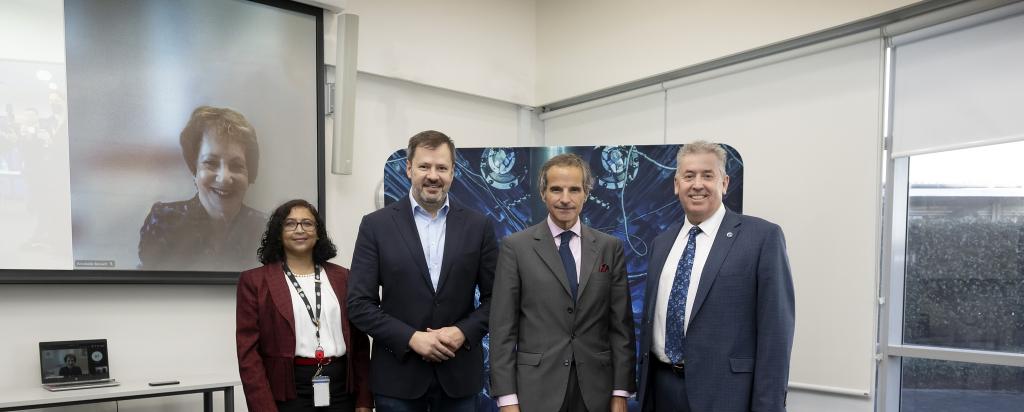 Published on the 11th July 2022 by ANSTO Staff
ANSTO showcased its significant contribution to security, safety, and public health during a visit of the Director-General of the International Atomic Energy Agency (IAEA) Rafael Grossi, Minister for Industry and Science Ed Husic, Australian Ambassador to Austria Richard Sadleir and Ambassador for Arms Control and Counter-Proliferation Ian Biggs and other dignitaries at the weekend.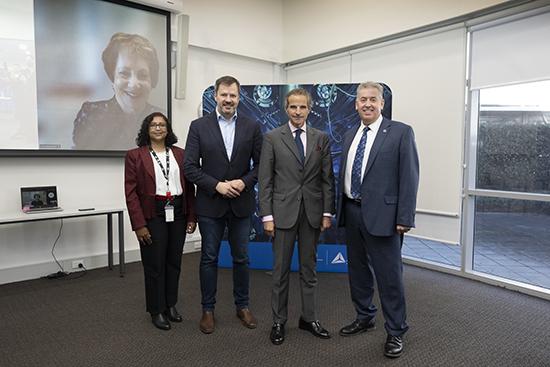 It was the first visit of Director General Grossi and Minister Husic to ANSTO, who had the opportunity to see OPAL operating on the reactor floor, the new Synroc® nuclear medicine waste processing facility (in a fit-out and pre-commissioning stage of development) and observe a demonstration of ANSTO's new radiation detection technology CORIS360® at Lucas Heights.
The visitors were hosted by Chair, Hon Dr Annabelle Bennett AC SC (virtually), Shaun Jenkinson, CEO and other ANSTO staff members.
ANSTO's leadership in various forums of the IAEA and the trilateral security partnership, AUKUS were discussed following a formal welcome.
In a media statement issued for the visit, Minister Husic said, "Australia is amongst the best at what we do when it comes to nuclear applications that are enabling research and innovation, supporting industry, and delivering health benefits to people in Australia and around the world every day.
"ANSTO's capabilities support Australia's ambitions for advanced manufacturing processes and has contributed proudly both domestically and internationally in the nuclear science sector.
"Australia welcomes Director General Grossi and looks forward to ANSTO continuing to work with the IAEA, as we build on Australia's experience and nuclear safety and security record in support of the AUKUS nuclear-powered submarines program."
ANSTO CEO Shaun Jenkinson said it was a wonderful opportunity to showcase ANSTO's significant infrastructure and technological expertise in nuclear science.
He said that the Director General had expressed deep confidence in Australia, acknowledging the solid foundations established through ANSTO over the past 70 years, which have demonstrated Australia's mature nuclear capability and stewardship credentials.
Read the IAEA news report