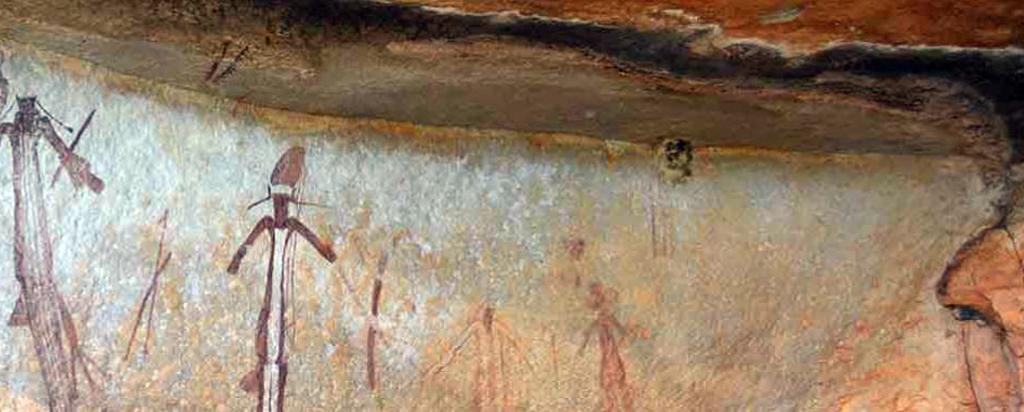 Published on the 7th June 2018 by ANSTO Staff
Professor Andy Gleadow is confident that a multi-disciplinary approach using a combination of dating technologies and analysis of very large data sets will change our understanding of Australian Aboriginal rock art found in shelters and its relationship to an evolving landscape.
Gleadow, an Emeritus Professor at the University of Melbourne who leads the Kimberley Rock Art Dating Project, was at ANSTO to deliver a distinguished lecture on 5 June.
Chair of the Kimberley Foundation Australia and distinguished philanthropist Maria Myers accompanied Professor Gleadow on his visit to ANSTO.
The Kimberley Rock Art project involves a large team of researchers with complementary specialties from multiple institutions (University of Western Australia, Universities of Wollongong, Melbourne and Manchester), including ANSTO dating specialists, who are working together with the Indigenous Traditional Owners to obtain a chronology for the extraordinary rock art sequence of the Kimberley. The work is supported by the Australia Research Council and the Kimberley Foundation Australia.
"The project is uniquely focused on developing a deep time framework in which to better understand the art and the people who have lived in this vast region from the Pleistocene period to the present day," said Professor Gleadow.
"We need to know just how old the rock art is in order to relate it to other things that have happened in Australia over long millennia, such as the environmental changes that have occurred since the Last Glacial Maximum to the present day."
Gleadow said that the Kimberley rock art sequence is characterised by tremendous artistic skill, great abundance and a diversity of painting styles that occur in a relative time sequence that may well span the past 50,000 years—since the arrival of first Australians. Frequently a particular painting style is superimposed over an earlier painting.
"The art is part of the landscape and two dimensional images do not capture its wonder. You cannot separate the art from the rock surface upon which it is painted nor from the landscape where art is found within rock shelters.
Establishing chronologies for the rock art has proved extraordinarily challenging, because most pigments lack constituents that can be dated with well known and accepted methods, such as radiocarbon or uranium series isotopes—not to mention the vast distances and remoteness of sites where the rock art is found.
Most of the intense Kimberley work has been done in areas around the Drysdale River, King George River and along the coast around Doubtful Bay that contain ancient sandstone escarpments that appear to be optimum surfaces for rock art application. The sites are so remote that access is usually by helicopter.
"However, the concerted application of four different dating technologies to study rock art shelter evolution and associated rock art materials is now making strong progress to provide bracketing ages, a minimum and a maximum, for the associated rock art," he said.
The methods, which have produced hundreds of dates, include cosmogenic radionuclides to date rock art shelter formation and rates of landscape evolution processes; radiocarbon dating of organic constituents within mud wasp nests and oxalate mineral layers; optically stimulated luminescence (OSL) dating of large wasp nest complexes, and uranium-series dating of particular minerals within surface mineral accretions.
Just how the Kimberley rock art has been preserved over such long time frames is not well understood. Although the environment is very pristine, the area is subject to flooding and extreme climatic conditions.
"It is very important to determine how fast the rocks are eroding, that is quantifying the actual rates of landscape evolution over 50,000 years," said Gleadow.
Cosmogenic beryllium-10 and aluminium-26 measurements in bedrocks, river sands and rock shelter surfaces at ANSTO's world-renown accelerator mass spectrometry facility conducted by Dr David Fink and PhD student Gael Cazes from the University of Wollongong have established that the average erosion rate of Kimberley rocks is about two to three millimetres every thousand years. This means that the pace of landscape change in the Kimberley is one of the lowest rates on earth.
"In some of the shelters with extensive overhangs, or less exposed to the elements, mineral accretion often protects the surfaces, making erosion rates probably an order of magnitude lower. Thus, one of our exciting discoveries is that such rock art shelter surfaces can persist for sufficiently long periods to allow preservation of the oldest rock art–perhaps as far back as 50,000 years." said Fink.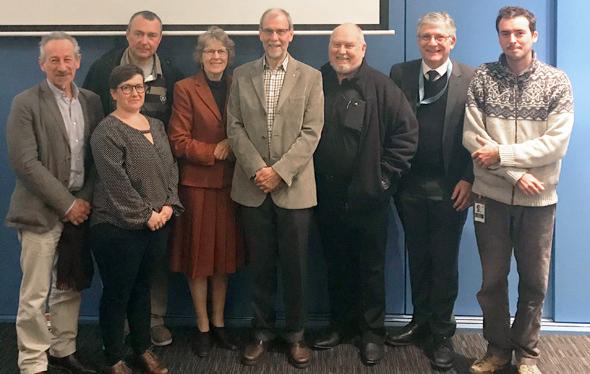 (Left to right) Dr David Fink, Dr Reka Fulop, Dr Vladimir Levchenko, Chair of Kimberley Foundation Australia  Maria Myers, Prof Andy Gleadow, Dharawal Elder Les Bursill, CEO Dr Adi Paterson and PhD student Gael Cazes
Radiocarbon measurements at the accelerator facility conducted by Dr Vladimir Levchenko and PhD student Damian Finch from the University of Melbourne have been most challenging due to the miniscule amounts of organic carbon found in the mud wasp nests overlying or underneath rock art. Exploiting state of the art microgram-radiocarbon techniques established at ANSTO, they have successfully obtained minimum radiocarbon dates as far back as 12,000 years for some of the rock art.
"Although the picture of the timeline is still rather fuzzy, there has been significant progress in some areas," said Gleadow.
He described increased knowledge on the evolution of landscape and surface processes where the rock art is found, an understanding of how the shelters were created and why they survived, an identification of mineral accretion systems, the development of appropriate non-invasive sampling protocols, the application of new dating methods, particularly microgram radiocarbon and demonstration of closed system uranium-series behaviour and the accumulation of very large data sets is leading to exciting breakthroughs.
"The future is enormously exciting as we apply statistical methods to these hundreds of dates to establish with some certainty the age range of particular rock art styles."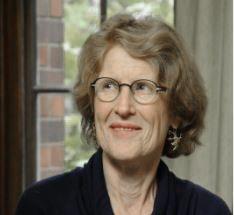 We need science to understand Australia's story as it is preserved in the Aboriginal rock art of the Kimberley," said Maria Myers AC, Chair of the Kimberley Foundation of Australia (pictured above), who was at ANSTO for the lecture by Professor Gleadow and a tour of the facilities.
"But dating in isolation is not enough. Both the environmental context and the cultural context of the rock art are needed to produce a convincing, complete picture."
Myers has been involved with the Board of the Kimberley Foundation since 2001 and, in that time, has passionately advocated for a greater understanding of the Kimberley rock art by Australian experts working with Indigenous traditional custodians and the adoption of appropriate preservation measures.
She has travelled out into the Kimberley every year since 1995 and on every trip she has encountered new and remarkable examples of Australia's ancient art. 
"Through an unusual combination of geology and geography, a wealth of rock art has been preserved. It provides a window to our earliest history. And to be truly Australian, we have to understand that unique story.