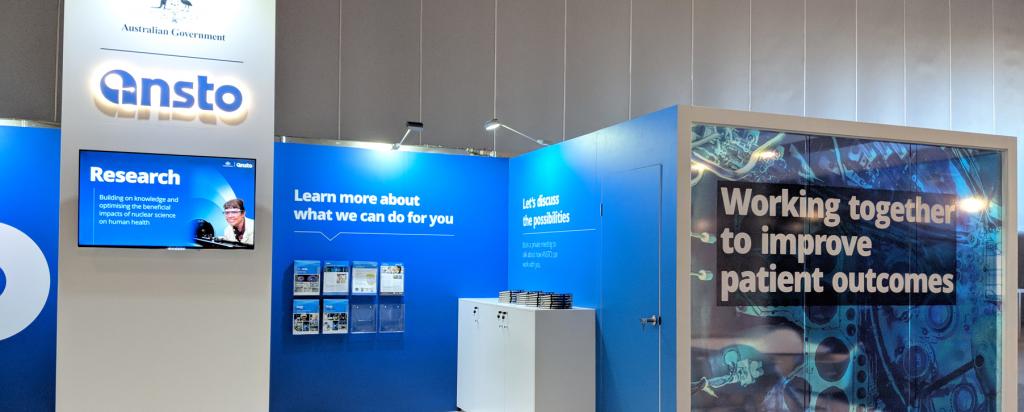 Published on the 20th April 2018 by ANSTO Staff
ANSTO is a partner organisation of the 12th Congress of the World Federation of Nuclear Medicine and Biology (WFNMB) being held in Melbourne (20-24 April).
"We are closely associated with this global event because of our diverse contribution as a member of the nuclear medicine community," said CEO Adi Paterson.
It is a watershed moment for nuclear medicine with the development of advanced diagnostic imaging technologies and therapeutic techniques and for ANSTO as an applied research centre and supplier of products and services."
An ANSTO booth that highlights health research, products, services and training has been set up in the exhibition area for the duration of the Congress. ANSTO staff are available at the Booth 96 for discussions with delegates.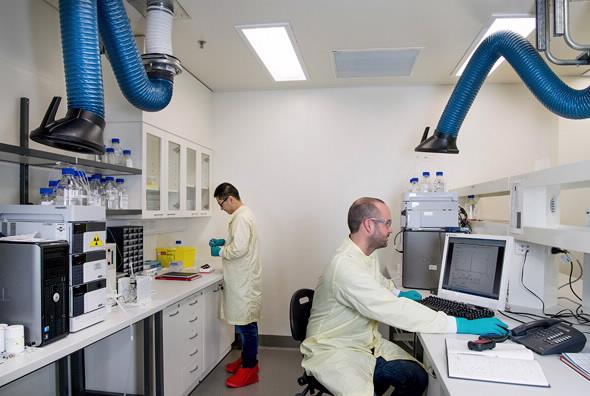 Two special breakfast symposiums have been organised by ANSTO. The first event is on 'The changing paradigm in advanced stage prostate cancer treatment'  features distinguished speakers Prof Michael Hoffman of the Peter MacCallum Cancer Centre and Prof Mike Sathekge Head of Nuclear Medicine at the University of Praetoria. CEO Adi Paterson will deliver opening remarks.
Prof Jason S Lewis of the Memorial Sloan Kettering Cancer Centre (US) and Prof Neil Vasdev of the Centre for Addiction and Mental health (Canada) will be discussing 'Multimodal imaging—History and future opportunities'  at the second symposium.  Group Executive of Nuclear Science & Technology and Landmark Infrastructure Dr Simone Richter will open the session.  
ANSTO Board member and President of the WFNMB  Prof Andrew Scott will deliver the Opening Keynote Lecture and present a session on how to do international collaborative research as part of the four day program.
Dr Paterson noted the significant role that Prof Andrew Scott has made in advancing this agenda.
Two ANSTO staff from Radioisotopes and Radiotracers group delivered presentations at the Congress. Dr Giancarlo Pascali highlighted 'New Advancements in Radiofluorination Reactions' and Dr Nigel Lengkeek provided an overview of the 'Development and Delivery of the Immunoscintigraphic Agent [67Ga]MILGa (Miltuximab) for the First in Human Phase 1 Clinical Trial.'
A number of ANSTO staff are providing posters for the Congress, including Dr Benjamin Fraser, Task leader, Organic Chemistry: '[18F]D4-PBR111 - An Improved 2nd Generation Deuterated Radiotracer for Imaging Inflammation"; Bonnie Howe, Radionuclide Metrology Industry Engagement Manager, Nuclear Stewardship: 'The impact of source geometry on radionuclide dose calibrator activity measurements'; Freda Van Wyngaardt, Nuclear Stewardship: 'International measurement traceability for Australia's primary standards for Tc-99m, F-18 and Cu-64.' Dr Arvind Parmar, Gita Rahardjo , Andrew Arthur, Hasar Hamze, David Zahra, Dr Mitra Safavi-Naeini and University of Sydney researchers: 'Effect of copper treatment on striatal D2 receptor expression in a mouse model of the copper-deficient Parkinson's disease brain: a 11C-Raclopride PET study. The poster was selected as a finalist for Best Poster at the Congress.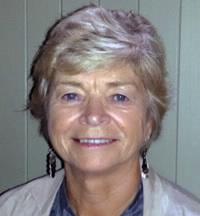 Contribution to nuclear medicine training recognised
Heather Patterson, International Education Coordinator at ANSTO, was made an Honorary Fellow of the Asian Nuclear Medicine Board (ANMB) at the World Federation of Nuclear Medicine and Biology Congress in Melbourne last week for her lifelong dedication to the promotion of nuclear medicine in the Asia and Oceania region.
A plaque commemorating the fellowship was presented by Prof Durr-e-Sabih, Chair, ANMB committee and Prof Henry Bom, Chairman, Asian Regional Cooperative Council for Nuclear Medicine (ARCCNM) at a joint session of the two organizations during the congress.
Patterson has been involved with International Atomic Energy Agency (IAEA) Regional Training courses since the mid-1980s. She developed and coordinated the Distance Assisted Training program for Nuclear Medicine Professional s (DAT), which commenced early 1990s and continues to be available on-line as DATOL.
Using off-line and on-line tools she has assessed more than 1200 students in 25 countries.
Most graduates came from the Asia Pacific region and Latin America
Patterson established and coordinated the annual program 'Foundations of PET-CT' from 2008 until 2013 through ANSTO and University of Sydney. The program trained 70 participants with 95% of participants from the Asia region.
"Heather has made a significant contribution to ensuring that nuclear medicine professionals in the Asia Pacific region, in particular, have access to training to achieve a high level of competency . The benefits flow in the form of improved patient care. We congratulate Heather on this wonderful accolade," said Mark Alexander, Manager, International Affairs.
 
Prior to the start of the Congress, delegates had the opportunity to tour the Molybdenum-99 Production Facility at Lucas Heights and the Imaging and Medical beamline at the Australian Synchrotron at Clayton.
The event is held for over 2000 nuclear medicine physicians, radiologists, medical imaging  staff physicists, technologists, nurses, and the broader medical and scientific community. The Congress seeks to promote further global translation of molecular medicine incorporating the translation of basic laboratory research to clinical practice, establishment of clinical and technical standards, and the translation of molecular medical technology to developing countries for the benefit of patients worldwide