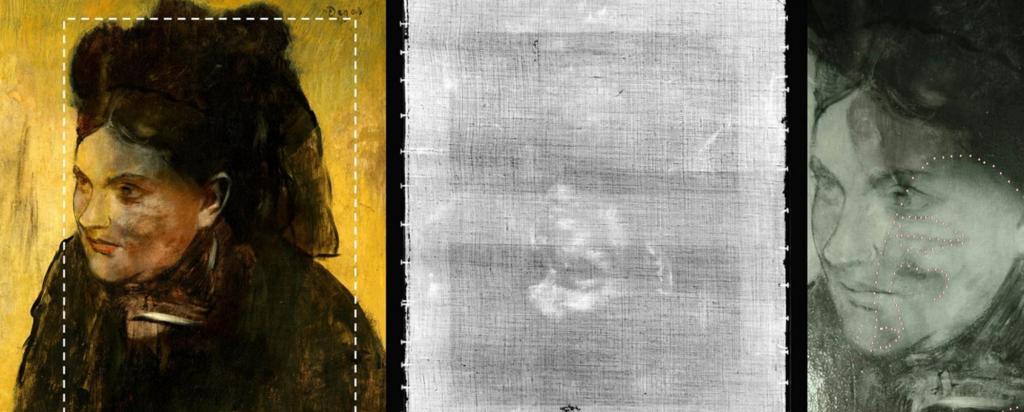 Published on the 4th August 2016 by ANSTO Staff
An alliance of Australian scientists and conservators have made a quantum leap forward in the analysis of priceless artworks, revealing an earlier painting of a different woman beneath a French Impressionist masterpiece in unprecedented detail, using a technology combination unavailable anywhere else in the world.
Shedding light on a decades-old riddle through a unique technology pipeline, researchers from Australian Synchrotron, National Gallery of Victoria (NGV) and CSIRO published stunning images of what lies beneath Edgar Degas' Portrait of a Woman (c. 1876-1880) in the journal Scientific Reports overnight, midway through the artwork's display at NGV International as part of Melbourne Winter Masterpieces exhibition, Degas: A new vision.
Dr Daryl Howard, Scientist on the X-ray Fluorescence Microscopy (XFM) beamline at the Australian Synchrotron – the newest addition to the Australian Nuclear Science and Technology Organisation (ANSTO)'s world-class line-up of landmark research infrastructure – says the re-creation of the underpainting was achieved by first producing complex metal maps to highlight minerals in the many paint types.
'Paint from Degas' period was primarily composed of ground-up rocks and early synthetic pigments  – with copper creating green and mercury creating red, for example – and he swirled and mixed different paints from different tubes on his palette at different times, as did the restorers who touched up this painting into the early twentieth century.
'Placing the artwork in the path of the Australian Synchrotron beam, which is a million times brighter than the sun, we measured the exact location of different pigment mixtures in every one millimetre square pixel, and fed the vast volumes of data into a computer to reconstruct both the surface and underlying layers.'
Dr Howard says the technique is an 'order of magnitude' improvement for non-intrusive art analysis, crucial when handling priceless artworks.
'Eight years ago, a low resolution three-element image, which revealed a face beneath Vincent Van Gogh's Patch of Grass 1887, inspired us to refine and advance non-destructive imaging using some of the world's most advanced scientific technology.
'This analysis takes this "hands-off" approach to the next level, producing enormous 31.6 megapixel images – beyond the resolution of most of today's best digital cameras – while subjecting each part of the artwork to radiation for only a fraction of a second to ensure it is not damaged.'
CSIRO engineer Robin Kirkham says the powerful light of the Australian Synchrotron combined with a highly sensitive detector devised at CSIRO are behind the revolutionary new technique.
'Developed by CSIRO with US project partner Brookhaven National Laboratory over the past few years, the Maia detector can complete complex elemental imaging a hundred times faster than conventional systems.
'Coupled with the brilliant synchrotron beam, in 33 hours the detector produced images with around 250 times more pixel definition than the far smaller 2008 Van Gogh images that took about two days to produce.'
It's not the first time the NGV, Australian Synchrotron and CSIRO have joined forces to solve an art mystery. In 2010 similar techniques were used to find a hidden Arthur Streeton self-portrait buried under layers of lead paint and, in 2015, a major project helped uncover hidden secrets in Frederick McCubbin's The North wind.
Degas: a new vision is exhibiting at NGV until Sunday 18 September.
Media coverage