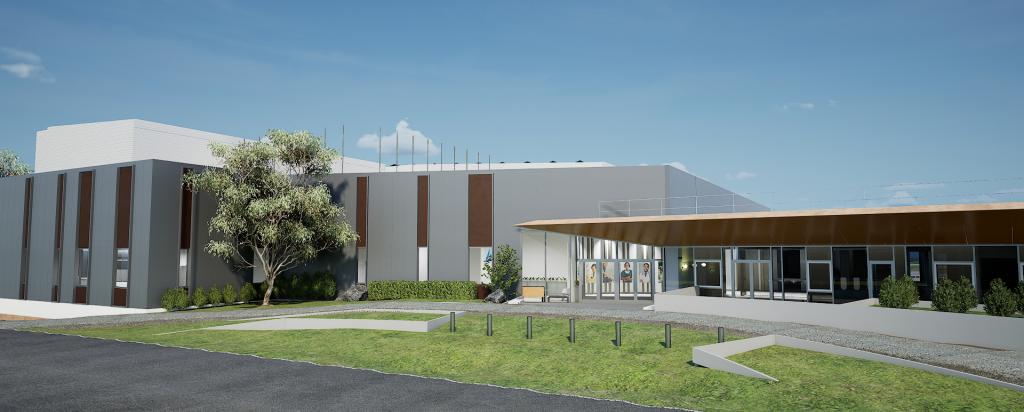 Published on the 26th September 2023 by ANSTO Staff
ANSTO today welcomed a significant Federal Government funding allocation to further safeguard the production of life-saving nuclear medicines in Australia.
At ANSTO's Lucas Heights campus, Minister for Industry and Science, the Hon Ed Husic MP officially outlined plans for a new Nuclear Medicine Facility to replace the existing ageing Nuclear Medicine Processing and Distribution Facility, which was initially constructed in 1959 as a research laboratory.
Each week ANSTO produces nuclear medicines to enable between 10,000 – 12,000 procedures at Australian hospitals and medical clinics. Since the late 1970s, ANSTO has produced a variety of nuclear medicines and now supplies around 75 – 80 per cent of the nuclear medicine used in Australia.
This includes the production of molybdenum-99 (Mo-99), which is dispatched into ANSTO's Gentech® Generators, where it decays to become technetium-99 (Tc-99m), the most widely-used radioisotope in nuclear medicine globally.
ANSTO's Lucas Heights campus is home to a nuclear medicine precinct of three key facilities: the OPAL multipurpose research reactor, the Molybdenum-99 Manufacturing Facility, and the existing Nuclear Medicine Processing and Distribution Facility.
Joining Minister Husic today, Acting CEO for ANSTO, Professor Andrew Peele, welcomed the funding boost to futureproof Australia's sovereign capabilities for domestic nuclear medicine manufacturing.
Prof. Peele said the new Nuclear Medicine Facility will form a more sophisticated nuclear medicine precinct to enable a seamless manufacturing and distribution chain.
"This new purpose-built facility will ensure ANSTO has the flexibility to adapt to evolving manufacturing technologies and meet the changing needs of the radiopharmaceuticals market, particularly as cancer and other illness diagnosis rates continue to grow," Prof. Peele said.
"It will ensure ANSTO can meet the increasing demand for nuclear medicines by hospitals and medical clinics while also leveraging ANSTO's radiopharmaceutical research and development and medical industry collaborations."
The existing facility where most of ANSTO's nuclear medicines undergo their final production stage for dispatch is an ageing building that was originally constructed in the late 1950s as a research laboratory.
Following extensive renovations and modifications to transition to a nuclear medicine manufacturing facility, it is now approaching the end of its useful operating life.
The funding received will also support ongoing maintenance of the existing facility until the new Nuclear Medicine Facility is commissioned and operational, expected in the mid-2030s.
For further information contact media@ansto.gov.au email or 0499 830 165