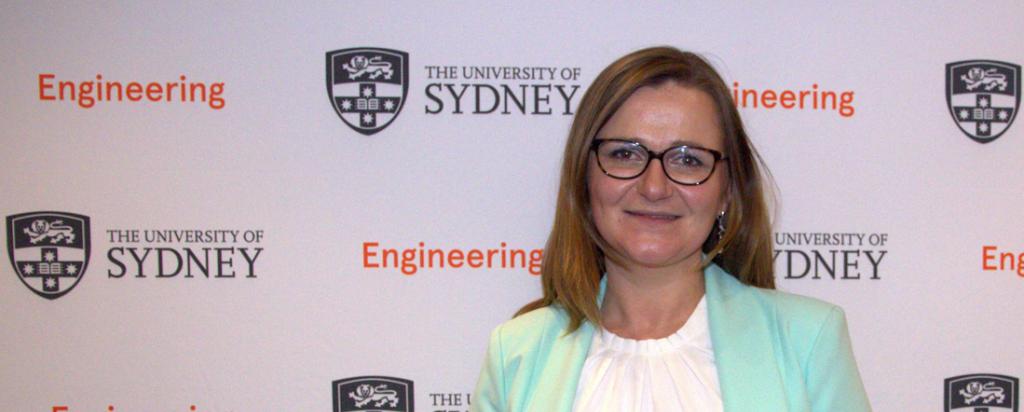 Published on the 24th October 2019 by ANSTO Staff
Industrial Liaison Manager at the Australian Centre for Neutron Scattering (ACNS), Dr Anna Paradowska has been appointed as a Conjoint Professor of Practice in Advanced Structural Materials in the School of Civil Engineering at the University of Sydney.
(Left to right), Prof Brian Uy, Dr Anna Paradowska, who was appointed a Conjoint Professor, Dr Miles Apperley and Prof Laurent Rivory
"This is a very important initiative, which recognized Anna's exceptional ability in materials science and engineering and her world-class expertise in residual-stress analysis using neutron and synchrotron diffraction with particular focus on welded structures and advanced manufacturing processes," said Dr Miles Apperley, head of Research Infrastructure. 
"It strengthens our existing linkage with the University of Sydney by enhancing access to our research infrastructure for researchers and their industry partners. It will have mutual benefits for ANSTO and the University."
"Anna 's  role will help to galvanise the research collaborations between ANSTO and the University of Sydney, which follows the strategic partnership signed by the Deputy Vice-Chancellor (Research) Professor Duncan Ivison and ANSTO's Head of Research Infrastructure Dr Miles Apperley, earlier this year," said Prof Brian Uy, Head of the School of Civil Engineering.
Paradowska said she was humbled and honoured with the new appointment.  "I am committed to making this opportunity a success for both organisations. For me, this is a dream come true as I truly enjoy working at large scale facilities on industry focus projects and I like teaching and interacting with students and academics."
She expressed her gratitude to ANSTO for offering new pathways for growth and development for scientists within the organisation.
"I hope this will only encourage others to seek such opportunities," she said.
Formal documents were signed at a ceremony and celebratory event at the University of Sydney on 17 October, which representatives from ANSTO and the university attended.
Anna Paradowska has a PhD in Mechanical Engineering from Monash University and an MSc degree in Materials Science and Engineering from Wroclaw University of Technology, Poland.
She focuses not only on delivering solutions to industry via neutron scattering, but also providing training and mentoring to the next generation of scientist and engineers in the use of large scale scientific infrastructure. She has published a book, two book chapters and over 150 papers in scientific journals and conference proceedings. 
Among her numerous appointments, Anna is Deputy Chair of the National Committee of Applied Mechanics (NCAM) – Engineers, Australia. She is also a Member of the Engineers Australia - Infrastructure Advisory Panel.