Published on the 16th October 2017 by ANSTO Staff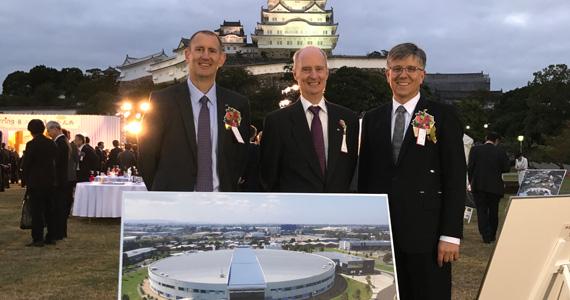 Prof Andrew Peele, Dr Richard Garrett and Australian Consul General at the Osaka Consulate David Larson at the 20th anniversary event
Prof Andrew Peele, Director of Australian Synchrotron (above left) and Dr Richard Garrett, Senior Advisor Synchrotron Science, Strategic Projects, Industry and External Engagement (above centre) attended the 20th anniversary of user operations at the SPRing-8 synchrotron, in Hyōgo Prefecture, Japan last week.
They were among 500 guests, industry leaders and politicians from Japan, and directors of the majority of the world's major synchrotrons, who gathered at the historic Himeji Castle also in Hyōgo Prefecture to mark the occasion.  
There were photographs on display of all the synchrotrons that sent directors or representatives to the event.
"It was an opportunity for those of us who manage synchrotron facilities to congratulate SPRing-8 on the milestone and get together to discuss the application of synchrotron science to meet future challenges," said Prof Peele.
Synchrotron science using X-rays and infrared light continues to be a powerful and invaluable tool in investigating the nature of materials for practical applications." 
The SPRing-8 synchrotron, the world's largest 3rd generation synchrotron opened to national and international users from industry, academia and government in 1997.  The synchrotron radiation facility operates with a beam energy of 8 GeV with 62 beamlines.
Third-generation synchrotron radiation facilities are designed especially for installing as many insertion devices as possible in a dedicated storage ring.
The anniversary ceremony was followed by a symposium on "Synchrotron Radiation for the Future of Humanity", which held in the 17th century castle.  
The Australian Consul General at the Osaka Consulate, David Lawson (above right) , also attended. 
ANSTO has an international partnership with the SPRing-8 synchrotron.