ANSTO is one step closer to implementing the ANSTO Synroc® radioactive waste treatment technology for waste from Mo-99 production, with this purpose-built, state-of-the-art facility.
Project milestones
Construction of the new facility was COMPLETED in December 2021.
---
The next stage of this project, the fit-out of the ANSTO Synroc® process technology within this new facility and the associated hot cells, is now underway.
---
The final stages include cold and then hot commissioning phases before receiving approval by the regulator to commence operation.
Once finished, Australia will be the first country in the world with co-located and integrated facilities for the production of Mo-99 (via ANSTO's Mo-99 Manufacturing Facility) and treatment of intermediate-level liquid waste arising.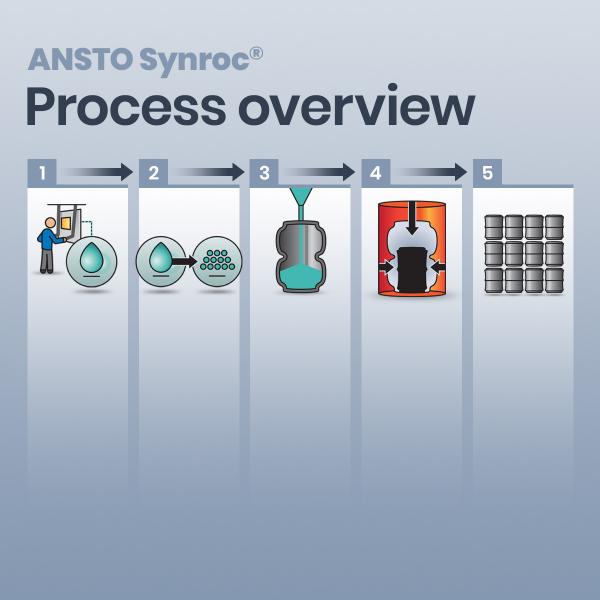 Process overview
1. Capturing waste from Mo-99 production: During extraction of Mo-99, a by-product liquid waste is created, captured, and prepared for transfer.
---
2. Conversion of liquid to powder: The by-product liquid waste is processed within a hot cell by introducing the designed Synroc formulation. The mixture undergoes shearing and mixing before being converted to a granulated powder via a drying process.
---
3. Preparing the canister: When the waste mixture is in powder form, it is dispensed and sealed in specially designed cans.
---
4. Hot Isostatic Pressing: The canister is then sealed within a protective outer casing and placed into a hot isostatic press where heat and pressure are applied.
---
5. Durable, compact waste form: The final solid product is now a durable, compact waste form ready for final storage
Enquire today
ANSTO Synroc

®

operates under a quality assurance framework to ensure certifications and accreditations are met.
Key facility features
| | | |
| --- | --- | --- |
| | | |
| Full automation | Unique hot isostatic pressing system | Safe and secure for operators |
| | | |
| High performance, state-of-the-art facility | Advanced hot cell processes | Integrated and seamless waste transfer |
Get in touch
Find out more about how you can work with ANSTO. Complete a contact form and we'll be in touch soon.