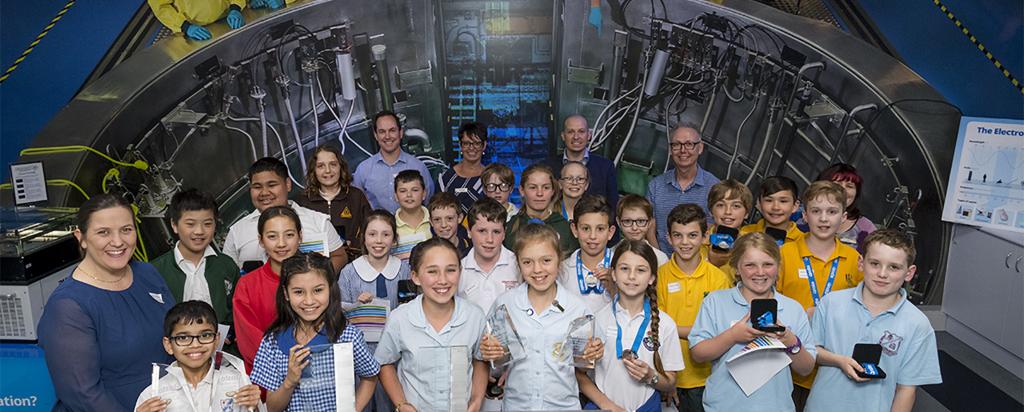 Date

Thu 1 Aug at 9.00am - Thu 1 Aug at 5.00pm

Cost

Free

Venue
Schools in NSW


Express interest for 2019
At a glance
Free for participants - Open to students in Years 5-6
Key dates
Applications close: One week before Competition start
Dates to be announced closer to competition start.
Please check back early 2019 for details about next year's ANSTO Top Coder competitions.
Top Coder Competition 2018 
This year introduces a new Robotics competition alongside our existing Scratch coding competition.
We invite schools to enter two students from Year 5 and Year 6 in the ANSTO Top Coder Competition 2018. Students will work collaboratively in a fun and enthusiastic atmosphere with coding and robotics coaches. In the Scratch coding competition, students will develop ideas into finished games, animations, art, music, or stories. Students who participate in the Robotics competition will take part in a series of challenges, building their skills and competency in code and construction towards a final battle at the end of the day.
We are looking for students who are creative thinkers and passionate about problem solving – you don't have to be top of your class.
Competition Rounds
The ANSTO Top Coder competition will be run across a number of weeks from September onward. All heats will run on Wednesdays or Thursdays, starting at 8:45am and concluding at 2:15pm. 
All schools can enter both competitions, with each round having space for 20 students.
2018 Scratch Coding Competition:
|   | Date | Venue |
| --- | --- | --- |
| Heat 1 | Wednesday 15 August | Smithfield Public School |
| Heat 2 | Wednesday 22 August | Coledale Public School |
| Heat 3 | Wednesday 29 August | Oatley Public School |
| Heat 4 | Thursday 6 September | Caringbah Public School |
| Final | Thursday 18 October | ANSTO Discovery Centre, Lucas Heights |
2018 Robotics Competition:
|   | Date | Venue |
| --- | --- | --- |
| Heat 1 | Thursday 16 August | University of Technology Sydney |
| Heat 2 | Thursday 23 August | Baulkham Hills North Public School |
| Heat 3 | Thursday 30 August | Berala Public School |
| Heat 4 | Wednesday 5 September | Sutherland North Public School |
| Heat 5 | Thursday 20 September | Towradgi Public School |
| Final | Date TBC | Venue TBC |
Information for students, parents and teachers:
Want to apply for the ANSTO Top Coder Competition? Great! The first step is to speak to your teacher. Applications must come in collaboration with a school. Talk to your teacher, show them this page and ask them to get involved!   Schools can enter in either the Robotics or Scratch Top Coder Competitions, or both.
Criteria for teams 
1.     Schools need to achieve a 50% ratio of girls to boys across their teams across each competition. This could be achieved in a number of ways. For example:
Boy / Girl year 5 and 6 teams

Boy/ Boy year 5 + Girl/ Girl year 6 teams

Girl/ Girl year 5 + Boy/ Boy year 6 teams.
2.     Schools can enter a maximum of one team of two students per year level.
3.     Different students can be entered for the Robotics and Scratch competitions, but students cannot change competitions once entered.
Students with special needs
Wheelchair access is available at the Caringbah Public School heat.
Working with Children Check  
All adults need a current WWC. Volunteers can obtain a WWC for free by filling out this form.
Before competition day the following information needs to be submitted for validation:
WWC number

Date of Birth

WWC clearance type

Full name
Teachers and coaches
Your school can send up to two coaches to assist the teams. However, your school does not have to send a teacher or coach to the competition as there will be a qualified teacher from the host school supervising the event.
Permission to publish  
Teachers need to record "No" when enrolling students, if there is no permission to publish photographs of the students.
How do I apply? 
Applying for a heat is simple
Further Questions?
Look at the FAQ below or contact us for further assistance:
| | |
| --- | --- |
| Nathan Slawitschka  | |
| Robert Entwistle | |
| Simone Kingsnorth | |
| Fiona Young  | |
| Dylan Smith  | |
| Louise Rees | |
| Stacey Coates  | |