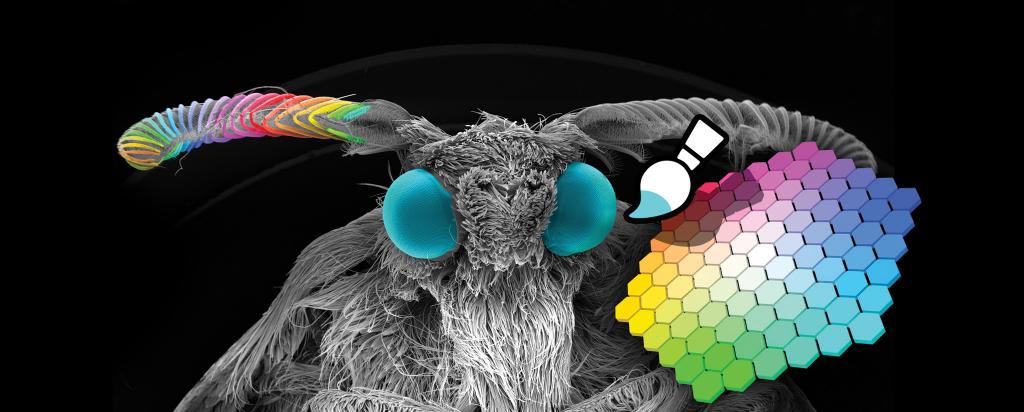 Are you a school student who likes a creative challenge?
Your challenge: You must digitally colour one of the incredible close-up images of insects taken by ANSTOs powerful Scanning Electron Microscopes (SEM).
Enter our Incredible Insects Competition during the month of July 2022, you could win yourself a prize pack worth over $100! School students from all States/ Territories of Australia are invited to enter.
How to enter
Step 1
Choose an ANSTO image from the insect gallery below. Click on the image and download it by right-clicking and save.
Step 2
Digitally colour the image using any suitable software of your choice. Some free options are: https://krita.org/en/; https://www.gimp.org/; or https://www.artweaver.de/en
Step 3
Save and upload your entry between 1 and 31 July, 2022 (late entries will not be accepted). Please provide your full details: Full Name, Grade at school, Suburb/Town, State/Territory, email address, contact phone number. 
---
Tip: You must use transparent colours, so the insect details show. 
Insects are incredible! They makeup 80% of the world's known species and are found everywhere – even in Antarctica, in jungles and deserts, on the surface of the ocean, deep in caves, on the tops of mountains and even on other animals! There are about one million different types of insects. Here you can enjoy an unusual close-up view of some common insects and discover many incredible features!
Competition Dates
Competition opens
Friday, 1 July, 2022
Competition closes
Sunday, 31 July, 2022, 11:59pm
Winners announced
Thursday, 11 August, 2022
NOTE: Only one entry is allowed per person
Prizes
$100 gift card and prize pack for the best entry from a primary school student
$100 gift card and prize pack for the best entry from a high school student
Electron microscopes use beams of electrons (tiny negatively charged particles) instead of light to achieve extremely high levels of magnification. They are used at ANSTO to research materials for industrial and medical applications, as well as to found out more about the world around us!
In the images you see here, insects were magnified with an SEM to reveal incredible surface structures in 3D that cannot be seen with our own eyes. Revealing hidden structures in nature can often give scientists insights and clues to how they could manufacture materials with improved properties.
SEM Images from ANSTO research

| | | |
| --- | --- | --- |
| |   | |
All SEM images are the copyrighted property of ANSTO. They cannot be distributed or used for any purpose other than for the use described by this competition. Any unauthorised use is strictly prohibited.
Contact
Contact the ANSTO Education Team at education@ansto.gov.au, if you have any questions about this competition.