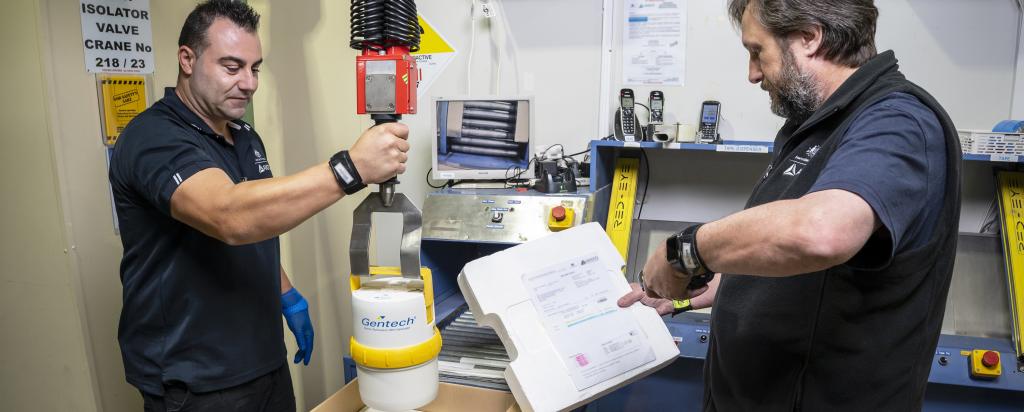 ANSTO's Technetium-99m Generators
ANSTO's Technetium-99m Generators are Australian-designed portable, medical devices used for over 50 years to deliver technetium-99m - the most widely utilised radioisotope used in nuclear medicine procedures - to hospitals and medical clinics across the country.
Developed by ANSTO's predecessor the Australian Atomic Energy Commission (known as the AAEC) in the late 1960s, the Technetium-99m Generator revolutionised nuclear medicine imaging in Australia by enabling imaging procedures to be performed not only in major capital cities but throughout regional and rural Australia.
Technetium-99m decays quickly making it logistically challenging to transport long distances. The Technetium-99m Generator overcame this issue by delivering molybdenum-99 – the 'parent' radioisotope of technetium -99m which has a much longer half-life - to clinics. Technetium-99m is then extracted at the clinic.
In addition, as a single Generator supplies a week's worth of technetium-99m the Technetium-99m Generator provided a more reliable supply method. Due to technetium-99m's short half-life, when previously delivered daily, extended transport or delivery delays could see the product unusable by the time it reached the clinic, creating significant scheduling issues and delaying patient procedures.
The design of ANSTO's Generator was improved and rebranded as the Gentech Generator in the year 2000. The molybdenum-99 distributed in the Gentech Generator today is produced at ANSTO's Lucas Heights campus in Sydney using Australia's only nuclear reactor OPAL and, advanced manufacturing and processing facilities.
Technetium-99m is the preferred radiotracer for a number of scans used in nuclear medicine worldwide. Technetium-99m scans are used to detect a wide range of conditions including injuries, infections, tumours, heart disease, thyroid abnormalities, kidney conditions and guide some cancer procedures
With every Australian likely to benefit from nuclear medicine at some point in their lifetime, ANSTO's Technetium-99m Generators have made, and continue to make, a significant contribution to the health of all Australians.
Gentech Generator featured in an exhibition
ANSTO Gentech Generator was selected for inclusion in the 'Australia's Public Service: at work for the government of the day' five-year exhibition commencing on Friday 28 May 2021 at the Museum of Australian Democracy (MoAD) at Old Parliament House, Canberra. 
The exhibition is a snapshot of the diverse work the Australian Public Service (APS)  undertakes for the health of the nation.
Learn more about the exhibition: www.moadoph.gov.au/exhibitions/australia-s-public-service-for-the-government-of-the-day