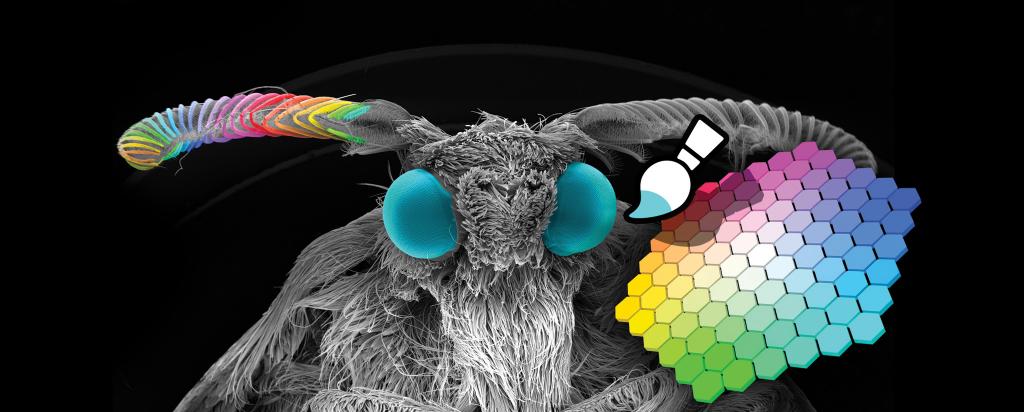 ANSTO's  digital colouring competition combines science and creativity by giving students the opportunity to colour an electron microscope image.
The image captures an incredibly close view of an insect from one of the instruments taken by ANSTO scientists, Dr Daniel Oldfield and Juniper Bedwell-Wilson, at ANSTO's Electron Microscopy Facility.
Instead of the usual type of industrial and biomedical materials images, ANSTOs scientists provided images of an Ant, Beetle-flea and a Spider for the competition.
We received over 90 entries from both the high school and primary schools categories with all entries being a very high standard and showing great interest and talent in digital colouring.
ANSTO commends all participants for their efforts. Dr Oldfield and Ms Bedwell-Wilson blind-judged the entries and found it "an extremely difficult task."
It was pleasing to see a large number of entries in the competition, this made judging extremely difficult. The entries had been coloured using a wide variety of styles from pop art to realism. There was amazing attention to detail, and great use of highlight and shadows. Everyone who entered into the competition should be extremely proud of what they have achieved.
The winner in the high school student category was Anvi K, a Year 7 student from Schofields in NSW. The winner in the primary school student category was Ella G, a Year 5 student from Kedron, Queensland.  Both winners coloured the Beetle-flea head.
Many entries were very creative, using vibrant colours to highlight the parts of the insects and the detail in the images, while others used more subtle shading to focus on a specific part of the overall image.
Other Top 10 finalists were Sophia S (Year 7) from NSW, Declan C (Year 11) from NSW, Alison S (Year 8) from WA, Sofiane H (Year 11) from NSW, Heinrik v.d.H (Year 8) from NSW, Charlotte J (Year 5) from  Qld, Cameron M (Year 6) from NSW, Lily O (Year 6) from  NSW, Marcus C (Year 6) from NSW, Zali C (Year 5) from QLD.
All finalists will receive a certificate. Winners will receive a certificate and prize pack.