Published on the 8th September 2020 by ANSTO Staff
Primary students across Australia were invited to create a public awareness poster for a threatened shorebird found in Australia for our 2020 Shorebirds Competition. In response to COVID-19, and the changes to children's learning environments, we included categories for individual children to enter as well as school children.
Children first learnt about the different threats to shorebirds and their wetland and coastal habitats, before thinking about the best way to create a poster that would inform and persuade others to take action. This cross-curricula learning opportunity was taken up by over 100 classes, with teachers submitting the top 1-5 entries from each class. All up, we received 400 entries from schools. It was impressive to also receive 73 entries from individual children across the country who independently researched and prepared their poster. Entries came in from 85 postcodes across Australia (see the competition page above for online map).
All of the posters received can be viewed in our online gallery. 
Judging of posters was conducted by ANSTO staff and shorebird expert representatives from our competition endorsees. Deliberation was extensive as the thoughtfulness, creativity and powerful messages conveyed were of a high standard. The primary rule was that the poster had to be created by hand with pencils, pen or paint on A4 paper. It had to include a recognisable depiction of a threatened shorebird and the name of the shorebird had to be included on the front of the poster. The poster had to provide a message, which could be conveyed by the picture or by words, but there was a limit of 30 words. The poster had to be eye-catching to draw people in to take a closer look.
The tremendous response to the competition this year on a national scale has been wonderful. We thank all our participating children and schools, and give special thanks to the many dedicated teachers and enthusiastic parents who created a conversation around this topic and inspired the children to learn and achieve.
Thank you to our participating schools (in alphabetical order): Aireys Inlet Primary School, Applecross Primary School, Artarmon Public School, Ashburton Drive Primary School, Avalon Public School, Baldivis Primary School, Bold Park Community School, Brighton Primary School, Cable Beach Public School, Caddies Creek Public School, Camboon Primary School, Chullora Public School, Danebank Anglican School for Girls, Donburn Primary School, Dundurrabin Public School, Eagleby State School, Eastern Fleurieu School - Milang Campus, Fingal Head Public School, Hurstville Adventist School, Kegworth Public School, Kilmore Primary School, Kincumber Public School, King Island District School, Kurnell Public School, Macarthur Anglican School, Margate Primary School, Maroochydore Primary School, Mt Martha Primary School, Neutral Bay Public School, Parkfield Public School, PLC Sydney, St Aloysius Primary School, St Andrew's Cathedral School, St Mary's Primary School, Xavier Catholic College.
We also gratefully acknowledge The Overwintering Project, a project for adult artists as the source of inspiration for this competition and for their continued support. This important project raises awareness of our migratory shorebirds and their habits across Australia.
If you would like to provide feedback or register your interest for next year's Shorebirds Competition or other competitions, please contact the ANSTO Education Team:
Place Winners
Years 5 to 6 - Individuals
1st Place: Leroy C., Glen Waverley VIC
2nd Place: Taylor P., Revesby NSW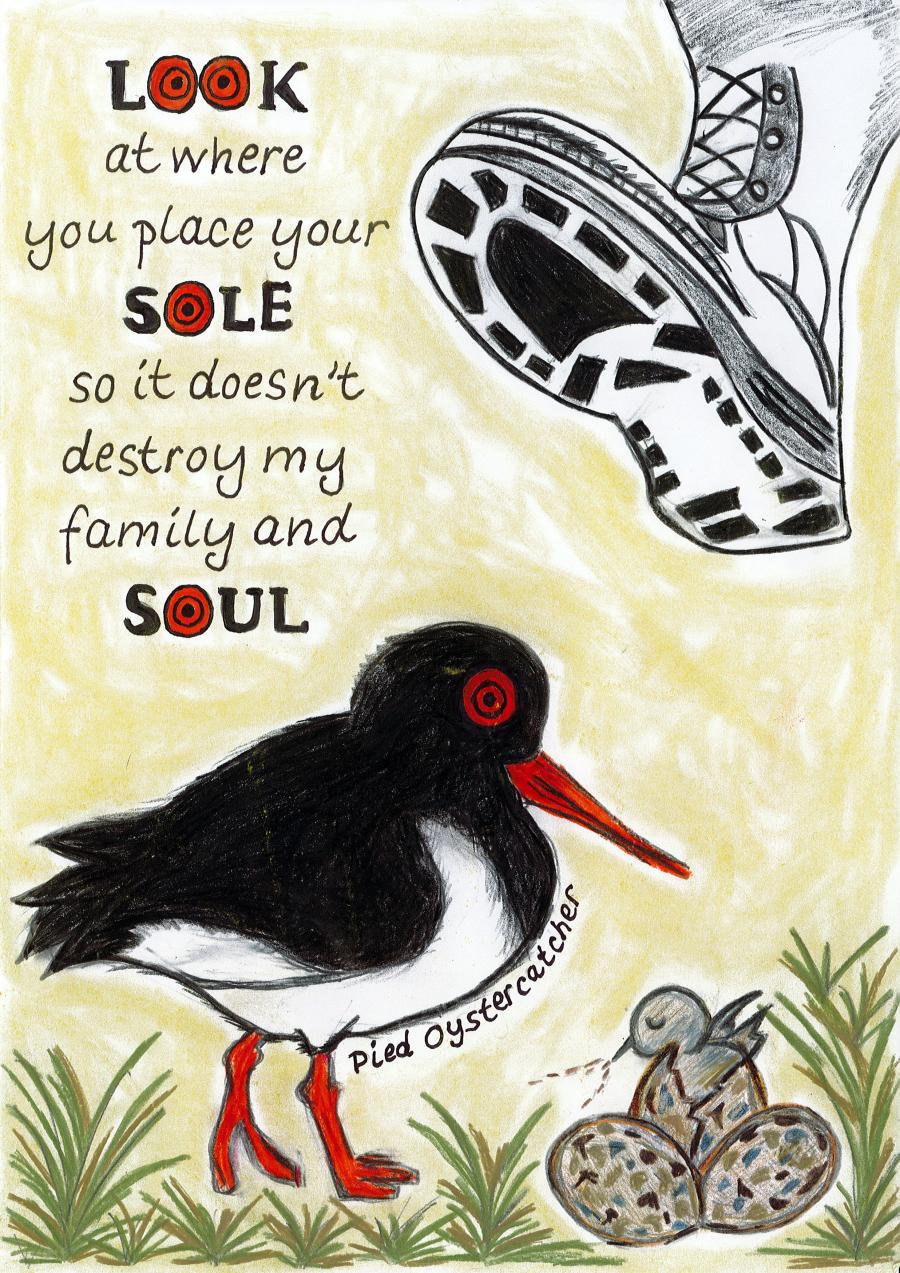 3rd Place: Tibby H., Margate TAS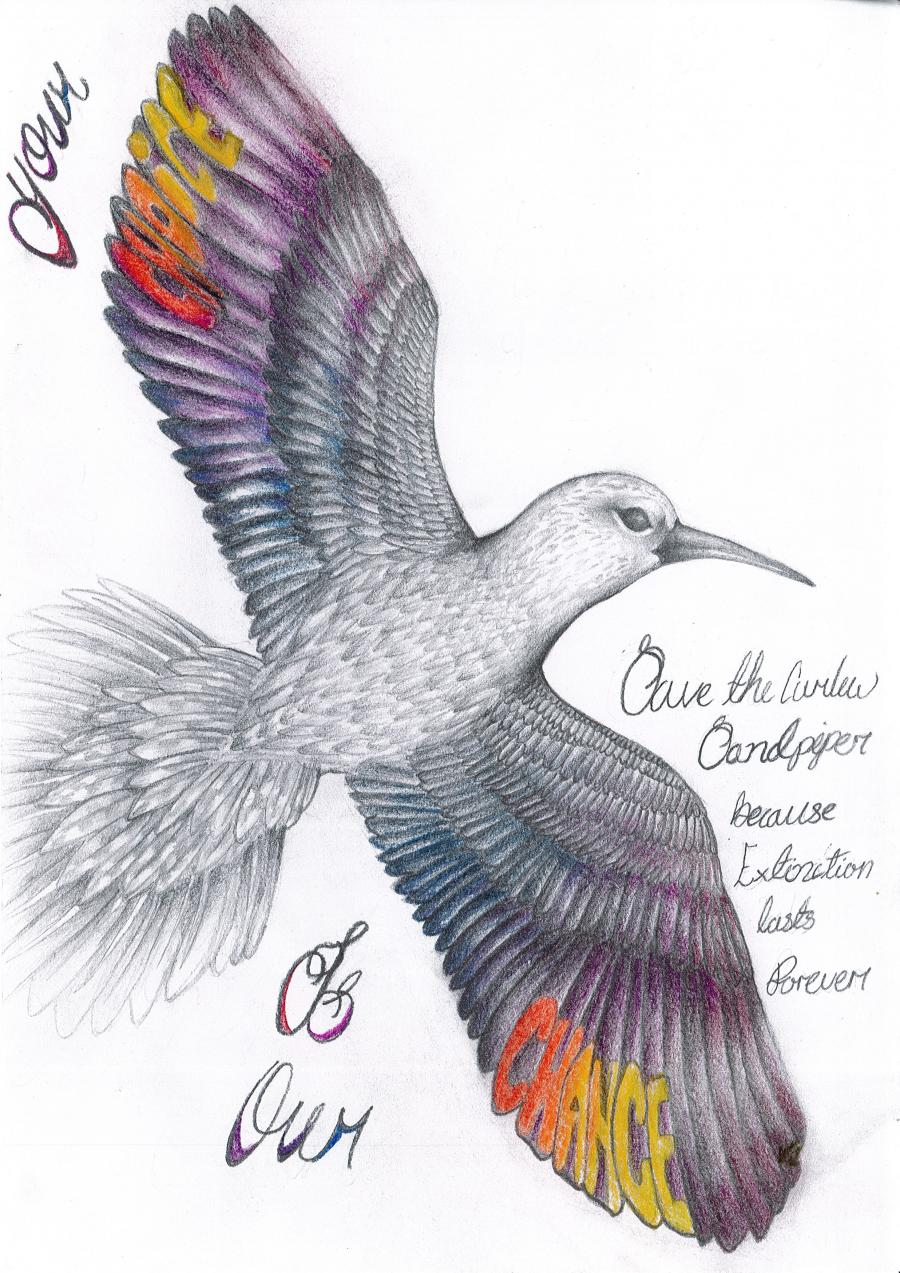 Years 5 to 6 - Schools
1st Place: Roman Moser, Kilmore Primary School VIC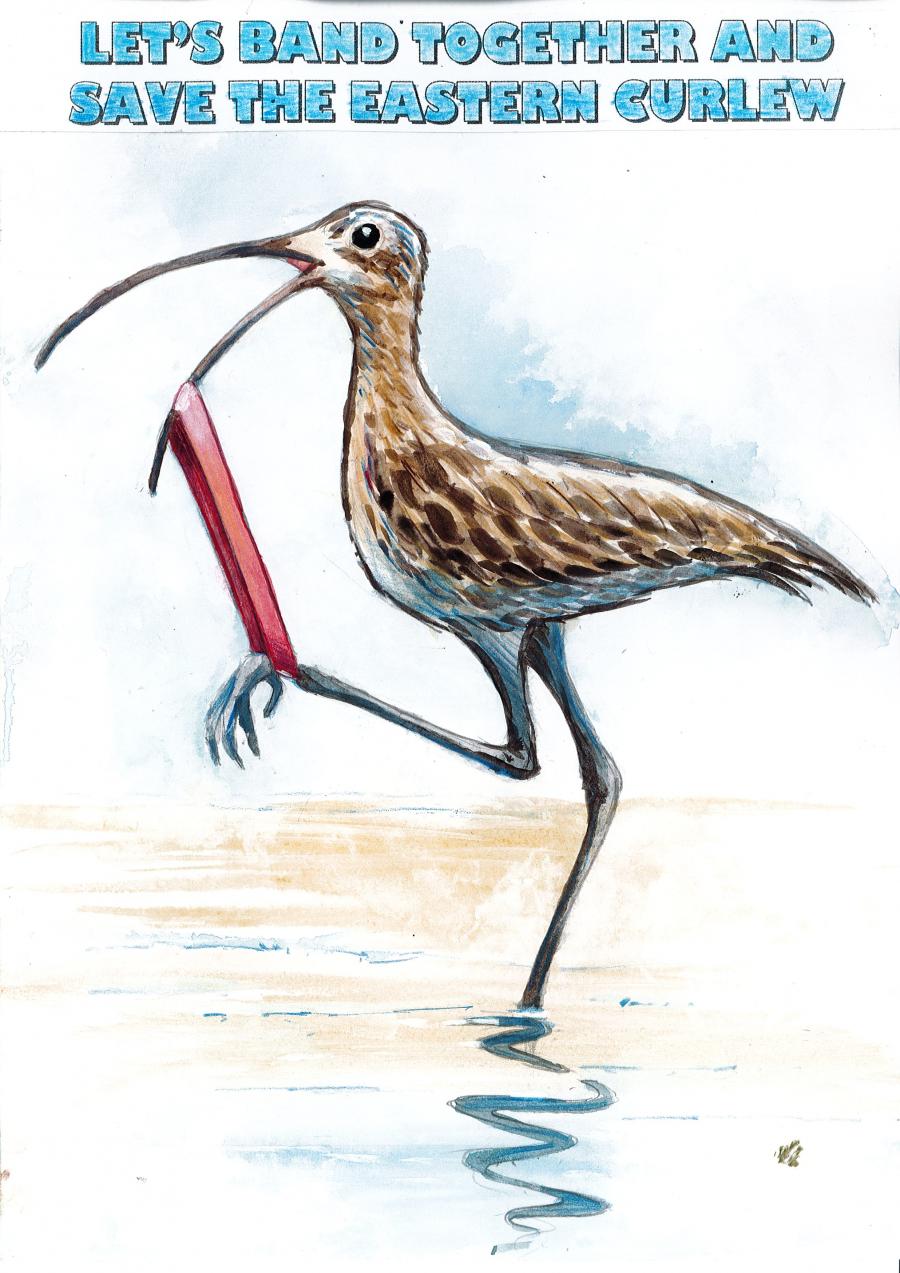 2nd Place: Iris H., PLC Sydney NSW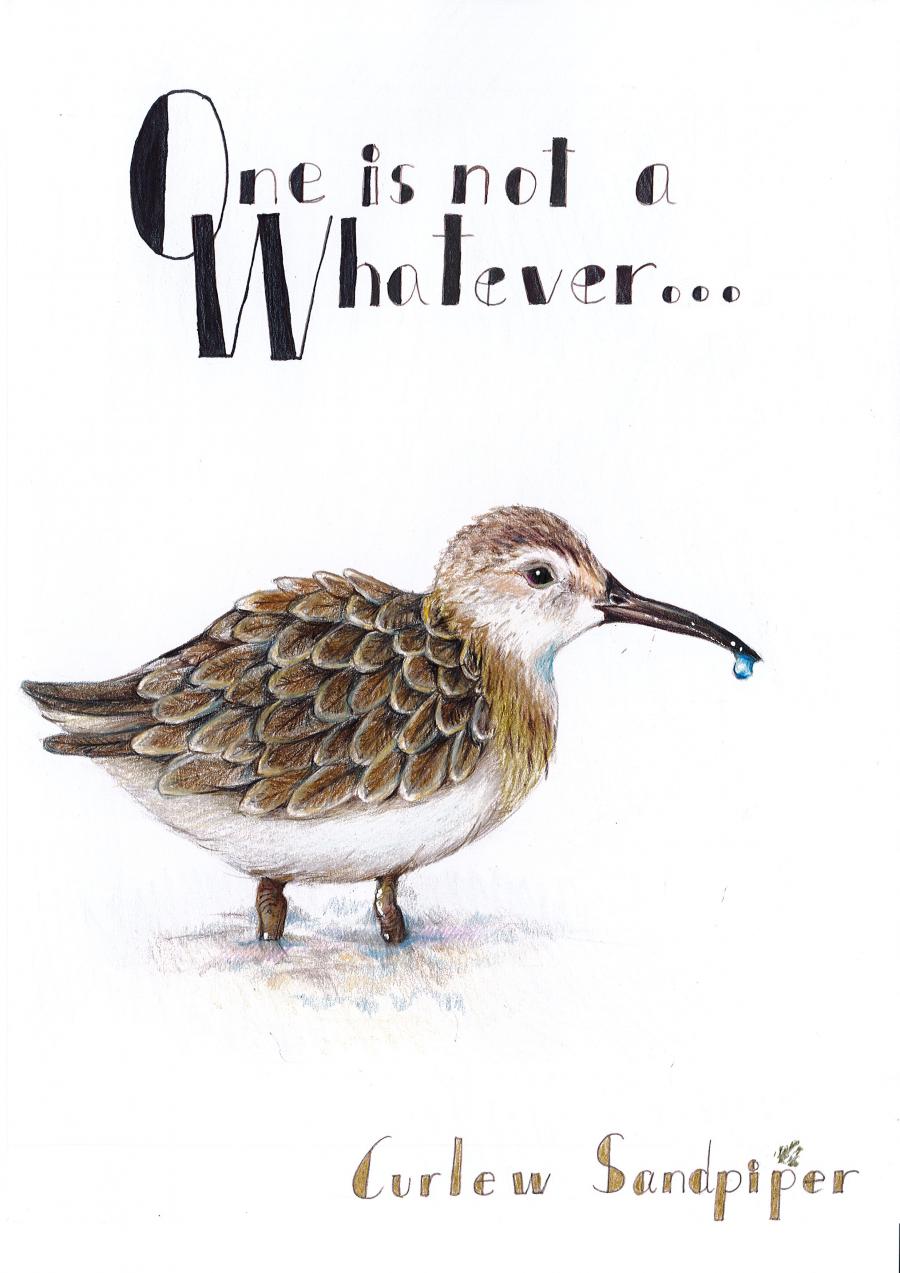 3rd Place: Hannah B., Miki M. and Tibby H., Margate Primary School TAS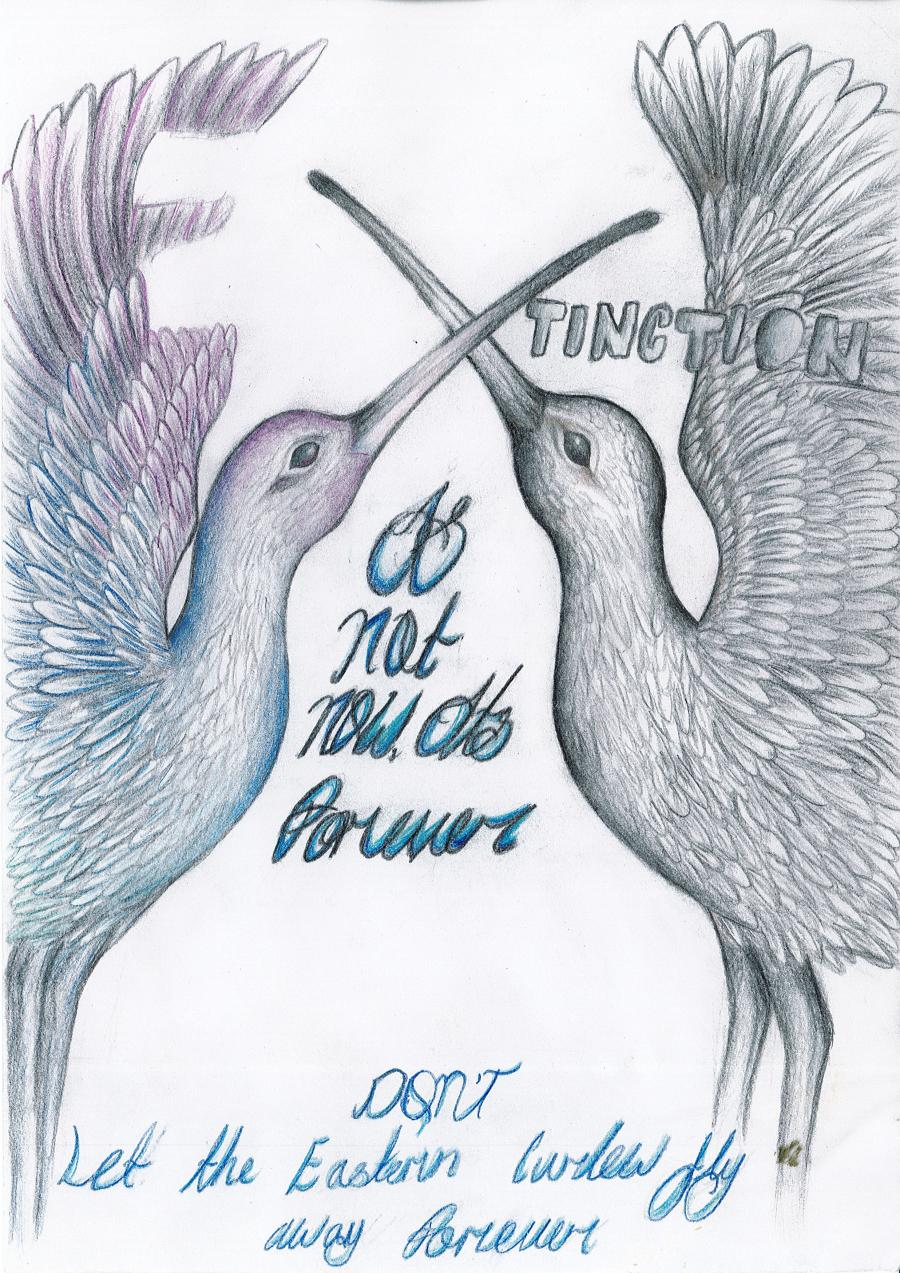 Years 3 to 4 - Individuals
1st Place: Hanna P., Boronia VIC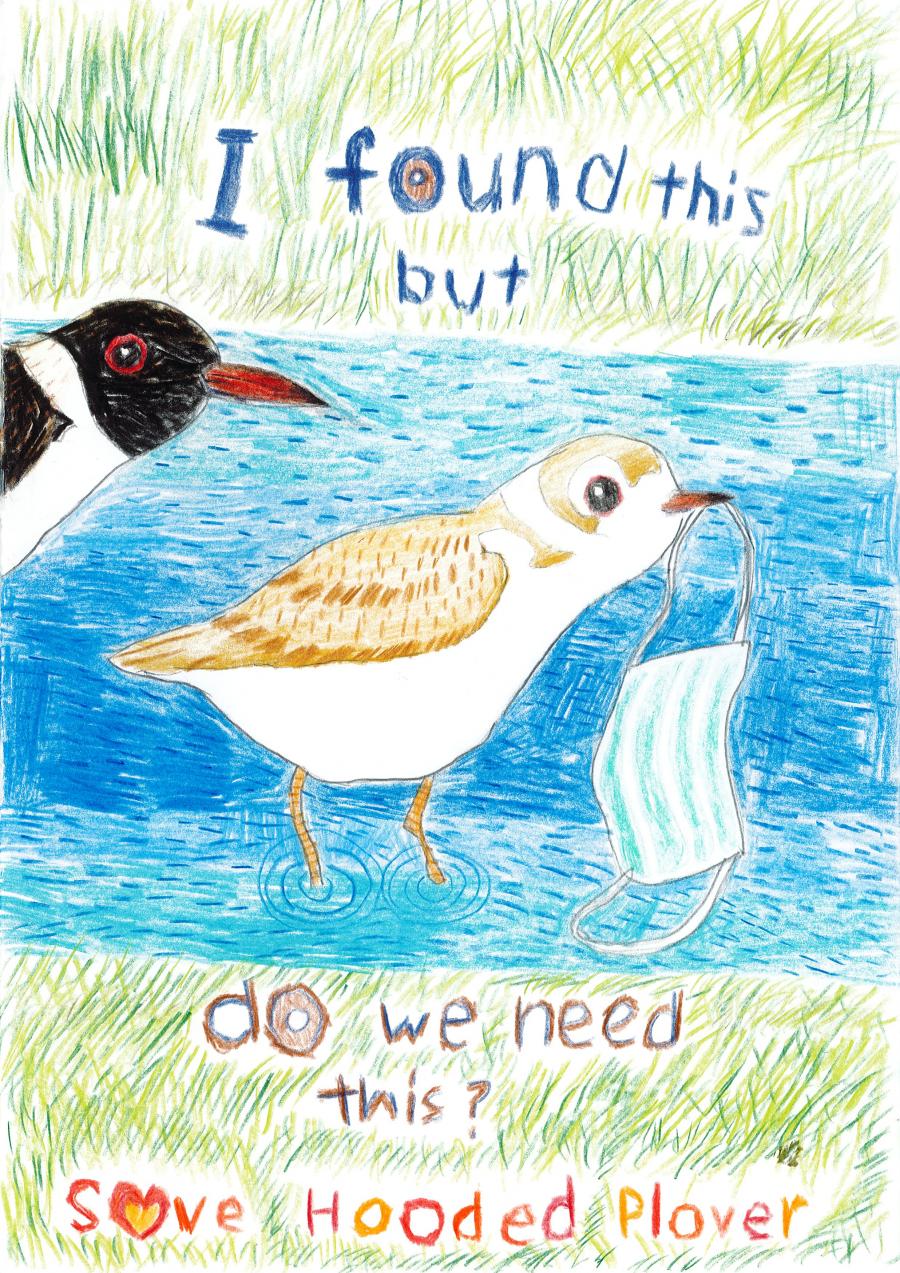 2nd Place: Thor van Hattum, Dalkeith WA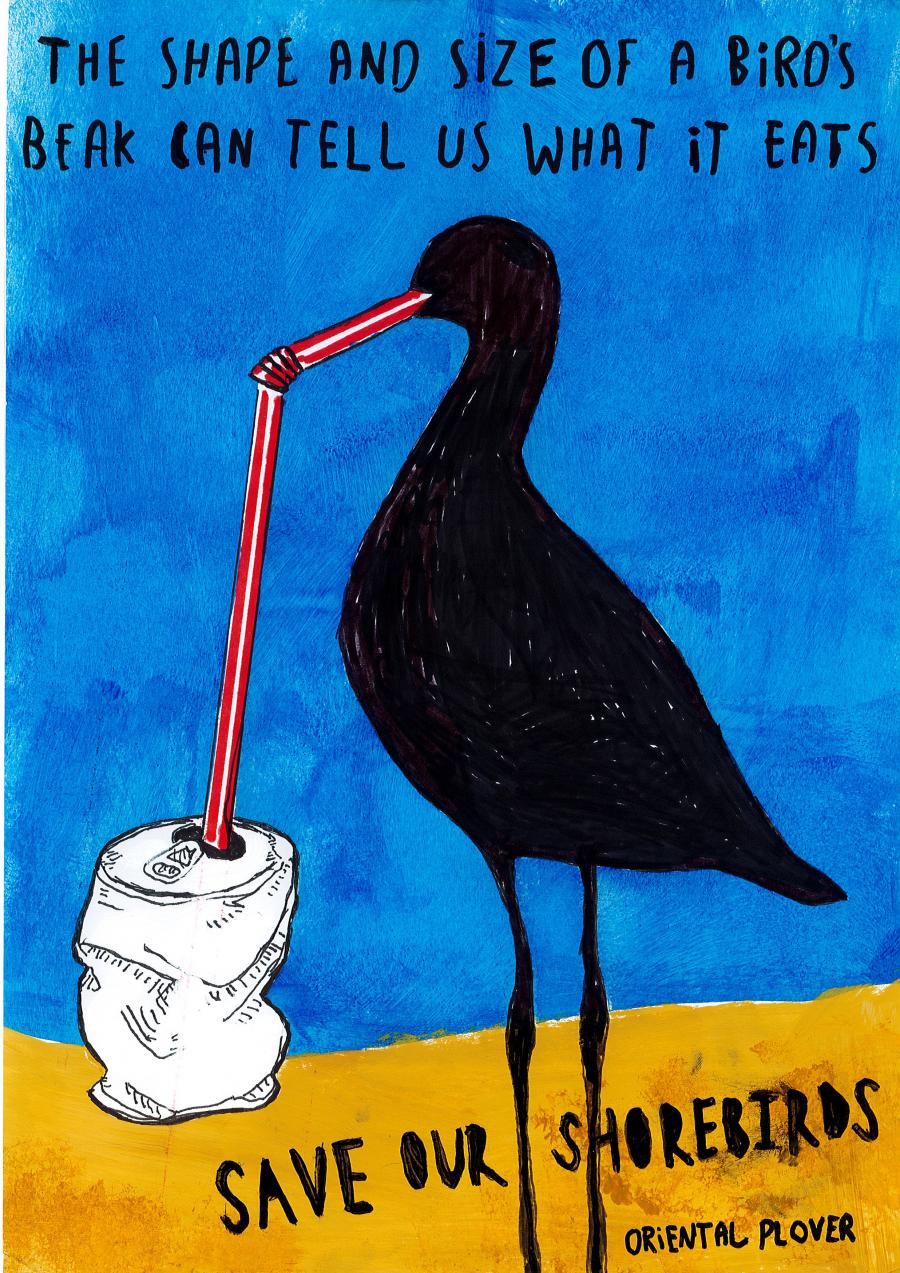 3rd Place: Connor T., Greenbank QLD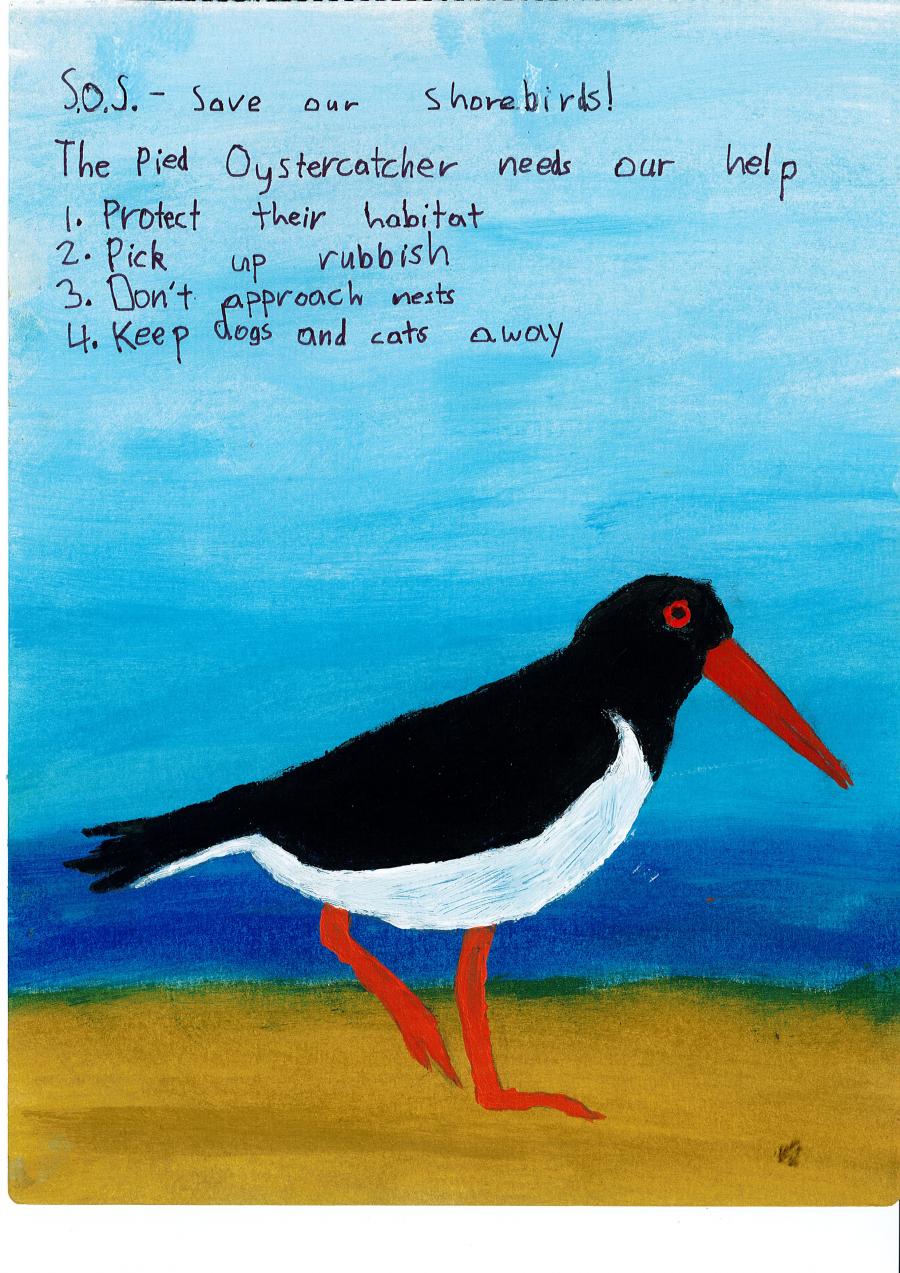 Years 3 to 4 - Schools
1st Place: Hudson H., Avalon Public School NSW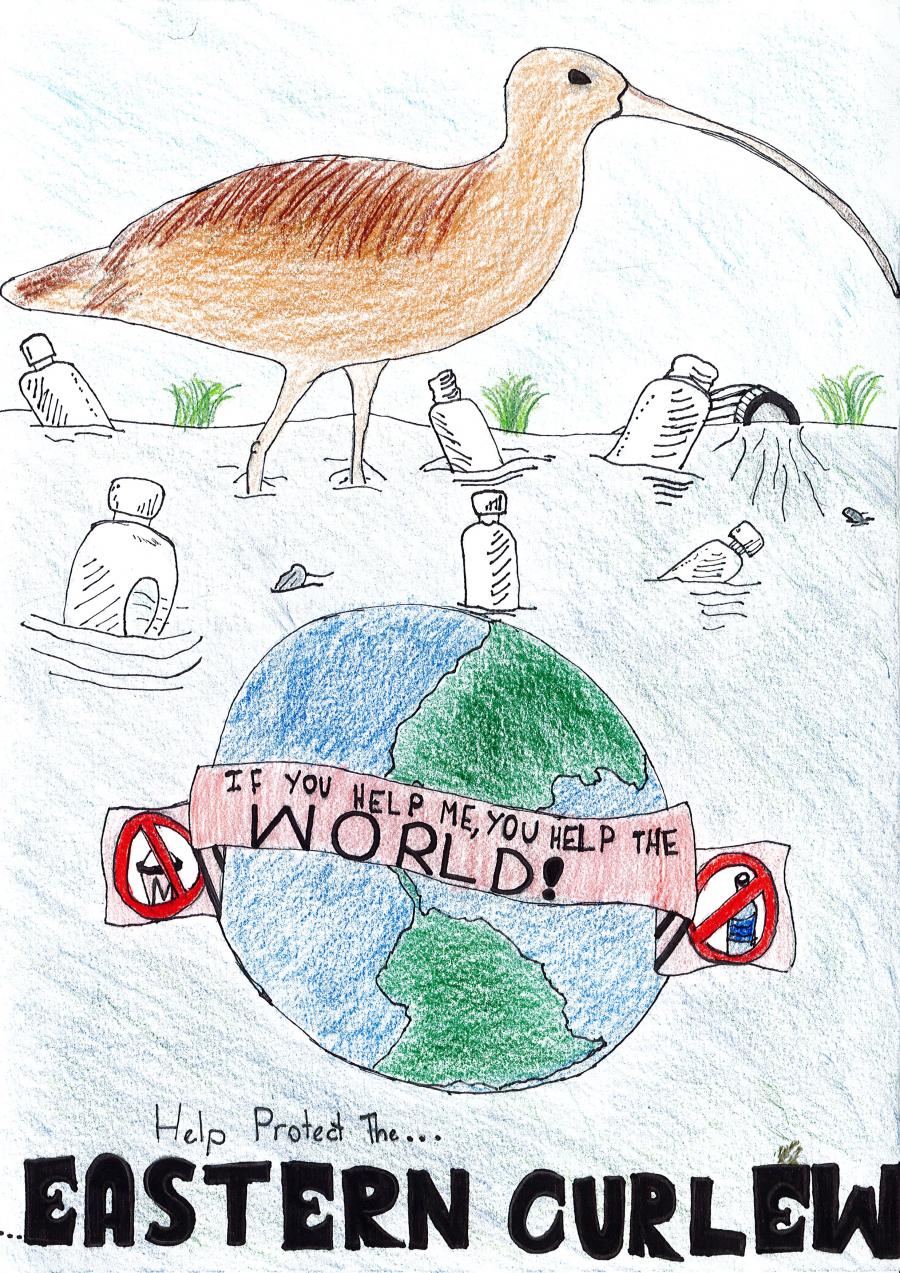 2nd Place: Jenna P., Applecross Primary School WA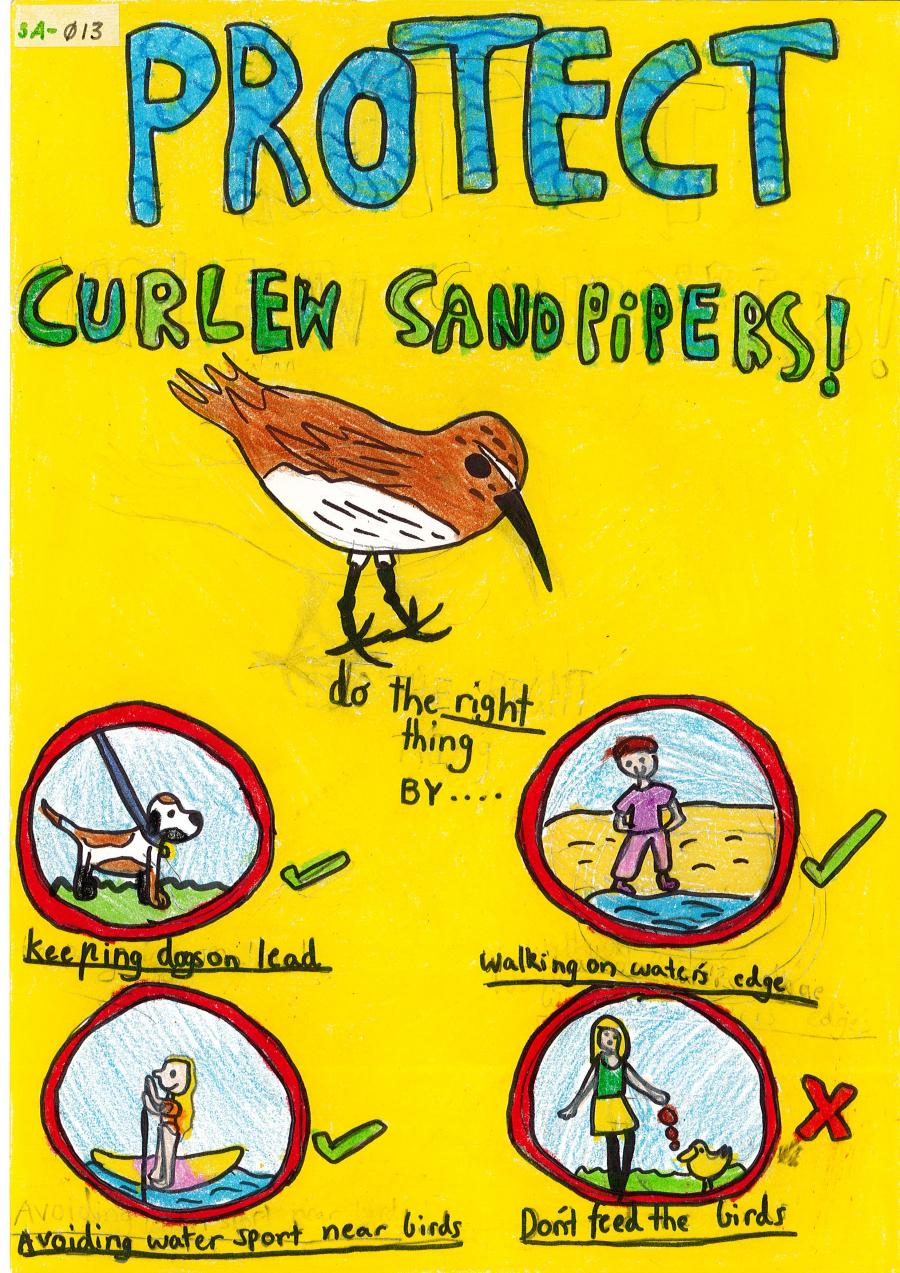 3rd Place: Phoebe L., PLC Sydney NSW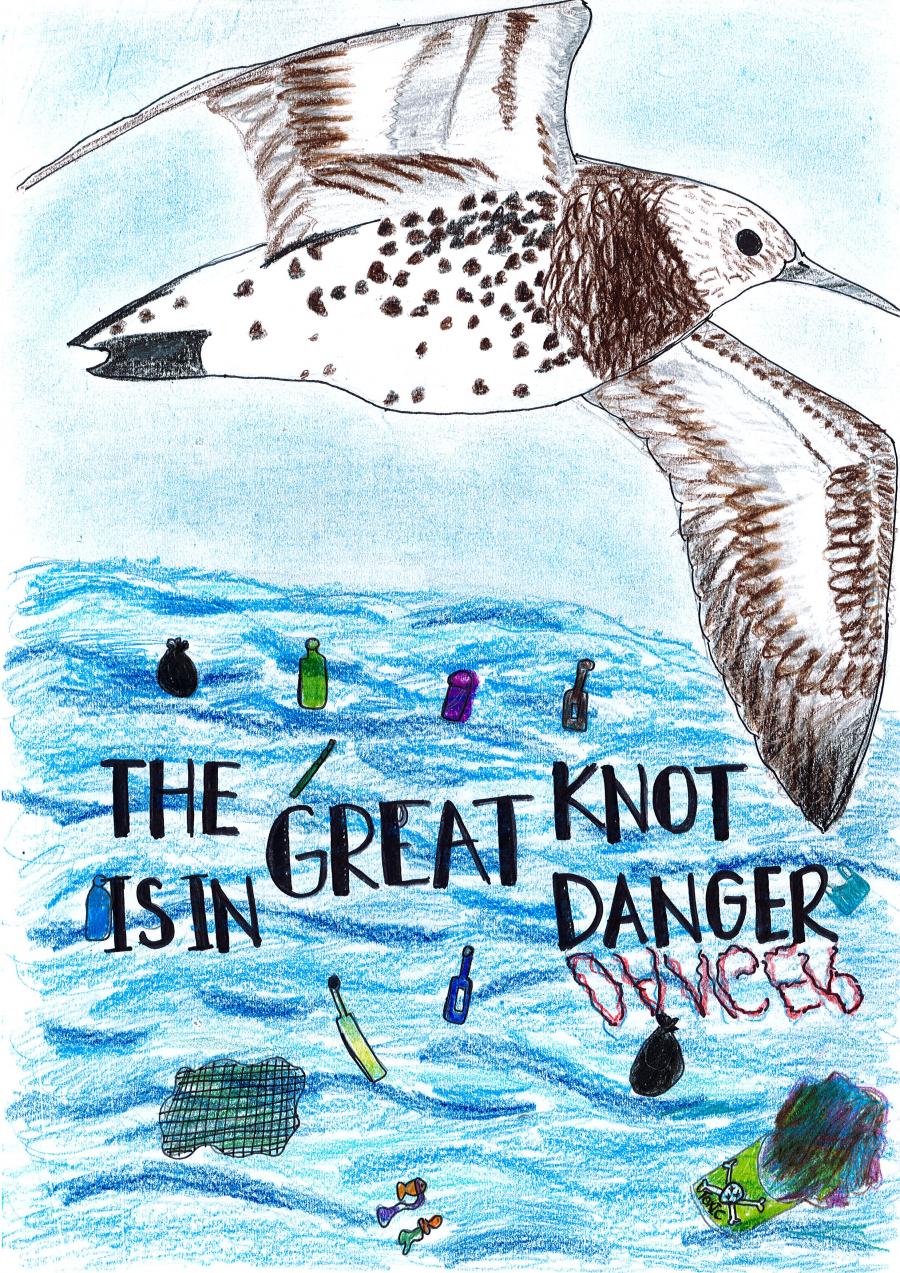 Highly Commended Entries
Years 5 to 6 - Individuals
Amaal I., Yarralumla ACT
Charlotte L., Longwarry VIC
Christiana V., Point Cook VIC
Faria N., Kensington Park SA
Hayden G., Montrose VIC
Years 5 to 6 - Schools
Crystal T., PLC Sydney NSW
Emilie T., Neutral Bay Public School NSW
Ipek T., Neutral Bay Public School NSW
Rhianna K., Artarmon Public School NSW
Yasmin N., Chullora Public School NSW
Years 3 to 4 - Individuals
Callum B., Seaholme VIC
Catherine Tan, Werribee VIC
Cooper H., Pegarah TAS
Miranda J., Aspendale VIC
Pinipa Liyanage, Kaleen ACT
Years 3 to 4 - Schools
Andy L., Hurstville Adventist School NSW
Ayva M., Kincumber Public School NSW
Henry H., Avalon Public School NSW
Isabel Y., Brighton Primary School TAS
Sam H., Neutral Bay Public School NSW
Commended Entries
These students will be issued with a certificate.
Years 5 to 6 - Individuals
Benny L., Panania NSW
Cenzo A., Heatherton VIC
Hazel T., Middlesex WA
Jem C., South Hobart TAS
Katie W., Castle Hill NSW
Liam B., Bonnet Bay NSW
Lila H., Jannali NSW
Years 5 to 6 - Schools
Abbass A., Ashburton Drive Primary School WA
Alaina R., PLC Sydney NSW
Annie C., Artarmon Public School NSW
Arisa H., Maroochydore Primary School QLD
Bethany D., Ashburton Drive Primary School WA
Catherine T., Artarmon Public School NSW
Eleni M., Danebank Anglican School for Girls NSW
Emma E. and Jayde M., Margate Primary School TAS
Evelyn T. and Zoe W., Margate Primary School TAS
Isabella F., PLC Sydney NSW
Janahli T., Aireys Inlet Primary School VIC
Jouri O., Chullora Public School NSW
Kitty L., PLC Sydney NSW
Merrian L., Artarmon Public School NSW
Michaela A., Macarthur Anglican School NSW
Mischa G., Aireys Inlet Primary School VIC
Nicole Z., Artarmon Public School NSW
Paige M., Aireys Inlet Primary School VIC
Riya S., Ashburton Drive Primary School WA
Rosie O., St Aloysius Primary School NSW
Saoirse N., Neutral Bay Public School NSW
Shiny M., Donburn Primary School VIC
Sophia H., Danebank Anglican School for Girls NSW
Sylvia S., Artarmon Public School NSW
Willow M., Cable Beach Public School WA
Years 3 to 4 - Individuals
Marvin F., Castle Hill NSW
Annabel C., Frankston South VIC
Vanthanah V., West Moonah TAS
Malakhi G., Walkley Heights SA
Sabine P., Kinglake VIC
Lara M., Taren Point NSW
Ayva G., Rural View QLD
Years 3 to 4 - Schools
Abby W., Avalon Public School NSW
Adam H., Mt Martha Primary School VIC
Amelia P., King Island District High School TAS
Angeline C., PLC Sydney NSW
Anika B., Maroochydore Primary School QLD
Aya Maltby, Kegworth Public School NSW
Beatrix L., Mt Martha Primary School VIC
Ben H. and Luke M., Parkfield Public School WA
Charli O., Mt Martha Primary School VIC
Devin H., Ashburton Drive Primary School WA
Erin B., Eastern Fleurieu School - Milang Campus SA
Esma Z., Ashburton Drive Primary School WA
Gia T., Avalon Public School NSW
Hannah C., PLC Sydney NSW
Imogen P., PLC Sydney NSW
Isabelle Q., PLC Sydney NSW
James B., Applecross Primary School WA
Kulsum R., Caddies Creek Public School NSW
Levi F., Hurstville Adventist School NSW
Maxi N., Neutral Bay Public School NSW
Melody S., Hurstville Adventist School NSW
Oliver G., Aireys Inlet Primary School VIC
Scarlett N., Kegworth Public School NSW
Suri N., Caddies Creek Public School NSW
Taylah D., Caddies Creek Public School NSW