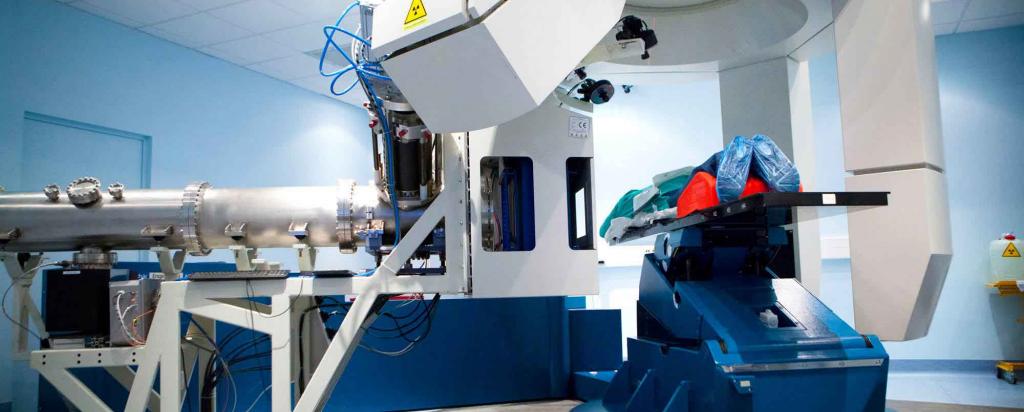 Published on the 17th May 2017 by ANSTO Staff
A National Particle Therapy and Research Centre would provide all Australians with access to the very latest in cancer treatments, delivering proton therapy and cutting edge carbon therapy, which is being used around the world to improve outcomes for patients with previously untreatable cancers.
With carbon therapy, patients require fewer treatments, experience fewer side effects and achieve better outcomes compared to current treatment options, and is an exciting development in the particle therapy offering.
Back: Dr Adi Paterson (CEO,ANSTO), Leena Singh (Director, Strategic Business Development & Commercial Services,Western Sydney Local Health District,  Danny O'Connor (Chief Executive, Western Sydney Local Health District), Prof Verity Ahern (Clinician, Princess Mary Cancer Centre Front:  Dr Sandro Rossi (Director-General, National Centre of Oncological Hardrontherapy, Italy)
Today, leaders from the Australian Nuclear Science and Technology Organisation (ANSTO), experts from Italy and clinicians from NSW met to explore how the full range of particle therapy treatments may be made available to Australians.
This discussion comes as the Federal Government announced a $68 million Budget contribution to establish a proton therapy centre in Adelaide – an important first-step in Australia to establishing a capability to deliver particle therapies to treat cancers in Australia.
Dr Adi Paterson, CEO of ANSTO said that discussions such as a Senate Select Committee into low survival rate cancers, and the conversations had today around carbon ion therapy and other types of particle therapy, offers the opportunity to make a significant leap forward for Australian patients with cancer who, right now, have few treatment options.
"Carbon ion therapy is a game-changer, it has the potential to significantly improve patient outcomes and take Australia into the community of nations adopting this advanced approach," said Dr Paterson.
"It is essentially a process in which a high energy particle beam delivered from a high-tech accelerator can very precisely deliver a dose of radiation targeted to a tumour, matching its shape and size.
"Carbon ions are accelerated to 75 per cent the speed of light and then directed down a beamline with sub millimetre accuracy into the tumour, to destroy the cells with near-perfect precision.
"Carbon ion therapy offers the potential to treat disease three times more effectively than conventional radiation therapy, in fewer treatment sessions and with little damage to surrounding healthy tissues.
"Particle therapies like carbon ion therapy could be a silver bullet, improving patient outcomes, and their quality of life both during the treatment and after.
"Today we had an opportunity to meet with leading international and local experts, to discuss how Australia can respond to and utilise this leading-edge technology to address difficult-to-treat cancers."
Dr. Sandro Rossi, the Director General, National Centre of Oncological Hadrontherapy in Italy is in Australia this week to share his expertise. The Centre is Italy's national particle therapy centre and is focused on treatment of radio-resistant or inoperable tumours and broader research.
"Our facility is one of a small number in the world that is focused on carbon ion particle therapy, providing new treatments to patients with cancer, which is the leading cause of death globally," said Dr. Rossi.
"Patients who receive particle therapy treatments are often at a point of little hope – after they have been told that surgery isn't an option, or conventional radiation therapy has been unsuccessful.
"If Australia were to establish a national particle therapy and research centre that can deliver carbon ions and other types of particle therapy including proton therapy, they would be joining this small community of leading clinicians and researchers from around the world.
"It would deliver not only innovative and potentially life-saving treatments for patients, but cutting-edge research, for example, to understand more about the ways radiation interacts with living tissues," added Dr Rossi.
"What we see as the ideal model is a landmark national particle therapy and research centre for both life-changing patient treatment options and research, supported by state-based proton-based particle therapy facilities," said ANSTO's Richard Garrett.
"A national particle therapy and research centre would help thousands of Australians now and into the future, by ensuring there is an ongoing research component. ANSTO is thrilled to be part of the continuing discussion of how we can work towards this game-changing national network.
"We are already making progress on the business case, and will be liaising with the Federal and State Governments to make this innovative treatment and research approach available to Australians."
Media contacts: Isabelle Colla 0432 970 548
                             Matthew Snelson 0434 367 135
                             Phil McCall 0438 619 987
BACKGROUND ON A NATIONAL PARTICLE THERAPY AND RESEARCH CENTRE
• Conventional radiotherapy uses high energy radiation, usually photon beams to destroy cancer cells or impede their growth and it has a major role in modern cancer management.
• Particle therapy is a class of treatment that kills cancer cells - using protons or other charged ions, such as carbon, with minimal side effects.
• Carbon ion particle therapy is an advanced form of particle therapy used to treat cancers located close to critical structures such as the eye, and other previously considered inoperable tumours, as well as those resistant to conventional radiation treatment. It demonstrates superior clinical advantages over conventional radiation therapy because:
          It provides a higher dose of radiation which increases with depth to a sharp 'energy peak' at the precise tumour location, therefore providing a dose 3 times more effective at killing cancer cells than 
          conventional radiation therapy;
         There is little spread of radiation beyond the specifically targeted tumour site, therefore minimising damage to surrounding healthy tissue, reducing side effects and the risk of secondary tumours;
         The delivery of the therapy can be controlled precisely to match the exact size and shape of the tumour, with accuracy to less than a millimetre;
         Fewer procedures are required because of the stronger radiation dose; and
         With less time in care, the burden on both patients and the health system is reduced.
         The carbon ions are accelerated to up to 75 per cent the speed of light in a synchrotron particle accelerator, before being delivered to the patient in a particle beam.
• At present, if an Australian patient with an inoperable or radiation-resistant tumour needed to receive carbon ion or other particle therapies, they would need to travel overseas to do so.
• There are more than 70 operational particle therapy facilities around the world, and a further 40 currently under construction.
• Proton-based particle therapy is a mature technology, first trialed in the 1950s in the United States and Sweden, and now used in at least 17 countries around the world.
• There are some 11 carbon ion particle therapy facilities around the world.
• Accelerated particles also has non-clinical applications, such as research into advanced cancer therapies, radiogenomics and radiobiology (how radiation interacts with living tissues), and in industrial research e.g. advanced materials development and avionics.