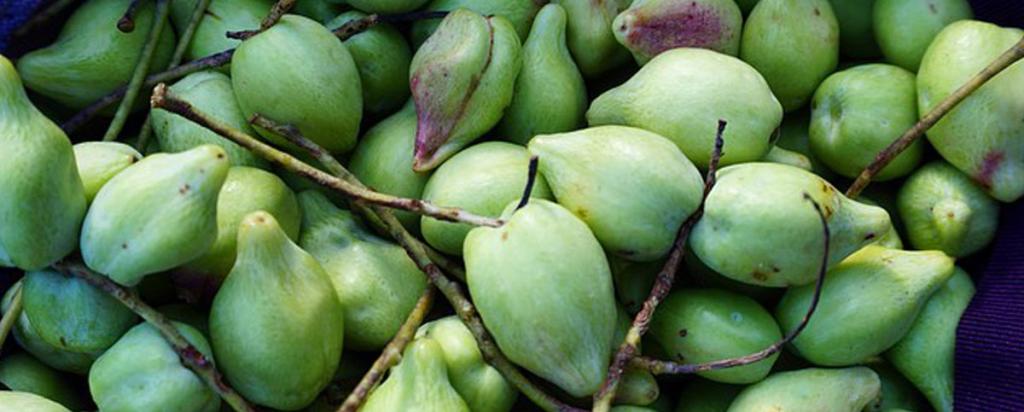 Published on the 13th August 2021 by ANSTO Staff
ANSTO's nuclear analytical techniques have been used to ensure that traditional Aboriginal products, such as the Kakadu Plum, are authenticated as part of a new project in partnership with Northern Australia Aboriginal Kakadu Plum Alliance (NAAKAPA) administered by the Mamabulanjin Aboriginal Corporation (MAC) in WA.
MAC, on behalf of the Northern Australia Aboriginal Kakadu Plum Alliance, has received a major grant from the federal  Department of Agriculture, Water and the Environment for a 'Certification and Bushfood Traceability and Provenance Project' that will develop a framework combining two leading technologies in provenance and traceability within an auditable certification system for producers of Aboriginal products.
The Hon David Littleproud, MP, the Minister for Agriculture and Northern Australia announced the funding in early August.
ANSTO, a partner in the project, will be providing its isotopic and elemental 'fingerprinting' technology to validate provenance, which will be combined with a SMART Blockchain chain of custody ledger in an application developed by IP Australia called the Kakadu Plum App.
"We are building on preliminary work on Kakadu Plum that we have done previously with the Indigenous Land and Sea Corporation (ILSC), Northern Australia Aboriginal Kakadu Plum Alliance (NAAKPA), Mamabulanjin Aboriginal Corporation and IP Australia that demonstrated we could validate origin and provide a certification path," said Dr Debashish Mazumder, who leads the food provenance team at ANSTO.
The NAAKPA consortium consists of eight Aboriginal Corporations harvesting Kakadu Plum across northern Australia, currently representing more than 40%-45% of total Kakadu Plum produced in Australia (2019) with a retail market value of $1.7 million (AUD).
"As well as the uniqueness of Australian native foods that are linked to the experiences of Aboriginal Australians, the work will ensure consumers that the products they buy are authentic in origin, and the source is Aboriginal communities and enterprises.

"In addition to ensuring the ongoing protection of these traditional industries, the development of an innovative technology that links Aboriginal cultural knowledge and Western science, links two approaches to provenance and traceability,"  said Mamabulanjin Aboriginal Corporation CEO Neil Gower.
There are numerous examples, where items have been fraudulently marketed as containing authentic Aboriginal ingredients, including Kakadu Plum, that originate from overseas.
"Combining the two technologies into one system of Indigenous certification and ethical accreditation has significant advantages in Australia and will help maintain Australia's pre-eminence in global markets for Australian bushfoods," said Gower.
"Authentication is possible because animals and plants retain a unique fingerprint of the environment in which they were grown or planted. Because plants absorb nutrients from their environment, Isotopic tracing, combined with other nuclear techniques, can find these fingerprints, and link them to specific geographic areas," explained Mazumder.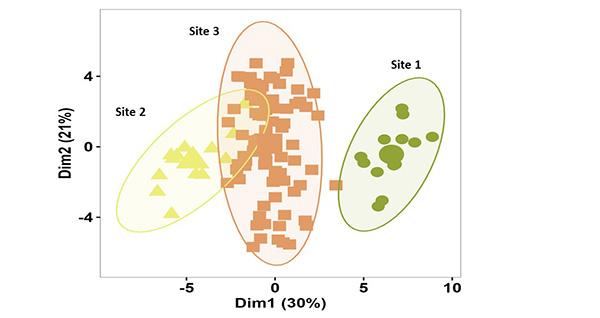 The elemental fingerprint data revealed differences in the origin of bushfoods
ANSTO's provenance technology will include a new database of all Kakadu plum producers in Australia. The database will be the source of geographical indicators which provide a framework that can be used to protect traditional knowledge associated with Aboriginal bushfoods, as well as, combat ingredient fraud in the bushfoods supply chain.
Stage one of the project has resulted in the piloting of the Kakadu Plum App, developed using IP Australia's Smart Trademark system.  Testing by ANSTO will guide the formation of Business rules for certification, and accreditation which will be developed by the NAAKPA consortium. 
The Kakadu Plum App utilises a blockchain system, where consumers can interact with the product to access information about the product's chain of custody from harvester, through to processor and then manufacturer, tracing product ingredients back to their source," explained Paul Saeki, Kakadu Plum Business Development Manager, Indigenous Land and Sea Corporation.
The funding from the Department will facilitate stage two and stage three of the project which includes developing certification rules and implementation and management of the certification system.
ANSTO 's nuclear techniques, including stable isotope analysis, X-ray fluorescence using the ITRAX scanner, and ion beam analysis, are combined with a superior mathematical model to determine provenance.
Other ANSTO team members in the food provenance project include Patricia Gadd, Dr Jagoda Crawford, Karthik Gopi, Dr Armand Atanacio and Dr Jasmin Martino who support analysis and computational works.
"The approach provides great precision in determining geographical locations. We have achieved an accuracy of over 80 per cent using seafood products," said Mazumder.
"Importantly the framework and model once, developed, and piloted may also be adapted to other high-value Aboriginal produce supply chains," said Paul Saeki.
Food by Design is the theme of National Science Week 2021
Food research is an Australian research priority.