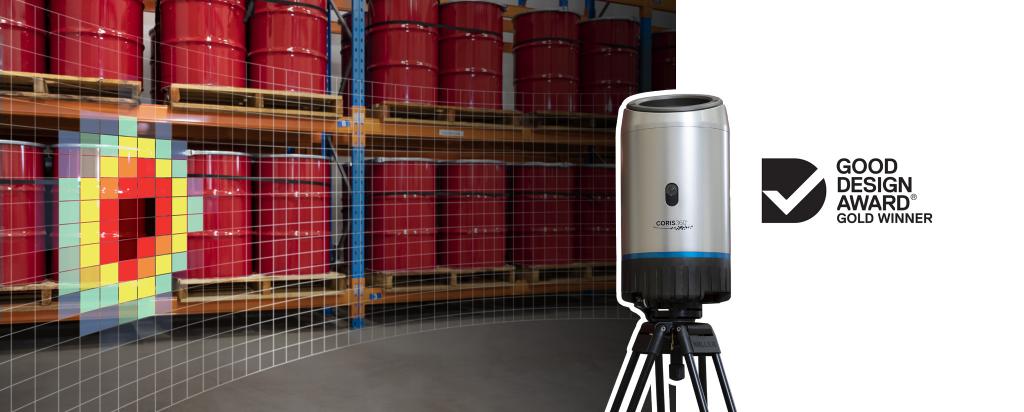 Published on the 13th October 2021 by ANSTO Staff
ANSTO's CORIS360® an advanced radiation imaging solution has been awarded two Gold Good Design Awards from Good Design Australia, winning in the categories of  Product Design/ Commercial and Industrial as well as Engineering Design.
The Good Design Awards Jury described the product as, "A sophisticated design that results in significant improvement in safety for people working in environments containing radiation. The form-factor is pleasingly minimalist and sleek and appealingly rugged. The innovation comes from the image processing methods used with reduced sampling and faster processing time. This device delivers high social and safety impact, and a significant positive impact on the environment. Its commercial potential has clearly been proved, as it is now being applied across a range of sectors, internationally. This is really impressive work and a standout example of good design in this category that deserves to be recognised. Well done."
CORIS360® is a portable device developed by ANSTO that can pinpoint the exact location of radiation sources and produce an image of it, fast and accurately.
CORIS360® is the only technology on the market that can quickly image across the full energy range and over a wide field of view. Other technologies have a limited energy range and/or a limited field of view.
ANSTO CEO Shaun Jenkinson said the Good Design Awards bestowed on CORIS360® are great recognition for its innovation and excellence.
"We are delighted with these awards – it's a powerful testament to the ingenuity and inventiveness of our world-class scientists, engineers and researchers," Jenkinson said.
"This is just one example of the world-leading, future-focused work undertaken at ANSTO every day, ranging from nuclear engineering, through invaluable global research to help treat COVID," he added.
Following seven years of R&D including five years of operational testing, CORIS360® was launched in late 2020 and has been sold both domestically and internationally to government agencies, specialist research organisations, as well as in the defence and military sectors.
Its key design features include remote operation, ease of use, faster imaging, future-proofing and an extended energy range.
 "CORIS360® produces precise and high-quality 360-degree images to quickly identify the location, as well as the type and amount of radiation in an area," explained Dr David Boardman, the inventor and Chief Technology Officer.
"This new technology has enormous potential in a range of fields including national security, customs, nuclear operations and safeguards, as well as decommissioning of old reactors," Boardman added.
The Team
The Detection & Imaging team is available to discuss commercial opportunities, projects and consultancy services.