Published on the 10th August 2018 by ANSTO Staff
ANSTO is excited to announce its first virtual-reality experience, which provides full access to the OPAL multipurpose reactor.  For security reasons, few people have the opportunity to see the real OPAL up-close—but with technology that will be shared at a select few locations and through a free VR app, you can take a deep dive into Australia's only nuclear reactor.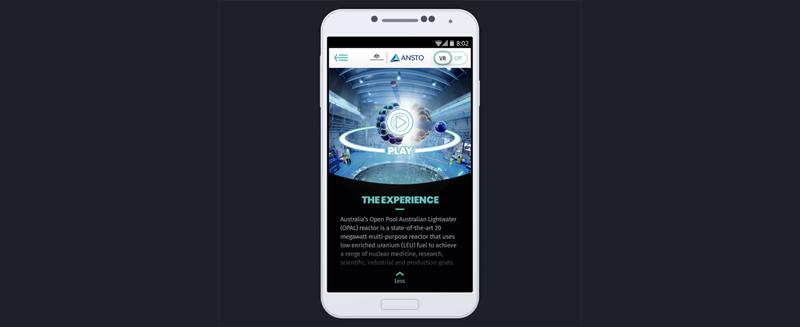 Entering the unseen world of atoms, you will be able to follow three possible journeys of the neutron, an extremely useful subatomic particle produced in the core of the OPAL multipurpose reactor. By splitting uranium atoms to generate trillions of neutrons every second, OPAL makes a range of unique services possible at ANSTO's Lucas Heights campus.
One of OPAL's primary roles is to transform elements into nuclear medicine, helping to create a society in which everyone can enjoy good health. The nuclear medicine produced in OPAL will be used, on average, by one-in-two Australians for the detection and diagnosis of various illnesses or the treatment of some forms of cancer. 
The transformative abilities of ANSTO's neutrons also assist with the production of advanced technology. Placing ingots of silicon near the reactor enhances their electrical conductivity when neutrons change some of the silicon atoms into phosphorus atoms. The resulting 'doped' silicon is suitable for use in high-end electronics, such as those used in satellites or hybrid cars, helping create a world in which we can all live sustainably.
In addition to transforming elements for health and industry, OPAL's ample supply of neutrons also drives a suite of state-of-the-art scientific instruments. Neutron scattering techniques provide unique insights into the structure and dynamics of matter at the atomic scale. This information is of vital importance in the study of advanced superconducting materials, the development of the next generation of batteries and solar cells, and many other investigations.
National Science Week is the perfect time to take an unforgettable journey and explore ANSTO science virtually at the atomic scale.