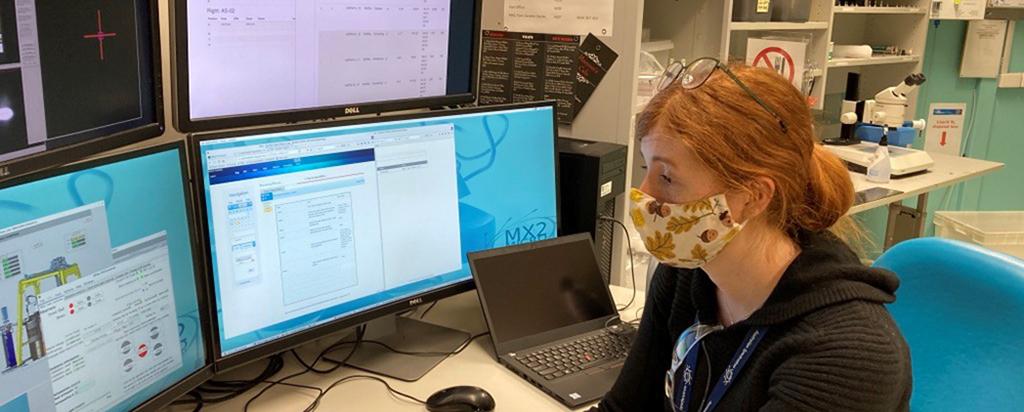 Published on the 7th October 2020 by ANSTO Staff
Prof Michael James, Senior Principal Scientist at ANSTO's Australian Synchrotron recently presented an update of COVID-19 research at the Synchrotron for a side event of the International Atomic Energy Agency (IAEA) General Conference to demonstrate how nuclear techniques are helping to combat and alleviate the disease.
The MIKTA (Mexico, Indonesia, Republic of Korea, Turkey and Australia) online event, 'Lessons learned from COVID-19 and the Way Forward for Technical Cooperation' was held to discuss key opportunities, challenges and priorities for inter-regional technical cooperation relating to the COVID-19 pandemic.
James described the rapid access program established at the Synchrotron for COVID research that resulted in more than 40 experiments by Australian and international research organisations and companies using five beamlines.
He described projects looking at the development of point-of-care detection using saliva, as well as the use of magnetic silica particles in pathology tests for the SARS-COV-2 virus.
Because of the extensive use of the macromolecular crystallography beamlines to determine the structure of proteins, he described how many groups are using the Synchrotron to characterise the virus and to understand how the virus spreads in our bodies and interacts with our immune system.
Alpaca-derived antibody research, which was of considerable media interest in Victoria, was also highlighted as an investigation which explored using the virus spike protein as a target for a new nanobody-based therapy.
James also shared that there is a project on the horizon to use X-ray radiography and computed tomography to study impairments to lung function caused by COVID-19.
"I pointed out that MIKTA researchers can gain access to our instruments through our merit access program or the COVID special access program," said James.
"The group concluded that learning from these lessons and enhancing technical cooperation using nuclear applications, including seeking new and innovative methods, could help alleviate the burden of this COVID-19 pandemic," said Mark Alexander, International Affairs Manager.