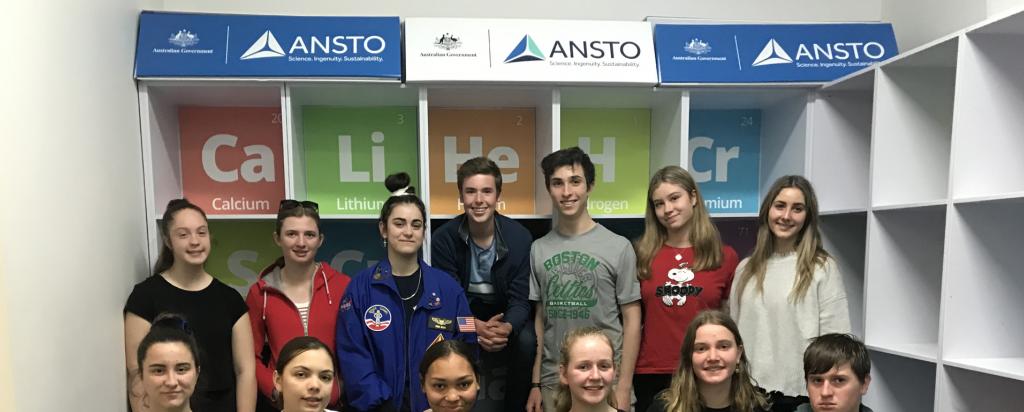 Published on the 15th November 2019 by ANSTO Staff
ANSTO is the place where science is put to work to solve big problems and develop big ideas.
This week teams of students from across Australia had the opportunity to share their 'big idea' as part of ANSTO's STEM outreach program, the Big ideas Forum.
Students from across Australia had the opportunity to get hands on with ANSTO science during the Big Ideas Forum. They are shown here in the ITRAX lab where environmental samples are analysed.
This annual event brings Year 10 STEM students and their teachers to ANSTO's Lucas Heights campus to learn about innovation in science first hand.
The students were selected based on a short video submission.
"We look for students who are creative and passionate about science, technology, engineering and mathematics and develop a concept to explore further during their visit to ANSTO," said Rod Dowler, Leader, Education.
"The topics that were selected by the successful teams reflect challenges in our environment, energy and health that we are facing today and young people feel passionate about," said Dowler.
Knox College students from Melbourne were looking for innovative solution to dealing with biodegradable plastics that breakup and permeate our environment and possibly turning the microplastics into something useful.
Microplastics were also am issue tackled by Mary McKillop College students from Adelaide, who came up with the novel idea of producing a robotic fish to clean up microplastics in the marine environment.
Melbourne Girls Grammar School chose to investigate a better treatment for anaphylactic shock than the existing method.
A trio of Aurora College students from Wagga Wagga, who complete some of their studies online, wanted to investigate the potential of hydrogen fuel cells to provide a cleaner form of power for the planet. 
Calvary Christian College students from Townsville were interested in the potential use of neutrons (found in the nucleus of the atom) as an energy source.
Three students from Casey Grammar School in Melbourne wanted to learn more about phyto-mining, using plants to absorb pollutants in contaminated areas.
The possibility of making make solar panels from recycled resources was the topic of choice by Cathedral College students from Wangaratta Vic.
Students from Mossman State High School in Far North Queensland, who live in a climate where sunscreen is a necessity, wanted to find out more about how much oxybenzone from sunscreen was accumulating in the Great Barrier Reef and how to remove it.
Rivers Secondary College students from Lismore NSW wanted to search for better anti organ rejection treatment drugs that were less debilitating than existing drugs
The Big Ideas Forum is only one example of ANSTO's commitment to STEM education. Using a multi-sensory approach as well as more traditional methods, ANSTO offers students and teachers the opportunity to engage in a variety of ways to learn more about innovative science and technology.
Other programs include Girls in the Lab, Science and Engineering Challenges, school visits, online modules with scientists and more. Find out more in the education section.