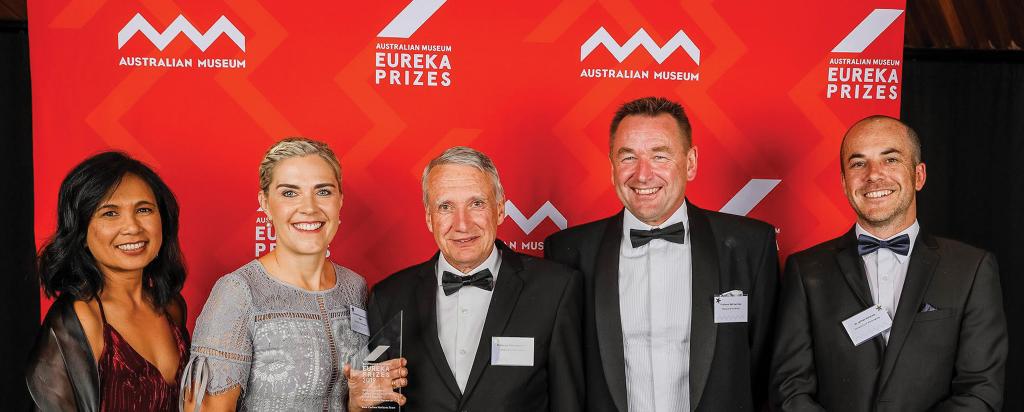 Published on the 29th August 2019 by ANSTO Staff
Congratulations to ANSTO scientists Dr Debashish Mazumder and Ms Atun Zawadski, part of a University of Wollongong (UOW) led team who were announced last night as winners at the 2019 Australian Museum Eureka Prizes.
The 'Blue Carbon Horizons Team' have won the 2019 NSW Environment, Energy and Science (DPIE) Eureka Prize for Environmental Research.
Associate Professor Kerrylee Rogers from UOW's School of Earth, Atmospheric and Life Sciences accepted the award on behalf of the team, which included scientists from UOW, Macquarie University and ANSTO.
ANSTO's Dr Debashish Mazumder responded to the award "This is a great achievement for ANSTO and the Blue Carbon Horizons Team. ANSTO's isotopic and nuclear techniques were a fundamental part of the study showing that coastal marshes capture and store more atmospheric carbon dioxide (CO2) per unit area than any other natural system. This study will greatly assist in conserving the coastal wetlands particularly in efforts for limiting climate change."
For further information on this prestigious award and research team view the UOW media release. 
ANSTO would also like to congratulate the winner of The Eureka Prize for Innovative Use of Technology, Professor Hala Zreiqat from the University of Sydney for her research on repairing challenging bone defects. This award, sponsored by ANSTO, is awarded to an Australian individual, team or organisation that has used new or existing technology in an innovative way to significantly improve the outcome of their research.
ANSTO would like to warmly congratulate all the 2019 Eureka Prize winners recognised at last night's  gala dinner. For a full list of the 2019 Eureka Prize Winners visit the Australian Museum website.