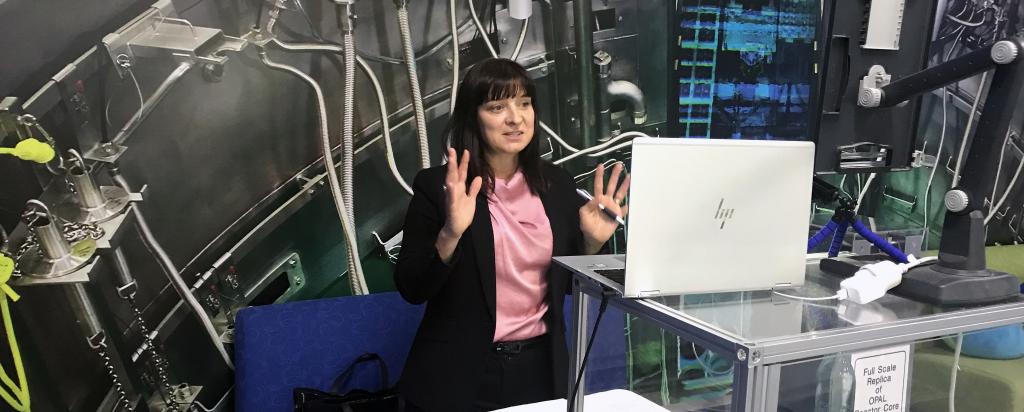 Published on the 10th December 2020 by ANSTO Staff
ANSTO and the International Atomic Energy Agency  (IAEA) have run a two-week virtual training course for female educators and communicators from across the globe to assist them in sharing information on the role of nuclear science technology in helping to achieve many of the United Nations (UN) Sustainable Development Goals.
The 17 Sustainable Development Goals offer a blueprint to achieve a better and more sustainable future and address global challenges such as the need for affordable and clean energy, climate action, clean water and sanitation, good health and wellbeing and gender equity.
The Women for Nuclear Science Education and Communications (W4NSEC) course was opened by IAEA Director General, Rafael Mariano Grossi and ANSTO Board chair, The Hon Dr Annabelle Bennett AC SC.
In his opening remarks, Mr Grossi said that nuclear science can contribute directly to at least nine of the 17 UN Sustainable Development Goals.
He went on to add, however, that these goals could not be achieved without gender parity—which is crucial in creating a stronger, more equal and more diverse workforce to drive development and sustainability in the nuclear field.
The Hon Dr Annabelle Bennett AC SC said ANSTO was delighted to be partnering with the IAEA on this important new training program that is supporting women in STEM by helping to build skills in education and communication.
"We are supporting women in their important roles to teach and inspire young people and to inform the wider community on how nuclear science and technology is helping to achieve the UN Sustainable Development Goals," she said. 
The course has attracted 59 senior-level professionals from 37 IAEA Member States in the four IAEA regions of Technical Cooperation, these being Asia Pacific, Africa, Middle East, South and Central America.
Participants are hearing from experts on nuclear science and technology from ANSTO, the IAEA and other world-leading organisation on topics including how nuclear science is helping to improve health; supporting our earth systems and water resources; delivering new power technologies and more.
Students also participated in hands-on exercises on science writing, creation of school education resources, social media and online engagement.
An example of ANSTO's outreach activities - a virtual reality tour of the OPAL multipurpose reactor
ANSTO's General Manager for Communications and Stakeholder Engagement, Cassandra Casey, said many of our female researchers from ANSTO have been involved in the course and have shared how their work is delivering solutions for improved health outcomes, greater insights to help manage our environment and deliver new solutions for our industries.  
"It's vitally important that we learn to share these stories effectively so we can not only inspire students into STEM careers but also help to inform our wider communities of the important research being enabled by nuclear science and technology today," she said.