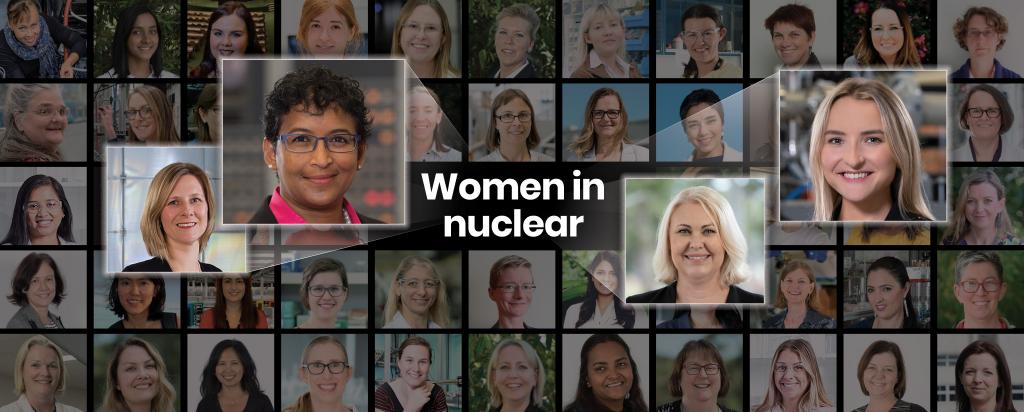 Published on the 5th March 2021 by ANSTO Staff
Being a female in the male dominated nuclear industry has its challenges, but these leaders at ANSTO are amongst many other women who take on their roles at ANSTO with a commitment to excellence, resourcefulness and confidence.
On International Women's Day, ANSTO is proud to highlight the contribution of four inspirational women from across the organisation who have 'chosen to challenge' during their careers and celebrate the contribution of all our female staff.
Pamela Naidoo-Ameglio
Meet Pamela, who is the women behind the safe operations of Australia's only nuclear reactor.
As the Group Executive of ANSTO's nuclear precinct, Pamela Naidoo-Ameglio has overall responsibility for the operation of the areas that comprise the Nuclear Precinct covering the full supply chain for nuclear medicine production and radioactive waste management and more than 500 staff.
With a scientific and management background in mineral resources, geoscience consulting, major mining technology projects and director experience in leading professional membership organisations, Pamela joined ANSTO in January 2018 as the first female in the role of Group Executive Nuclear Operations at ANSTO. In May 2020, she was promoted to Group Executive of the Nuclear Precinct.
Proudly a woman of colour, Pamela is also a champion of diversity and inclusion at ANSTO.
"Every day I get to work with the best of the best and to help teams and individuals achieve more than they thought they could, by leading and mentoring among other things, is probably the most satisfying part of my job," said Pamela.
Learning about the complex processes and technologies and meeting the people who undertake them at ANSTO keeps her highly motivated.
She admits that there is some unconscious bias in traditionally male dominated workplaces and an unfamiliarity with the different ways that women interact and get things done.
"We are usually more collaborative and use our influence rather than being directive and persuading," she explained.
"This is sometimes interpreted as a lack of assertiveness and decisiveness."
Pamela reflects that there is no lack of inspirational females today or in the past.
As a child she was fascinated by the achievements of pioneering aviator Amelia Earhart and the anthropologist and primatologist Jane Goodall, who were able to be successful in traditional male roles.
More recently, the leadership, empathy and courage displayed by NZ Prime Minster Jacinda Ardern and German Chancellor Angela Merkel have been role models in the crisis time during COVID.
"My advice to younger women working in nuclear or related areas would be to understand your values and non-negotiables and let them guide you. This is a path I still follow,' concluded Pamela.
Rosanne Robinson
Rosanne Robinson is General Manager, Business Development and Commercialisation, and has helped ANSTO make great strides in business development and the commercialisation of products over recent years.
Rosanne has a broad-based business background having worked in senior leadership roles across a range of industries for both the public and private sector.
She is known to operate with high integrity and has the ability to rapidly develop trust and rapport with partners; focusing on customer needs and delivering value to exceed expectations.
Rosanne has recently been behind the establishment of the Australian supply of lutetium-177 for a range of clinical trials including neuroendocrine and prostate cancers;  the commercialisation of ANSTO's new radiation imaging technology CORIS360®;  and ANSTO developed theranostics, which are now being developed by Clarity Pharmaceuticals Limited here in Sydney.
Rosanne says that the most satisfying part of her role is knowing that her work is supporting real outcomes, such as new cancer diagnostics and therapeutics that have the potential to save lives.  
As someone who has always worked in male dominated industries and confronted challenging behaviour at times, she says that things have improved greatly since she first started working and we must continue to challenge to support those women who follow behind us.
"Whilst at times it has been challenging to be a women in my industry, throughout my career I have worked with some of the most amazing and supportive men, who have fostered my career and personal development," she said.
Rosanne found inspiration in her mother and grandmother, who were strong, confident women who worked and raised their families, at a time when this was not the norm.
"Growing up my parents always instilled in me that gender was not a barrier to achieving your goals."
Rosanne's advice is to let your drive, ability and resilience take you forward and to embrace new opportunities, even if you feel you are not ready.
Working at ANSTO's Australian Synchrotron, at the Melbourne campus, Michelle Jones-Lennon considers herself very fortunate to be able to make what she describes as 'a small contribution' to the management and growth of one of Australia's most significant research facilities.
She does this not as a scientist or an engineer but as a program manager, who is responsible for the capital portfolio.
Michelle has a PhD in Zoology but switched from research to project management shortly after she began her career.
It was obviously a good move where she thrived managing key research portfolios at The Victorian Department of Environment and Primary industries before joining ANSTO.   
Because of her competence, she moved from beamline development and operations in 2013 to her current role as Senior Manager – Capital Portfolio in 2016.
Michelle's current focus is leading the construction of eight new beamlines, Project BRIGHT, a major undertaking with investment from $94.1 million that will greatly increase the capacity and output of investigations using powerful synchrotron light.
She finds daily satisfaction working with a group of super smart people in a very inspiring environment that's all about gaining knowledge and problem solving – I learn something new each and every day. 
Like many at ANSTO, the big picture keeps her motivated and proud of her work.
"The Synchrotron facility delivers real impact.  We are all working together to advance scientific endeavour and achieve something remarkable for this world."
She says there were some challenges working in male-dominated professions in the early days of her career but not so much today.
Unlike many, Michelle did not find inspiration in famous people or coaching mentors, but through the strength, courage and work ethic of her parents.
 "My mum showed me that working hard while caring for a family was possible. My dad encouraged me to follow my interests, avoid boundaries and limits and reach for the stars," said Michelle.
Her best advice to young female professionals in her area of work is to find other women who you can relate to, build you up and give you strength that you can use.
"Don't be afraid to ask for help."
Leaving her home and job in the UK to take up a leadership position at ANSTO, physicist and innovator Dr Ceri Brenner is a person who is not afraid of a challenge.
She is the recently appointed head of a predominantly male team at ANSTO's Centre for Accelerator Science, home to physics, chemistry, and engineering experts, alongside a suite of four accelerators, that enables ion beam experiments for isotope and materials analysis, surface modification, and irradiation testing for a community of industry partners and research users.
She stresses that unconscious bias, stereotyping and discrimination impact opportunities for women and their progress.
"The status quo in science has converged to an environment that is comfortable and convenient to the majority, which leaves it open to being uncomfortable and inconvenient for everybody else," she said.
"It is very difficult to communicate these differences, which are often invisible or micro-aggressions, to those who have never experienced them and change things," said Ceri.
Because of the great importance of science in the world today, she stresses the need for diversity and inclusiveness amongst the decision-makers, to appropriately reflect society.
Ceri said she has been inspired by American management thinker Brené Brown, an advocate for brave leadership and the power of vulnerability.
Brown said," Vulnerability is the birthplace of innovation, creativity and change."
"I have thought a lot about her words as I take on new challenges and roles," said Ceri.