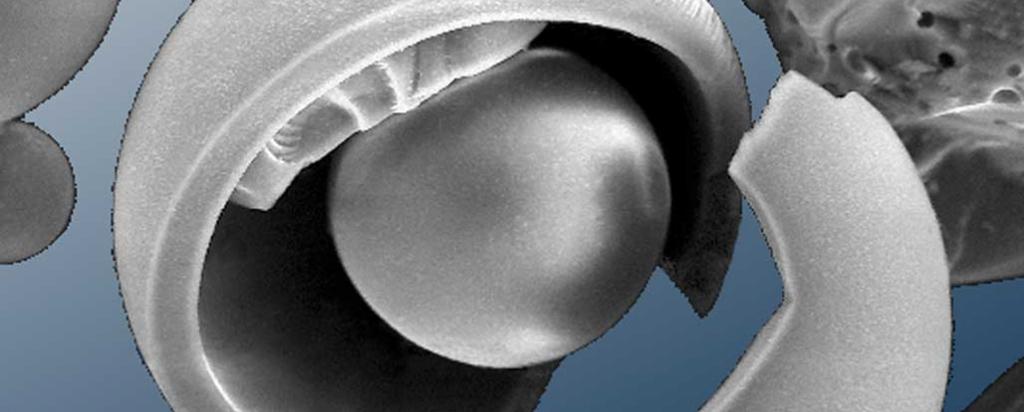 Published on the 14th August 2019 by ANSTO Staff
Ceramisphere, an advanced technology platform for the encapsulation, transport, delivery and controlled release of bioactive molecules has its origin at ANSTO close to 20 years ago. 
Read about how Ceramisphere technology is going global in Business Acumen
The story of Ceramisphere dates back to 1997 when Dr Christophe Barbé, a materials scientist from Switzerland, joined ANSTO to expand the applications of novel technologies, such as sol-gel. 
The sol-gel processing is a wet-chemical technique used for the fabrication of both glassy and ceramic materials.  Barbé began working with Dr John Bartlett, now an Emeritus Professor at University of the Sunshine Coast, on the production of controlled release ceramic particles using sol-gel technology and a novel water-in-oil or oil-in-water emulsion chemistry.
By 2000 Barbé and Bartlett patented a method for the production of ceramic (silica, alumina, zirconia or titania) particles (see image below left) with the controlled release of hydrophilic molecules that showed promise in a range of potential applications. They developed four processes to produce monodispersed particles with a controlled release (see image below right). 
This progress led to the formation of a focussed team of scientists at ANSTO that would work exclusively on the ceramisphere technology until 2010. By 2007 the team had developed a technology suite which included 8 patent families, however, the research was deemed non-core for ANSTO. 
A fully-owned subsidiary company Cermisphere Pty Ltd was established to incubate and accelerate the technologies for the commercial exit. In 2010 ANSTO entered into agreements to sell the company and out license the intellectual property. Barbe left ANSTO to take up the role of technical director of Ceramisphere and in 2014 became the CEO and continues to lead the business today. 
One of the original Ceramipshere team members works at ANSTO today as a materials chemist.
Dr Linggen Kong, joined ANSTO in 2001 and became a collaborator/ co-inventor of a range of patented Ceramisphere technologies with Dr Kim Finnie. 
 "It was a very productive period when we worked on different applications of the original umbrella invention that led to the filing of eight additional patents," said Dr Kong. Kong, who works at ANSTO on waste encapsulation, was a co-inventor on six of the patents and focused on the development of submicron ceramic particles which could be used to provide specific properties to classic coating formulations, such as paint.
This technology became the basis of Inhibispheres® which are submicron ceramic particles which can provide specific functionalities to classic coating formulations. Active materials, such as corrosion inhibitors, can be incorporated inside the 'Smart Particles', which can then simply be mixed into a paint or coating formulation.
The particles are mechanically resistant, can survive paint formulation processes (e.g. mixing, grinding, extrusion) and will not adversely affect the mechanical properties of the coating.
In 2018 Ceramisphere created a spin-off from their core business, Ceramisphere Health, to focus on developing innovative user-friendly drug delivery solutions with world-leading healthcare and animal health companies.
The current focus is on the development of "zero waste" transdermal patches for the delivery of analgesics with an emphasis on controlled drugs for pain relief and smart bioactive wound care products with minimal pain and scarring. 
Read more about Ceramisphere's contemporary applications https://www.ceramisphere.com/