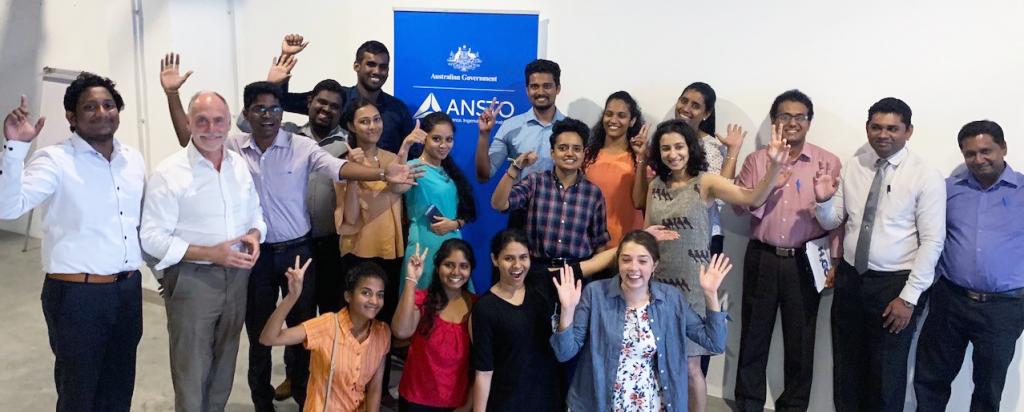 Published on the 16th March 2020 by ANSTO Staff
What do algae as a source of biofuel, and a natural fertiliser for maize, have in common? They are potential solutions for addressing the problem of waste runoff from reverse osmosis water treatment plants in Sri Lanka.
Students from across Sri Lanka convened at Colombo Innovation Tower for the Clean Water Hackathon 2.0 from 13-15 February. Their mission? To develop novel solutions to address the problem of reverse osmosis (RO) waste runoff.
Some of the student winners celebrate
In recent years, the Sri Lankan government has invested heavily in the installation of RO plants across the country, with a particular focus on the north and central provinces, which are the epicentre of a serious health condition known as Chronic Kidney Disease of Unknown Cause (CKDu).
While the RO plants are successful in providing communities with access to clean water, in the absence of a treatment process, waste, known as 'brine', is often released back into the environment.
This brine typically consists of high concentrations of dissolved solids, calcium, fluorides, chlorides, nitrates, phosphates and sulphates. This is a key concern for ANSTO's partners at the Sri Lankan Ministry of Health and Indigenous Medical Services, and the National Water Supply and Drainage Board.
Over three days, interdisciplinary teams of students, who were drawn from fields ranging from environmental toxicology through to pharmacy and engineering, were coached in design thinking, social enterprise modelling, and delivering a dynamic pitch.
This culminated in the final presentations, which were evaluated by a panel of expert judges. Members of the two winning teams, one of whom pitched to turn the brine into a potent source of biofuel, while the other suggested it as a natural fertiliser for maize, received a cash prize, and will now have the opportunity to continue working with ANSTO researchers to develop their solutions to this complex problem.
The Clean Water Hackathon forms part of ANSTO's investigation of CKDu, which is pervasive across South Asia, Central America, and North Africa. ANSTO has been working to investigate the disease in partnership with the Sri Lankan government and a bilateral collaboration network since mid-2017.
One of ANSTO's key focuses is upon establishing a baseline of healthy kidney function in Sri Lanka, in partnership with the Renal Disease Prevention Unit (RDPU) in the Sri Lankan Ministry of Health and Indigenous Medical Services.
ANSTO's Professor Richard Banati, Research Lead for the project, says, "Kidney disease and public health experts agree that the absence of population-appropriate reference data of normal kidney size and function is a gap in our current understanding that we need to close urgently.
Such population reference data are crucial, not only in the study of CKDu in Sri Lanka, but more widely for the early detection and treatment of kidney disease irrespective of cause.
The currently available reference values for kidney function are mostly historically derived averages from urban North American males, and important differences, such as in development and nutrition, are ignored.
To establish this baseline of healthy kidney function in Sri Lanka, we will undertake a glomerular filtration rate study, which checks how the kidneys are working, using the gold standard technique with chromium-51 produced at ANSTO.
Importantly, this study will also provide a blueprint that can be applied in other countries that are affected by kidney disease, both of known and unknown causes – understanding the expected norm values, and recognising the initial point of decline in function is essential to early detection and successful treatment of kidney disease."
To facilitate this research project, ANSTO signed a data sharing agreement with the Sri Lankan Ministry of Health and Indigenous Medical Services on 14 February.
According to the Ministry, "The initial study will be to establish the normal range for the glomerular filtration rate for Sri Lankan population, using nuclear medicine. This may also help to establish norms in South Asia region as well."
ANSTO is grateful for the continued support of its funding partner, the Department of Foreign Affairs and Trade. According to His Excellency David Holly, Australian High Commissioner to Sri Lanka, "CKDu is a silent disease affecting the quality of life of a significant section of Sri Lanka's rural population.
The research partnership between ANSTO and the Sri Lankan Ministry of Health and Indigenous Medical Services to investigate the causes of this disease, is proudly supported by the Australian Department of Foreign Affairs and Trade. It is a partnership that powerfully brings together Australia's nuclear medicine expertise and Sri Lanka's commitment to public health."