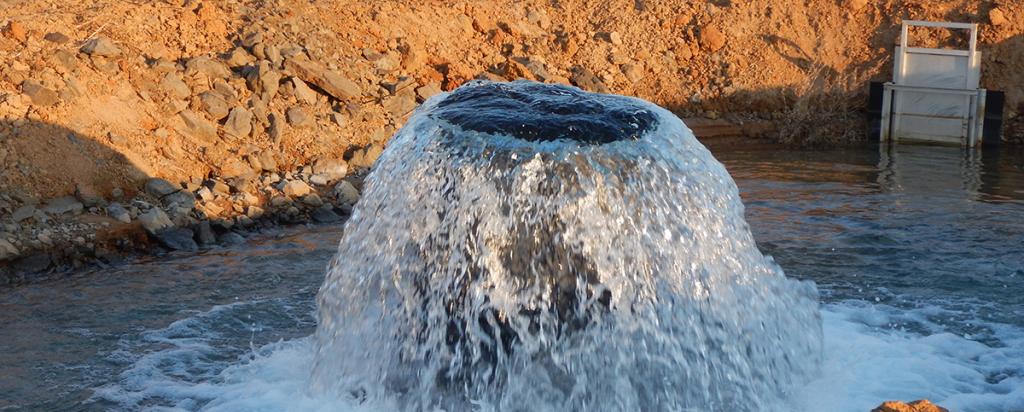 Published on the 20th October 2023 by ANSTO Staff
With world-class experts in groundwater and major contributions in this area over two decades, ANSTO  completed a major project report on Improving groundwater sustainability and renewability using isotope hydrochemistry in NSW for the Department of Planning and Environment (NSW) and National Water Grid earlier in the year.
The Department invested $3.2 million with an additional $180,000 from the National Water Grid for the report to assist in the management of groundwater resources.
The aim of this project was to apply water-stable isotopes and natural radioisotopes to improve understanding of groundwater sources, recharge processes and groundwater movement, which can inform groundwater management decisions related to sustainability and renewability of aquifers within NSW.
A large team of environmental scientists at ANSTO led by Dr Dioni I Cendón undertook the comprehensive analysis that ultimately produced the first 3D spatial maps of NSW showing links between groundwater, recharge processes and sources of groundwater.
Because groundwater is "out of sight, out of mind", it is often forgotten. However, approximately 27% of the metered water use in this state is sourced from groundwater, and it is critical in many inland communities.
"Rivers and aquifers are quite oblivious to our political and administrative borders, so the bigger the scale of an isotopic approach, the better. We need a large-scale representation to capture the water cycle.  Ideally, a national perspective, but working at a state level is very useful," said Dr Cendón.
"Groundwaters often constitute a buffer to surface water supplies. However, we have droughts, and it is during those times that groundwater access may be the only reliable source of water for food and fibre growers, as well as communities and industry. By implementing groundwater sharing plans across a catchment or portion of the catchment, authorities can ensure the groundwater resources are not depleted."
In research that was pioneered by ANSTO's Dr Cath Hughes, water-stable isotopes in rainfall were used to link to the groundwater data.  By comparing both, the type of rainfall that has recharged/replenished our aquifers can be established.
"Not all rainfall produces effective recharge, as most gardeners will know, sometimes you can barely see a few centimetres of wet soil after rainfall," explained Dr Cendón.
"Additionally, water-stable isotopes can tell us about the mixing of different groundwater sources in aquifers. For example, if there is an excess of groundwater pumping in a region, this can cause other groundwater to substitute for the pumped one, and those processes can, in some instances, be well characterised. This can alert managers of potential problems. The same application can sometimes be applied to anthropogenic pollution processes.:
Groundwater was analysed at four different depths up to 1 kilometre to produce four isoscape maps of the state  (see below).
Groundwater between 50 and 300 m in depth showed the importance of snowmelt, higher altitude rainfall and flooding for groundwater recharged along the large alluvial valleys of the southern part of the state. Other processes identified in the river valleys to the north, such as inputs from Great Artesian Basin discharge.
Isoscapes revealed the de-coupling of rainfall from groundwater in some parts of the state. In other words, groundwater in the aquifers originated from precipitation elsewhere, not from local rainfall.
The report concluded that there was some isolated seawater intrusion into aquifers in some coastal sites.  More evaporated groundwater was being pushed down into some aquifers due to regional pumping.
The research revealed the importance of rivers and natural flooding events in aquifer recharge and confirmed the contribution of Great Artesian Basin groundwater upwelling into some regions.
"This work, in its initial stage, had to analyse over 1000 groundwater samples. All that work would not be possible without the expertise of a large team that included Stuart I. Hankin, Dr Jagoda Crawford, Dr Cath Hughes, Dr Karina Meredith, Dr Liza McDonough, Chris Dimovski, Tina Jafari (DPE), John P. Williams (DPE), and Robert Brownbill (DPE)," said Dr Cendón,
After the initial report, we have continued to work on adding data from a large search across the state. In some cases, this has allowed to triplicate the original dataset, refining further the original water stable isotope isoscapes and incorporating other tracers like 14C, 3H and 36Cl. The generated isoscapes are a resource that can be updated and refined as new data is available, and we hope to be able to expand to other states as the NSW phases wrap up in late October.