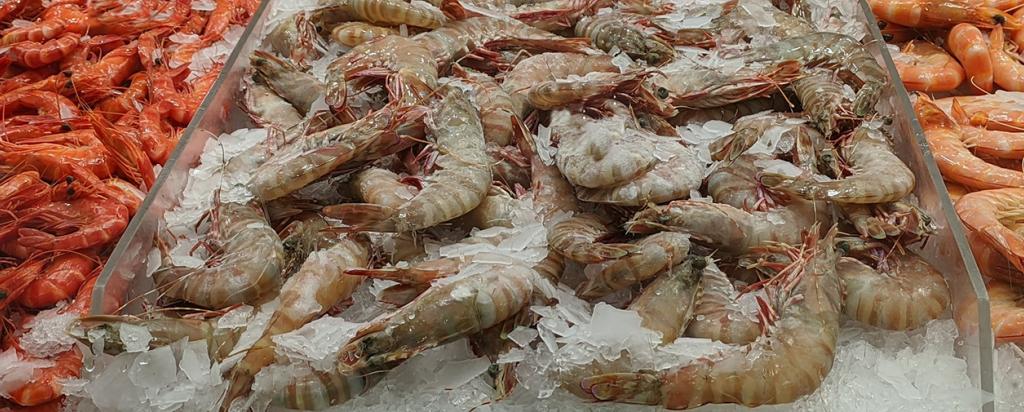 Published on the 8th September 2020 by ANSTO Staff
The Commonwealth has awarded ANSTO a $202,500 Department of Agriculture, Water and Environment Traceability Grant for the development of a technology, to provide 'on the ground' traceability of the origin of seafood.
It is one of 16 projects announced by the Federal Government to boost agricultural supply traceability in grants totaling $4 million.
The approach will save time and effort—avoiding the delay of taking samples for laboratory-based investigations to confirm where a seafood product originated.
The technology will be based on a portable scanner that uses X-ray fluorescence (XRF) to identify the elements in a seafood sample, which will then be used to confirm its origin.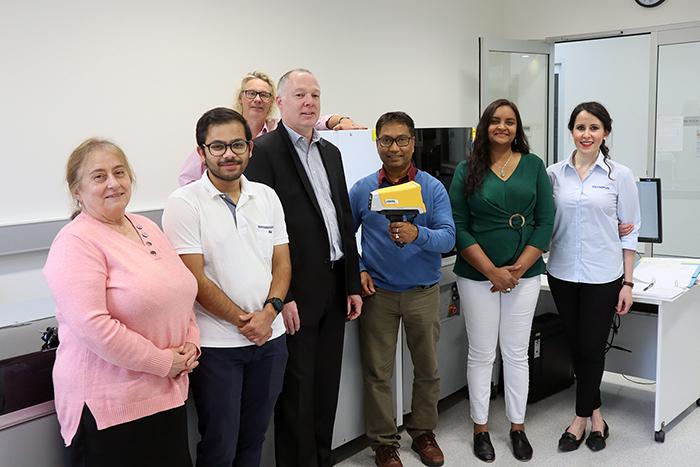 (left to right) Dr Jagoda Crawford, Karthik Gopi, Prof Henk Heijnis,  Andrew Taylor of Olympus Australia, Dr Debashish Mazumder, Patricia Gadd and Arda Lepedjian of Olympus Australia. Olympus is providing a portable XFM scanner on loan for the project
The funding will enable the development of a portable technique as an advancement of current lab-based methods for determining seafood provenance along the supply chain.
This step is an extension of the considerable work that has been undertaken by the seafood provenance team at ANSTO led by Dr Debashish Mazumder in association with partners Assoc Professor Jesmond Sammut at the University of NSW, Prof Neil Santillan at the Macquarie University, the National Measurement Institute, Sydney Fish Market and industry collaborators. 
Karthik Gopi (pictured above), a PhD student from UNSW worked with the seafood provenance team to develop the first seafood provenance model using lab based isotopic analysis, XRF scanning and mathematical models to verify origin with more than 80 per cent accuracy.
"This handheld technology, which is an extension of lab-based methods, will act as a first line of defence against against fraudulent activity in the supply chain and eventually be applied to other types of food," said Mazumder.  
It is anticipated that a quick and effective method can allow regulatory bodies and the seafood industry to process a large batch of samples quickly on site.
"Once developed, it will be able to protect consumer and producer interests, and build confidence in Australian seafood supply chains."
The science behind the technology relies on X-ray fluorescence, (XRF) scanning to generate a profile of the elements in a seafood sample that serves as a fingerprint.
Each type of seafood has a unique fingerprint that relates to the specific environment, where it was bred and fed.
A portable scanner could measure an unprepared sample in the marketplace in minutes, yielding a preliminary result using a centralised database.  If a product is suspicious, additional samples could  be taken for more in-depth analyses in the laboratory.
By modifying an existing technology, calibrating the scanner using  ANSTO data and modelling, and evaluating it, the project team avoids costly research and development expenditure.
"Olympus Australia, one of the largest instrument companies in the world, has generously agreed to provide us with a handheld scanner on loan and will collaborate on the project," said Mazumder.
The ANSTO team also includes modeller Dr Jagoda Crawford, Geochemist and ITRAX analyst, Patricia Gadd, with cross organisational research support from the Human Health and Environment groups.
ANSTO expects to use the technology to enhance work with industry partners, who are strengthening provenance verification of their products.
The project also has potential benefit for biosecurity and reductions in food-related illness.