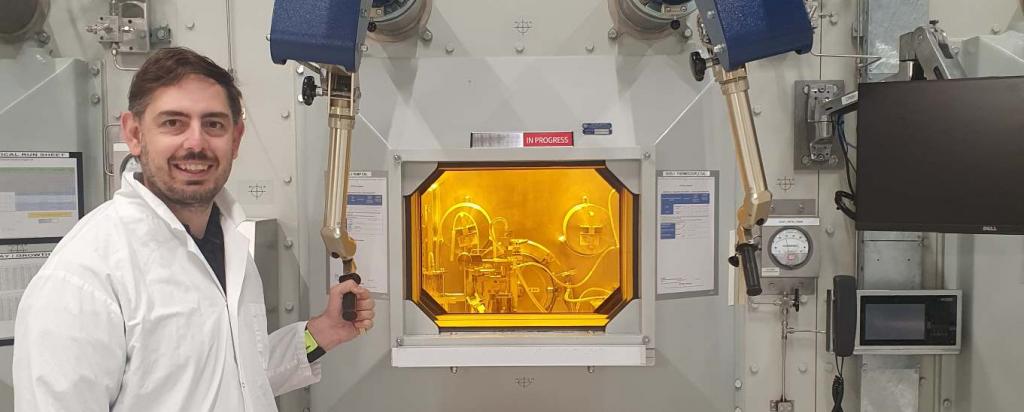 Published on the 11th October 2021 by ANSTO Staff
PhD candidate, Robert Raposio, is part of the ANSTO Graduate Institute and a FutureNow Scholarship recipient. Robert is researching how to produce radioisotopes in more efficient, cheaper and sustainable ways, to give people around the world greater access to the benefits of nuclear medicine.
---
Can you share your elevator pitch with us?
I am a nuclear physicist working with ANSTO to design a more sustainable target to be used for nuclear medicine production. The current targets are a one-time use design. I am researching a reusable target which will help reduce radioactive waste produced and make nuclear medicine production more sustainable for the environment. My research has implications for nuclear medicine manufacturers globally.
How do you see your project helping to solve real-world problems?
Current nuclear medicine manufacturing involves the side effects of producing liquid and solid radioactive wastes which need to be stored for a very long time. These wastes build up as more and more nuclear medicine is produced. My project aims to reduce the amount of waste produced by 90%, benefiting nuclear medicine producers and nuclear waste facilities. My research so far has resulted in two published papers and one patent. I'm also working on more publications.
Why is innovation important to you?
The current target designs have been around for decades and are quite inefficient. If I  can make a change that improves the existing methods,  has a positive impact on the environment and the world we live in, then I need to do it. I hope this innovation can make the process more efficient for everyone involved.
What are you hoping to achieve at ANSTO?
I love researching at ANSTO as I get to work with some incredible scientists who are leading specialists in their field. Having such experts to collaborate with has been invaluable and helped me develop ideas that I would never have thought of on my own. I hope Once I finish my research, my hope is to pass on my knowledge and experience to the next generation of researchers.
What aspect of the Graduate Institute has helped you the most?
It has been great meeting other researchers and learning about their projects. I find the information on business and innovation very helpful and it helps me think differently about my research project.
What's next on the agenda for your project?
Once my research is completed, I look forward to collaborating with other researchers and target manufacturers to increase the efficiency of their targets and create a more sustainable future for nuclear medicine? industry.
---
Robert Raposio is an ANSTO FutureNow Scholarship recipient, a program made possible through financial support from the NSW Government

.