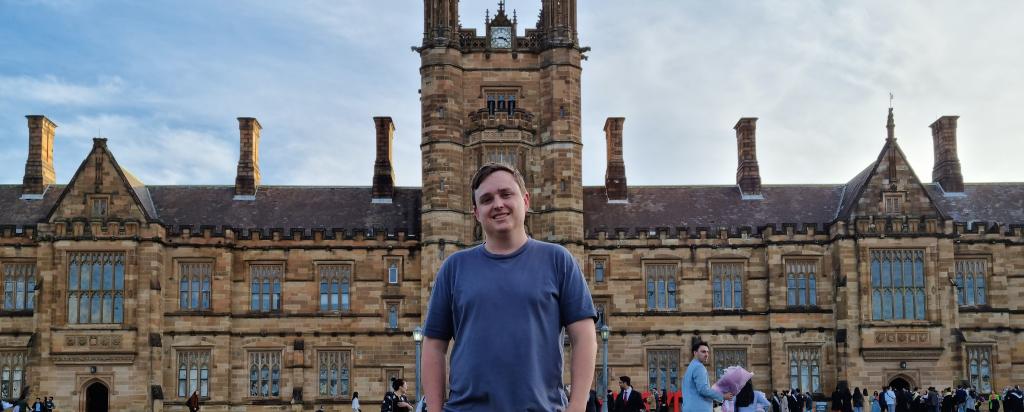 Published on the 11th August 2022 by ANSTO Staff
With zero carbon emissions, green hydrogen is a promising fuel for many industries. PhD candidate Robert Walwyn, is researching new, advanced materials for safe and effective hydrogen gas storage.
Robert is a FutureNow Scholarship recipient and part of the ANSTO Graduate Institute.
---
Can you share your project pitch with us? 
As we move to greener energy solutions to reach climate goals, hydrogen gas storage is a key technological challenge for the energy sector. Working with my industry sponsor, Rux Energy, and Sydney University, we're researching new, advanced materials to deliver more efficient, safer, and cost-effective ways to store hydrogen gas. 
What is the problem you're hoping to solve? 
With zero carbon emissions, green hydrogen is a promising fuel for decarbonising a number of industries, including heavy transportation. However, the cost of storing hydrogen today is prohibitive as it needs to be compressed at extremely high pressures and stored in carbon-fibre reinforced tanks. This is not ideal as these tanks are heavy and expensive, are energy intensive to fill, and have relatively low storage capacities, which limits vehicle driving range.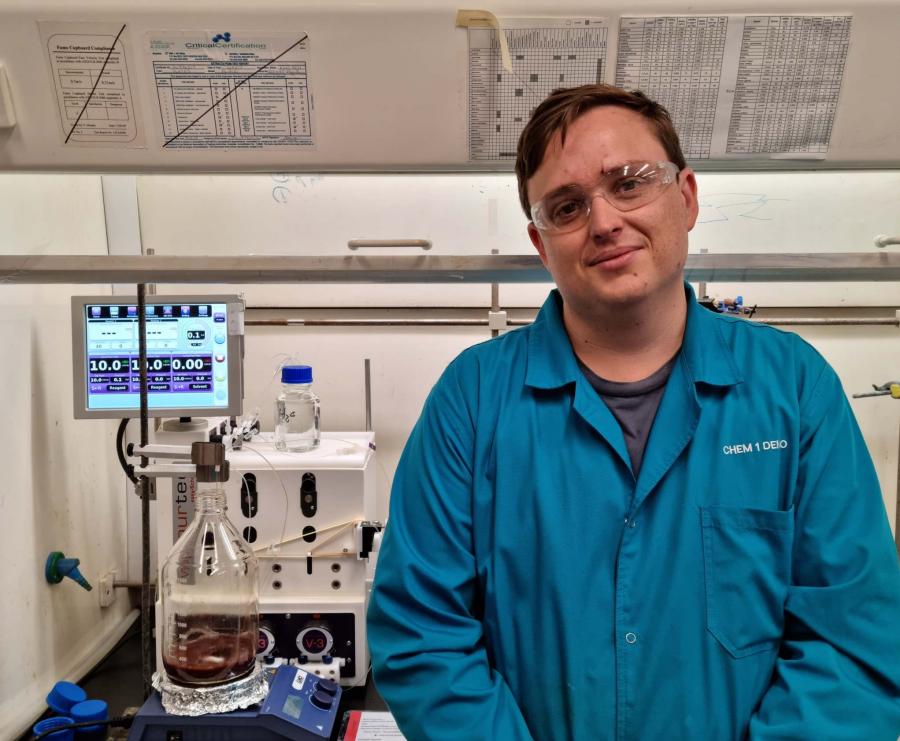 How do you see your project benefiting the future? 
We're exploring new, porous materials for lightweight, inexpensive hydrogen fuel storage tanks. Fossil fuel-hungry sectors like heavy vehicle transportation and aerospace will be the initial targets for these improved materials and hydrogen delivery cannisters. The plan is to develop and commercialise new materials for more efficient and safer storage of hydrogen gas, that will ultimately drive the cost of hydrogen delivery systems down to encourage a faster up-take of this energy source. Our goal is to create an improved understanding of how the uptake of hydrogen relates to the physical and chemical attributes of these materials, and to develop a library of advanced materials that could be tailored and matched specifically to the application and performance parameters sought. 
What drives you?   
Chemistry and photography have long been my passions. Over the last few years, I have become increasingly interested in the technology revolution that is happening within the renewable energy sector. This was the driver for me to take the plunge and leave my career in consulting to pursue a PhD in materials research.  It's a challenging project, and I'm looking forward to expanding my knowledge on this class of materials and building expertise in this area. Also, I'm excited to be collaborating with scientists and engineers from several great research institutions whom I know and respect.  
What are you hoping to achieve at ANSTO? 
The Energy Materials research project, led by Prof Vanessa Peterson, is based at the ACNS, where the core activities are materials characterisation. By characterising materials, we can establish their mechanism of function. The work with Rux Energy on hydrogen storage systems involves characterising the sorbent materials central to this system.  
My project involves measurements of the solid porous sorbents, using X-ray and neutron scattering, to establish what the materials are, as well as how molecular hydrogen interacts with them. The Energy Materials research project has developed dedicated apparatus to enable in-beam measurements of such materials loaded with hydrogen. 
What's next on the agenda for your project? 
I'm currently in the early stages of my research, exploring different classes of porous molecular framework materials and whether the hydrogen storage performance of these materials can be optimised through varying different aspects including choice of constituent components, as well as the synthetic and activation conditions. 
---
Robert Walwyn is an ANSTO FutureNow Scholarship recipient, a program made possible through financial support from the NSW Government.