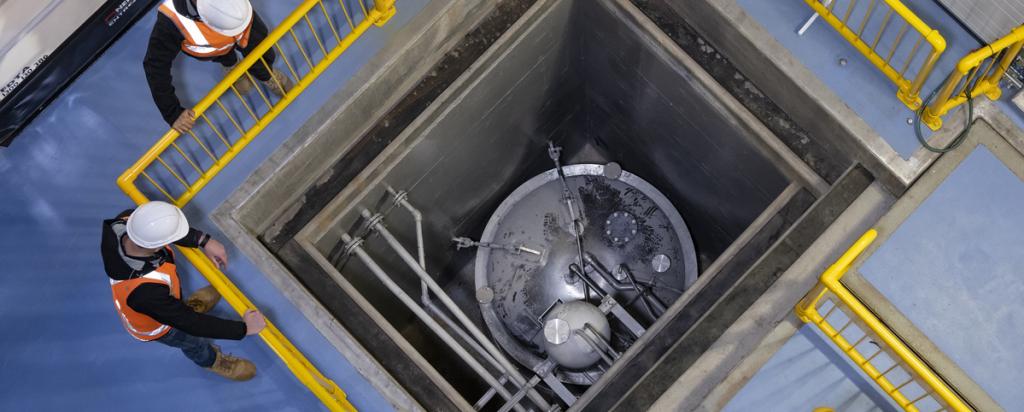 Published on the 26th October 2022 by ANSTO Staff
International interest is building in Australia's new multi-million-dollar radioactive waste processing facility at the Sydney campus of the Australian Nuclear Science and Technology Organisation (ANSTO).
ANSTO is pleased to announce that the construction of our state-of-the-art Synroc radioactive treatment building is complete, with processing equipment now being installed, ahead of it being commissioned prior to operations in 2025.
The game changing Synroc facility will treat intermediate-level liquid radioactive waste from the production of nuclear medicine.  The Synroc waste treatment facility immobilises the waste and produces a highly durable solid wasteform, that is ready for final disposal.
"Along with the benefits of a nuclear medicine production comes a responsibility to safely manage the by-product radioactive waste. That's what our waste treatment technology has been designed to achieve," said ANSTO's Synroc Technologies Technical Director, Gerry Triani.
Australia does not have nuclear power but does have a significant nuclear medicine program, with ANSTO producing 12,000 doses every week for domestic patients, as well as being a major medicine exporter. 
In addition to deployment at ANSTO, strong interest in the Synroc technology has already been expressed from countries overseas with far larger nuclear power programs.
The technology is targeted towards intermediate and high level radioactive waste.
With the Synroc building completed, it is now being fitted out with Synroc process technologies that have been designed for remote operations inside a shielded hot-cell environment with a high degree of automation. 
A crucial element of the Synroc process is Hot Isostatic Press, which applies pressure and heat to specifically designed canisters to effectively consolidate and reduce the waste volume.
Once this and other technologies are installed, the next phase is process integration and pre-commissioning with cold commissioning to follow.
"Synroc is an innovative, safe and effective radioactive waste treatment technology which can be built into nuclear supply chains anywhere in the world," Mr Triani said.
"Australia has comparatively smaller amounts of lower classed radioactive waste compared to countries overseas with much larger nuclear programs, which makes this Australian breakthrough even more remarkable – we are acting locally but thinking on a global scale."
Some 32 countries around the world have nuclear power programs, and there are an additional 220 nuclear research reactors. Many of these are working on delivering storage and disposal facilities for intermediate and high-level radioactive waste.
Australia's Synroc approach and technology offers waste producers and owners a safe and efficient means of treating their waste into a disposal ready product.
The new ANSTO Synroc facility is expected to be operational in 2025. A full scale integrated and remotely operated Synroc demonstration plant replicating the full process technology has been operating at ANSTO for many years. Using inactive surrogate chemistry this is a test platform to ensure the process in the final waste treatment facility is highly reliable as well as easy to operate and maintain.
More information and an explainer video can be seen here: www.ansto.gov.au/products/ansto-synroc