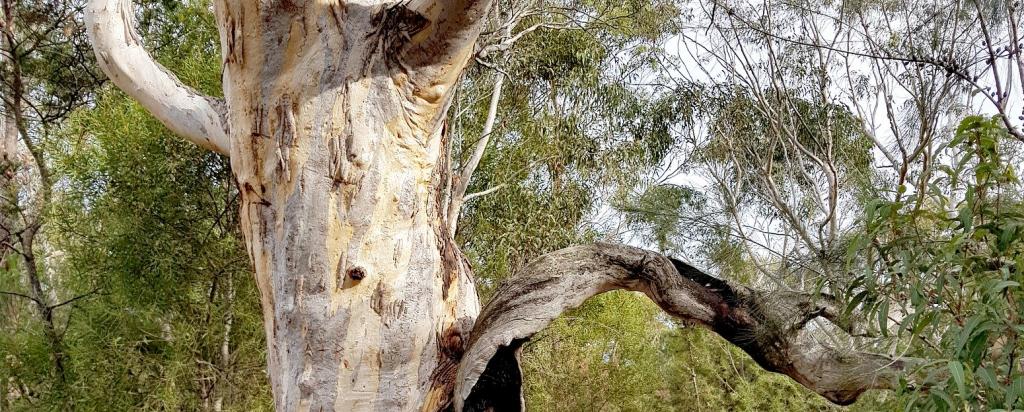 Published on the 6th March 2020 by ANSTO Staff
In the lead up to International Women's Day at the weekend, we are pleased to feature a brief profile of Fran Bodkin.
Dharawal educator Fran Bodkin has spent a good part of her eighty plus years, studying or sharing information about the therapeutic and nutritional properties of traditional indigenous plants and wildlife.
(Left to right) Dale Codling, Dr Simone Richter, Fran Bodkin, Brett Rowling and Michelle Durant (AINSE)
Her mother, grandfather and great grandmother belonged to the Bidiagal clan of the Dharawal people. Her mother and great grandmother took her to many places within Dharawal lands to tell her the story of those places.
It is knowledge she uses today in exploring what she describes 'associations' between plants and living things in the environment that enhance their beneficial properties.
These plants carry a cascade of dependent species of other plants, trees and insects.
Although indigenous people have known and used these plants for many thousands of years and possibly longer, she is interested in how Western science, with its capacity to experiment and measure, can be used with the deep observations and experience of indigenous knowledge.
This joint approach would constitute a true science of knowledge, according to Bodkin.
ANSTO environmental researcher Brett Rowling, Dr Scott Chambers and Dr Mark Peterson have begun discussions with Bodkin on some possible collaborative research projects.
Approximately 17 associations have been identified on Dharawal land and 111 associations in NSW.  There are more than 2,500 species of plants and trees on Dharawal land, which was observed by early botanists who travelled to Australia.
On visits to Royal National Park, her mother taught her how certain plants had to be growing together to produce medicine.
An example of an association is a type of fungus, mycorrhiza, that is found within the sap of a species of eucalypt, which travels around and accumulates in the leaves. After a period of time, the leaves die and fall off. When they start to decay the fungus goes through the soil and attaches itself to the roots of plants that grow under the tree.  This enables the plant to take the necessary nutrients it needs to produce the therapeutic property.
Some plants are common to a number of associations but, in each association, the plant will display a slightly different association.
There are also beetles with medicinal properties that grow under certain trees, that do not have them when found under different trees.
In a presentation to a group in Victoria she described numerous examples of traditional plants and their multiples uses as food, medicine and to make implements, ornaments and weapons. Plants and trees were treated in various ways to produce specific types of therapies for a range of illnesses and conditions.
In another online video, she describes the importance of swamp water at Thirlmere Lakes for medicine, cooking and ceremony.
The many species of eucalypts that are highly valued.
She has collaborated on published research on the Medicinal plants of the Australian Aboriginal Dharawal people exhibiting anti-inflammatory activity in the journal Evidence-based Complementary and Alternative Medicine and is the author of three books on Dharawal culture.
Bodkin is an Elder on the campus of the University of Western Sydney.
She is committed to sharing her knowledge and working to preserve the environment and indigenous cultural heritage.
In a personal narrative at ANSTO to coincide with the lead up to International Women's Day, she stressed the importance of observation and the need to spend time observing nature to gain a better understanding of how to look after our planet.