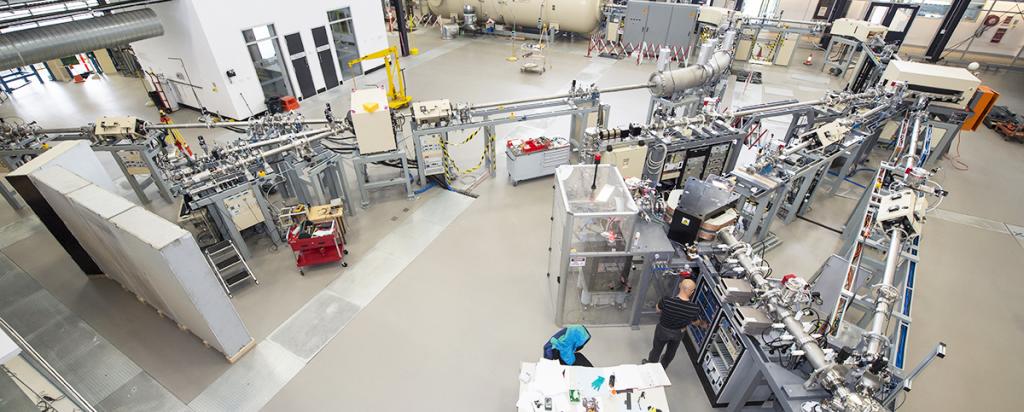 Published on the 20th November 2019 by ANSTO Staff
A new radiocarbon dating facility opened at the University of New South Wales (UNSW) will complement the extensive radiocarbon facilities at ANSTO's world-leading Centre for Accelerator Science in Sydney's south.  
Both facilities use accelerator-based technology to study environmental proxies, such as ice, wood, sediment, marine life, that contain carbon to reconstruct past climate change for insights into the events occurring today.
ANSTO is the home of Australia's expertise in accelerator and reactor-based research techniques. ANSTO's Centre for Accelerator Science operates four accelerators with 17 beamlines and 11 ion sources  for investigations using accelerator mass spectrometry and ion beam analysis. Two of the newest accelerators were installed in 2014. 
Dr Vladimir levchenko is one of numerous radiocarbon dating experts at ANSTO's Centre for Accelerator Science
However, ANSTO's capabilities and expertise in accelerator science have been evolving steadily since the early 1980s. Three of the four accelerators are currently used for radiocarbon dating samples up to 55,000 years old. 
The instruments are housed in an extensive complex and include a full suite of laboratories for processing a wide range of sample types. The centre receives funding under the National Collaborative Research Infrastructure Strategy for Australia (NCRIS) initiative. 
"We congratulate UNSW on the opening of the facility and there is a growing demand carbon dating work," said Dr Geraldine Jacobsen, Acting Leader of the Centre for Accelerator Science.
ANSTO is partnering with UNSW to provide expertise and training in sample processing techniques. UNSW has also installed an automated graphitisation system for preparing targets for radiocarbon analysis in the ANSTO radiocarbon laboratories.
"There is a great deal of demand for using radiocarbon dating for environmental and climate studies, as well as a broad range of studies including groundwater sustainability, biology, ecology and archaeology. 
"ANSTO has environmental scientists who have been working on both sample preparation and use of the accelerators for many decades. This level of experience and expertise is very valuable to our collaborators and clients," said Jacobsen.