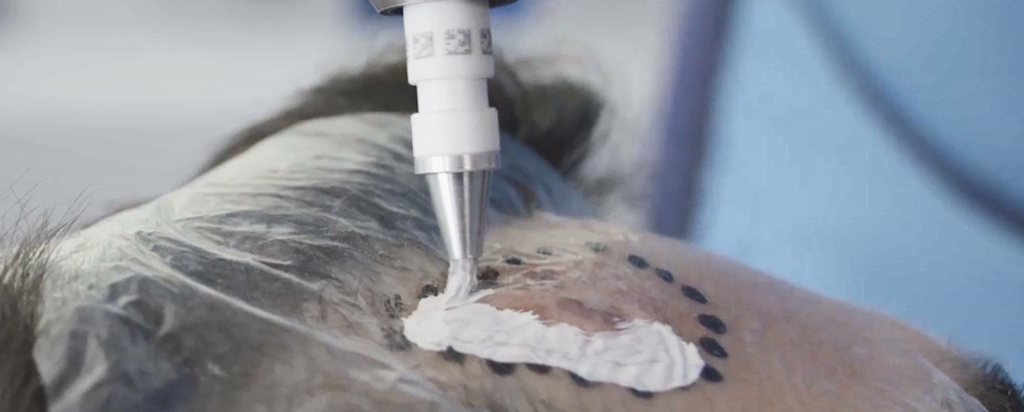 Published on the 14th March 2022 by ANSTO Staff
ANSTO has been contracted as the Australian manufacturing partner of an innovative, non-invasive treatment for non-melanoma skin cancer (NMSC).
OncoBeta's epidermal radioisotope therapy, Rhenium-SCT® (Skin Cancer Therapy) has already been used to successfully treat 1,900 NMSC lesions from patients around the world. And now OncoBeta is increasing activities in Australia alongside the International Registry and the EPIC-Skin study (Efficacy of Personalised Irradiation with Rhenium-SCT – for the treatment of non-melanoma skin cancer) – researching the efficacy, safety, quality of life, treatment comfort and cosmetic outcomes.
The innovative, non-invasive therapy utilises the radioisotope Rhenium-188 and is applied only to the area requiring treatment, sparing healthy tissue.
"We're very proud to team up with OncoBeta to establish local manufacturing of Rhenium-SCT® on our campus and to see Australian patients gain access to this innovative new therapy. Our core mission is to improve the health of Australians and to support industry - this partnership enables us to do both," Mr Jenkinson said.
"ANSTO is the leader in nuclear science in Australia and has extensive experience in the advanced manufacturing of nuclear medicines for the diagnosis and treatment of a range of diseases including cancer."
ANSTO's General Manager of Business Development and Commercialisation Rosanne Robinson added, "we're excited that OncoBeta has joined our growing innovation community on our Lucas Heights Campus in Sydney,. It is focused on attracting entrepreneurs and innovative companies who want to leverage the opportunity to be co-located with ANSTO and to access our unique expertise in the nuclear industry."
OncoBeta recently announced the commencement of the EPIC-Skin study with the world's very first patients being treated at Gold Coast. ANSTO will be manufacturing and supplying the Rhenium-188 to all study centres in Australia.
The global incidence of non-melanoma skin cancers has been increasing over recent decades. It is estimated there are over 7 million non-melanoma skin cancer cases reported globally each year.[1] [2]
Non-melanoma skin cancer is the most common type of cancer in Australia with 374,000 people treated each year.[3]