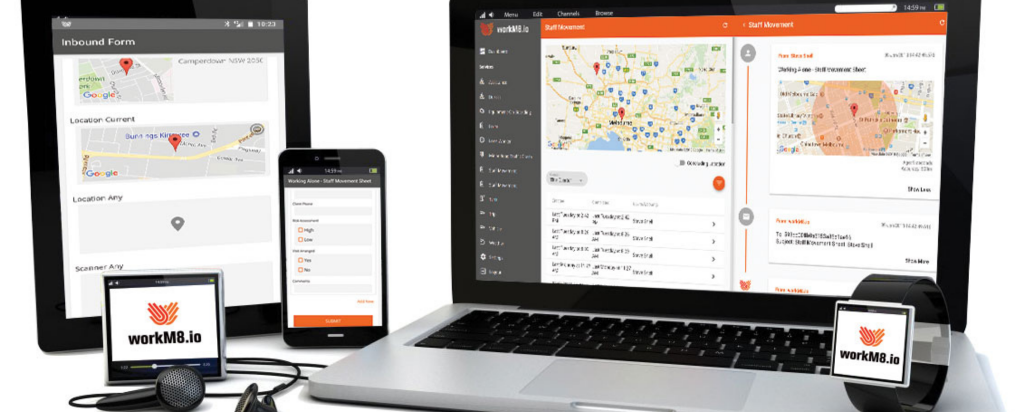 Published on the 30th September 2020 by ANSTO Staff
Local Shire Entrepreneur, Stephen Snell's company, workM8, is helping Aussie businesses manage worker safety and track assets, using a digital workflow software and mobile app.
Created in the Shire at nandin, within ANSTO's innovation precinct, workM8's innovative solutions are now offered through Optus Singtel to Australian based Enterprise and Government organisations, reducing the time and complexity to simplify their digital transformation journey.
Stephen Snell, General Manager & Co-Founder of workM8, said the technology enables organisations to gather data from multiple sources, to build workflows that automate and improve efficiencies.
"It has been rewarding to see how businesses are using the flexibility of the workM8 software to deploy solutions to help them respond to COVID-19 safety and admin challenges," Mr Snell said.
"Businesses can quickly implement workM8 to record staff and patrons' temperatures, keep an automated location log of field-based staff, and send automated welfare checks to meet their obligations.
"Our tracking solutions are a crucial part of what we do, the functionality we provide to monitor and capture data from remotely connected devices are so important in this rapidly changing environment."
ANSTO's Tim Boyle, said workM8 is a key example of the many innovative successes derived from nandin.
"workM8 showcases the forward-thinking culture we have developed within the nandin community," Dr Boyle said.
"nandin's collaborative community enables members to unlock and build upon essential creative-thinking skills – helping them progress new ideas into real solutions."
Stephen Snell said the success of workM8 was helped by the entrepreneurial learning and collaborative environment at nandin.
"From the access to office space, to the guidance and support from some of the brightest minds in businesses, nandin helped us take the business to the next level," Mr. Snell said.
nandin (meaning look ahead in the local Dharawal language), was established by ANSTO as a people and idea collider to help businesses engage with science, technology and industry. nandin, part of the ANSTO Precinct, is a globally connected, vibrant and inclusive community with researchers, startups and industries collaborating to deliver inspired solutions for a brighter future.
Optus Business vice president product innovation Deon Liebenberg said workM8 was an important fit to Optus's growing IoT ecosystem.
"workM8 allows customers to take data from devices, staff in the field, vehicles and other sensors that are connected via Optus' IoT network, to streamline and automate business and safety processes quickly and easily, with no large implementation costs," Mr Liebenberg said.
Twenty businesses are now members of nandin, benefiting from entrepreneurial learning and challenge-based innovation programs, as well as access to office space, hot desks, and lab suites.
About nandin at ANSTO:
nandin is ANSTO's people and idea collider, where imagination and innovation come together to challenge, experiment, co-create and innovate. nandin builds on ANSTO's 70-year history of scientific achievements and contributions to industry, focusing on increasing the number of knowledge-intensive jobs in southern Sydney. Connections to the global research community bolsters opportunities for strategic international collaborations with world-leading research institutes and universities.