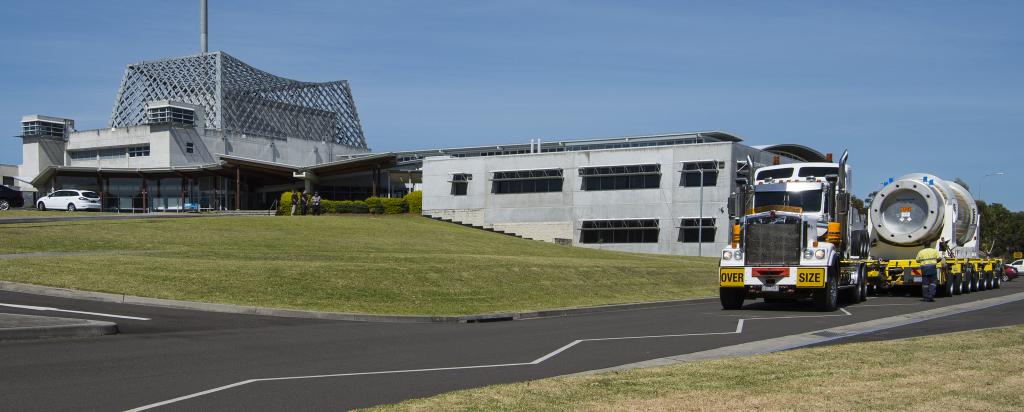 Published on the 16th July 2021 by ANSTO Staff
The Australian Government's nuclear agency, ANSTO, will make an application to the independent nuclear regulator, ARPANSA, to vary its license for its Interim Waste Store.
The original operating license was approved in 2015, enabling the facility to hold what is called a TN-81 cask of intermediate-level radioactive waste that was safely repatriated from France in 2015.
The license variation to ARPANSA will allow ANSTO to prepare to receive a second TN-81 cask of intermediate level radioactive waste, which will to be repatriated in the 2022 financial year, in this case from the UK.
Between 75-80 per cent of the radioactive waste produced at ANSTO is directly associated with production of nuclear medicine that and every Australian is likely to need to benefit from nuclear medicine at some point in their lifetime.  
Nuclear medicine is used in the diagnosis of a variety of heart, lung and muscular skeletal conditions, as well as diagnosis and treatment of certain types of cancer.
Australia's nuclear reactor also supports world- class research to make industries more profitable, and medical and environmental innovations.
A variety of low and intermediate level radioactive wastes are created as a result of Australia's nuclear operations, which are managed safely with different levels of shielding and protection. 
Fuel rods that power reactors require additional controls for safe storage. Australia's spent fuel management strategy approach is to reprocess the spent fuel rods to remove the remaining uranium which is then recycled overseas used to manufacture fuel for nuclear power plants.
This minimizes the amount of long-lived radioactive species in the resulting waste, which is encapsulated in a glass matrix and suitable for storage and final disposal.
While Australia's nuclear program is significant, it is comparatively small, and therefore we have not developed our own spent fuel reprocessing capability, instead relying on facilities overseas.
Overseas the uranium is recycled, and the remainder goes through a "vitrification" process: breaking it up, Solidifying it in molten glass and placing that in 500kg steel cannisters. This minimizes the amount of long-lived radioactive species in the resulting waste.
Those cannisters are placed into a 100-tonne TN-81 transport and storage cask that is 6.5m metres long, 3m metres in diameter and which has 20cm  centimetres thick walls made from forged steel.
The container is so heavily shielded that you can stand next to it with no detectable traces of radiation above normal background levels, and no special personal protective equipment. 
Some 1288 spent fuel rods were sent to France for reprocessing over four shipments between 1999 and 2004, and the resulting waste returned for storage in ANSTO's Interim Waste Store in 2015.
One hundred and fourteen spent fuel rods from the old HIFAR reactor were sent to the UK for reprocessing in a shipment in 1996, and subject to regulatory approval, the remaining waste will return for storage in ANSTO's Interim Waste Store in 2022.
"For decades, Australians have benefited from nuclear medicine, and environmental, industrial and minerals research undertaken at Lucas Heights," said ANSTO's Chief Nuclear Officer, Hef Griffiths.
"Those benefits include production of millions of doses of nuclear medicine, increased profitability of our mining industry, irradiation of silicon used in everything from fast trains to hybrid cars, and a base of knowledge that secures Australia's position in international nuclear non-proliferation talks.
"Along with these benefits comes a responsibility for Australia to safely deal with the by-products including radioactive waste.
"Australia does not shy away from that responsibility, and ANSTO has comprehensive plans to safely manage it."
ANSTO's Group Executive Nuclear Precinct, Pamela Naidoo-Ameglio, said that this will be a routine and safe operation.
"This will be the second repatriation project and twelfth successful transport of spent fuel or reprocessed waste which ANSTO has carried out since 1963," she said.
"For all of the obvious and standard security reasons, we can't comment on the specific route or timing of this transport, but wanted to let our community know ahead of the license applications."
In addition to the forthcoming application to the nuclear regulator, ANSTO will also submit a referral under the EPBC Act, which will include a standard 10-day public submissions process.
About the contents of the TN-81
The TN-81 transport and storage cask which returns next financial year is regularly used for transports around the world – usually with larger volumes of waste with higher levels of radioactivity.
The cask which returns in 2022 has capacity for 28 x 500kg cannisters, but will only contain four with a radiological equivalence to spent fuel sent to the UK in a shipment in 1996.
This is far less than the 20 x 500-kilogram cannisters inside the cask safely repatriated from France in 2015, which is currently inside the Interim Waste Store.
"Similar casks have been successfully used in 180 nuclear shipments around the world over more than 40 years," Mr Griffiths said.
About the storage plan
The TN-81 casks will be stored at ANSTO until a National Radioactive Waste Management Facility is operational, at which point the TN-81s will be moved there for storage over several decades.
The TN-81 casks are suitable and safe for storage over the course of many decades (subject to ongoing regulatory approval), however eventually their contents will require permanent disposal.
Early work is already underway on planning for a separate disposal facility for Intermediate level waste, in several decades time.    
"The government has progressed plans for a low levellow-level radioactive waste disposal facility in Kimba, and started work on options for the eventual disposal facility for intermediate level waste," Mr Griffiths said.
For more information
Images

and

,

footage

and statements

from the December 2015

repatriation

Police "Operation Cormorant"

are available

via

for download by

clicking

here 

our media contacts below

.
 

 

A

phone line and a

dedicated web portal with a detailed Q and A has been established to provide more information.

Go to

https://www.ansto.gov.au/2022-waste-repatriation-project
 

A

community phone

line and email address

has been setup for community members wanting more information about the operation. Email radioactivewaste@ansto.gov.au or call 02

Go to the ANSTO website or call +61 2

9717 3090.
ANSTO's application under the EPBC Act will be available on the website of the Department of the Agriculture, Water and the Environment.