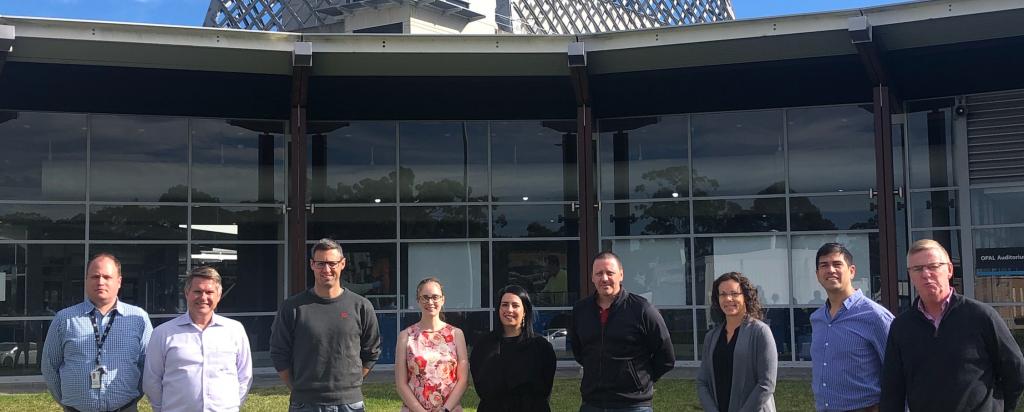 Published on the 27th May 2021 by ANSTO Staff
Seven of Australia's top nuclear medicine professionals have been briefed on ANSTO's plans to manage radioactive waste, as well as to support nuclear medicine innovation in Australia.
The briefings were conducted as part of the Annual General Meeting of the Australian and New Zealand Society of Nuclear Medicine (ANZSNM) which concluded earlier this week.
As part of the tour, the nuclear medicine group saw the new $168.8 million ANSTO Nuclear Medicine facility, as well as the SyMo facility under construction to treat its waste by-products.
ANSTO's Chief Nuclear Officer, Hef Griffiths said it was a great opportunity to speak about both ends of the nuclear medicine supply chain.
"It is likely that every Australian will need nuclear medicine in their lifetime for diagnosis of a variety of heart, lung and muscular-skeletal conditions, or treatment of specific types of cancers," Mr Griffiths said.
"To support this, ANSTO's new nuclear medicine facility delivers thousands of doses of nuclear medicine to more than 220 hospitals and nuclear medicine centres each week.
"The new facility was announced in 2012 and commenced production in 2019, and it has already become a critical part of the nuclear medicine supply chain."
As a result of this medicine production, the ANSTO Nuclear Medicine facility currently produces about 30 litres of intermediate-level radioactive waste each week.
This waste is being safely held in tanks while the new SyMo facility is being constructed. Once complete, the waste will be solidified in that facility using ANSTO's Synroc technology.
Synroc is an innovative, cost effective, low risk way to reduce the volume of this waste and solidify it so it is suitable for permanent storage, taking it from liquid form and locking it in a synthetic rock.
"ANSTO manages waste very safely, however finding the room and financial resources to deliver more interim storage facilities on site remains a challenge," Mr Griffiths said.
"ANSTO welcomed $59.8 million in the recent budget to deliver another interim intermediate level solid waste storage facility, ahead of a current facility reaching capacity in 2027.
"In addition, low-level solid waste stores will reach capacity in the early 2030s.
"We are hopeful that the new National Radioactive Waste Management Facility will be delivered ahead of those waste areas also filling, and further interim ones being needed at Lucas Heights.
"Ultimately, we must be in the business of medicine production and research development, not long-term waste management."