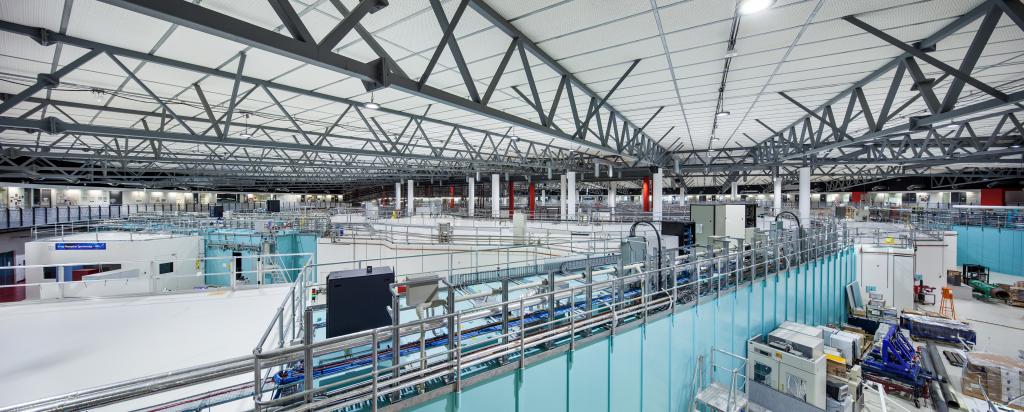 Published on the 3rd December 2019 by ANSTO Staff
Apoptosis is a form of "cell suicide", where a cell self-terminates, ideally as planned or programmed, enabling multi-cellular organisms to continue to live, develop and thrive.
Dr Angus Cowan, from the Walter and Eliza Hall Institute for Medical Research (WEHI) at The University of Melbourne, has today been recognised for his leading research into that process.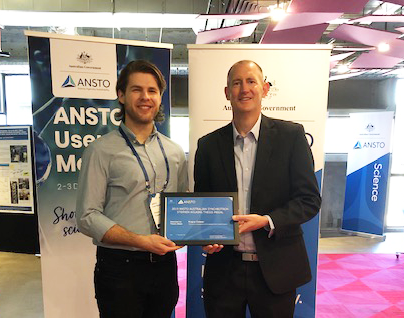 Dr Angus Cowan with Prof Andrew Peele - Director of the Australian Synchrotron
This morning at ANSTO he was presented with the Stephen Wilkins Medal, which is awarded annually to a PhD student who completed an outstanding thesis based on work at ANSTO's Australian Synchrotron.
His research focused on structural and functional characterisation of members of the Bcl-2 family of proteins, which regulate a critical step in the apoptosis process.
BcI-2 proteins signal which parts of the outer membrane of mitochondria (the parts of a cell that turn food energy into something a cell can use) are able to allow the passage of fluids.
This research into this process called "permeabilisation" has been referred to in the science community as the "holy grail" of apoptosis research.
Dr Cowan's work focused on analysing these proteins using the crystallography and small and wide angle x-ray scattering beamlines of the Australian Synchrotron, and has provided the basis for three major published papers.
He worked as part of a world-class research team at WEHI, including his supervisors Professors Peter Czabotar and Peter Colman, along with other collaborators at the University of Melbourne.
(In October, Associate Professor Czabotar was amongst a team presented with the Prime Minister's Prize for Innovation for their roles in inventing, developing and commercialising a breakthrough anti-cancer drug.)
Professor Andrew Peele is Director of the Australian Synchrotron and was at the ceremony today to recognise Dr Cowan's achievement and present the award and prize.
"Dr Cowan's contributions have expanded our understanding of these difficult to study membrane proteins and opened many new avenues of research in apoptosis and beyond," said Professor Peele.
"The judging panel was unanimous in its selection of Dr Cowan's thesis, which was both well written in terms of logic and scientific style, and compelling in terms of its content and implications.
"The work will significantly contribute to knowledge in the field of structural biology and, in particular, to the molecular mechanisms of Bcl-2 family proteins underlying programmed cell death."
Following the ceremony today, Dr Cowan will be departing Australia to take up a PostDoc position in the laboratory of Professor Alessio Ciulli at the University of Dundee Drug Discovery Unit in Scotland.
Here he will continue his passion for understanding protein function through structural biology while also working at the interface between academia and industry.
"This work at the nexus of theory and application, translating research into industry, is exemplary of the type of work that ANSTO both undertakes and supports," Professor Peele said.
Professor Peele received the thesis on behalf of Mrs Linda Wilkins, wife of the late Stephen Wilkins, after whom the award and prize was named.
Dr Wilkins made significant contributions in the development of practical methods and instruments that can use a variety of X-ray sources.