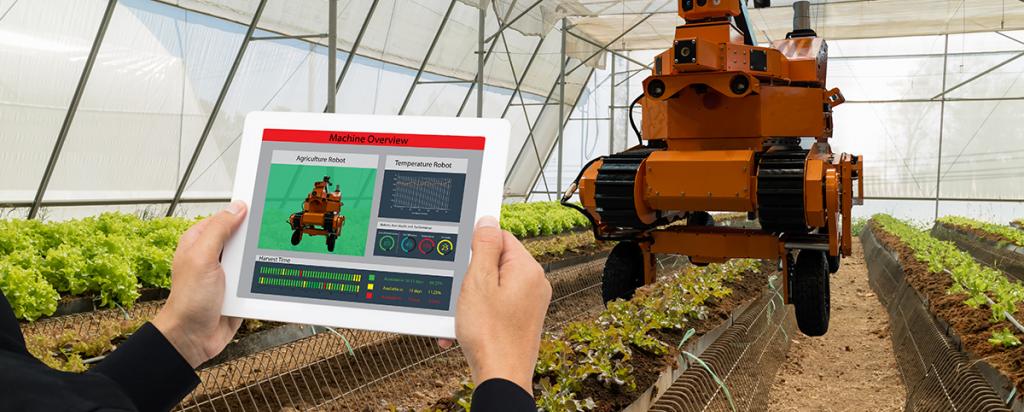 Published on the 20th September 2021 by ANSTO Staff
ANSTO is participating in a new Australian Research Council Industrial Transformation Hub in Intelligent Robotic Systems for Real-time Asset Management, being led by world-authority on robotics and automation Prof Ian Manchester, leader of the Australian Centre for Field Robotics at the University of Sydney.
Industry Engagement Manager Prof Anna Paradowska, who is also affiliated with the University of Sydney,  has been designated a Chief Investigator to collaborate on real-world application of sensors and monitors that operate in challenging environments with the potential to be applied in the nuclear precinct and other areas of ANSTO.
Group Executive and Chief Engineer Con Lyras said ANSTO will benefit from participating in the project as the development of new nuclear medicine processing facilities, and other planned assets were expected to have a significant level of automation.
"This project has the potential to lead to significant changes in the way we do things and it is something that could benefit industry as a whole," said Lyras..
Paradowska said the application of enhanced automation at ANSTO could extend to the research facilities, where there are already some robotic systems in place for positioning samples.
"This is a great opportunity to build on the experience we have with large-scale maintenance of assets and to collaborate with the group of industry partners in the hub, who are some of the best secialised robotics systems in the world," said Paradowska.
Image courtesy of the Australian Centre for Field Robotics, one of the largest robotics research institutes in the world, at the University of Sydney
Manchester leads a diverse group of academics, research organisations and industry partners that will deliver new robotics technologies in Australia to transform the way that valued assets, such as key infrastructure, are managed.
The project is building on the current robotics expertise in mining automation, marine robotics and robotics for agriculture.
Although not a major player in the manufacture of factory robots, Australia has pioneered some of the most important technologies that are used in robotics today, especially in an area called field robotics, which is working outdoors and in challenging conditions. 
This has led to the formation of a host of companies making specialised robotic systems for asset management, such as ship hull cleaning robots, manipulator arms, crawling robots, 3D mapping systems, and precise localisation and navigations systems, " said Manchester.
The main objective of the five-year grant is to develop and demonstrate never-before-seen capabilities for robotic systems that will enable them to inspect and interact with complex assets in challenging environmental conditions.
There are many potential applications in addressing a significant amount ageing infrastructure, such as bridges, buildings and dams, and assets in difficult-to-reach areas or challenging environments, such as those used in offshore exploration and power generation. 
The hub has a shared vision of the future in which teams of mobile robotic systems will perform inspection, monitoring and maintenance tasks with a high degree of autonomy. The approach could safeguard and increase the longevity of assets in a way that is cost-effective, reliable and safe.
A central concept in the project is the use of mobile robots that have a digital twin, which is based on a three-dimensional representation of the asset updated with real-time data.
The digital twin can be used to analyse specific components or assess the status of its service life.
"A novel aspect of using digital twins is that the robots can potentially be sent out to make the repair or replace a part based on the information it has collected," explained Manchester.
However, for this to happen, Australia must first overcome deep scientific challenges that need to be resolved relating to improved capabilities in mission planning, navigation and control, perception, manipulation, and mapping.
The large project team will collaborate to advance fundamental science, technological development, and industry impact of intelligent robotic systems for asset management.
Manchester said that Paradowska's background in civil engineering and materials characterisation for things, such as structural corrosion,  fatigue and extreme environments, would be valuable.
He also saw the potential to explore potential applications of the technology in an environment, such as the nuclear reactor, where high standards of maintenance were essential and the de-commissioning of the HIFAR reactor.