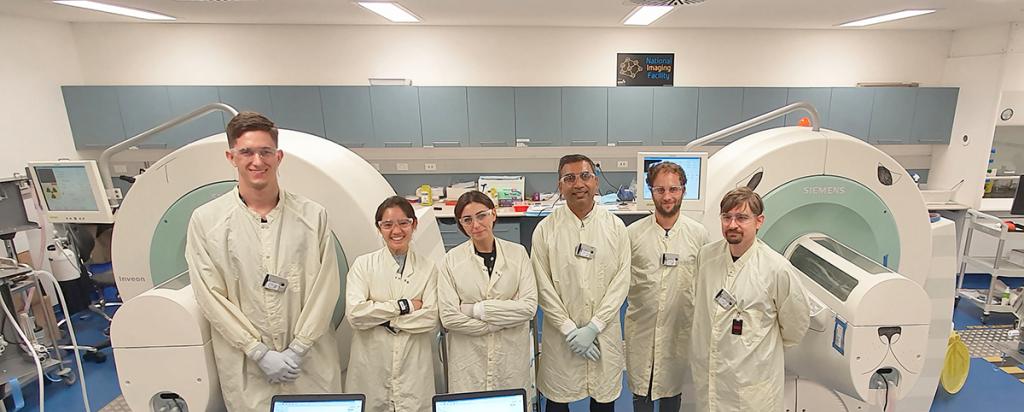 Published on the 12th April 2021 by ANSTO Staff
Following a decade of imaging to support research and clinical trials at ANSTO and the University of Sydney's Brain and Mind Centre at Camperdown, two PET scanners have been transferred to the University of Wollongong.
(left to right) Callum Barnett, Gita Rahardjo, Hasar Hamze, Dr Arvind Parmar, Andrew Arthur, David Zahra
The two instruments, Inveon multimodality preclinical PET/CT and SPECT/PET/CT scanners, were located in close proximity to ANSTO's National Research Cyclotron facility to supply short-lived radiotracers used in imaging.
Both ANSTO and external researchers from universities, hospitals, research institutes and industry had access to the scanners.
In total, Australian and international collaborators have worked on more than 36 major imaging-based projects in the period since the systems were commissioned.
"These cameras were used extensively in the last ten years. More than 6,600 individual PET, SPECT and CT scans were completed.  In terms of the volume of visual information, the scanners produced almost 18 terabytes of data,'' said Hasar Hamze, Imaging Officer, Biosciences. 
As a research hub, the site acted as a node of the premier National Imaging Facility (NIF) and as a Siemens reference site for the Inveon systems. The team often shared expertise in optimal preclinical nuclear imaging methods.
Over the past ten years, the scanners were an invaluable research tool in the fields of neuroscience, oncology, basic physiology, and radiopharmaceutical drug development and resulted in a number of papers in high-impact publications.
As the cameras neared their end of service life, plans were devised to find a new home for these scanners in Prof Michael Lerch's lab at the Centre for Medical Radiation Physics, at the University of Wollongong (UOW).  
Imaging scientists David Zahra and Hasar Hamze made significant contributions to the transfer process.
"There has been a long-standing relationship between ANSTO and the University of Wollongong. The equipment donated by ANSTO is going to be used for teaching the next generation of medical physicists in the mechanisms and principles of radiological imaging and nuclear medicine. We hope this will enhance future research collaborations with ANSTO," said Prof. Michael Lerch, Head of School of Physics, UoW.
"Although the scanners have reached the end of their lifecycle for research, they will be a great teaching tool for students of nuclear imaging," said Dr Mitra Safavi-Naeini of ANSTO, who proposed the idea and negotiated the arrangement.  
The scanner is disassembled prior to transport to the University of Wollongong
ANSTO will help with the initial installation and commissioning of the system, which was transported in the second week of April.
"In terms of sustainability, we are absolutely delighted that the scanners, which have been very productive, can be used by our long-term collaborators at UOW," said Dr John Bennett, Leader of ANSTO Biosciences.