Published on the 9th November 2018 by ANSTO Staff
Australovenator is a type of carnivorous dinosaur that once roamed Australia over 95 million years ago.
In an exciting quest to find out more about this theropod dinosaur, the Australian Age of Dinosaurs Museum, in collaboration with the University of New England are using ANSTO's Australian Synchrotron in Victoria to conduct high resolution 3D X-ray imaging of the femur of Australovenator to study its internal bone structure, to hopefully reveal how it lived.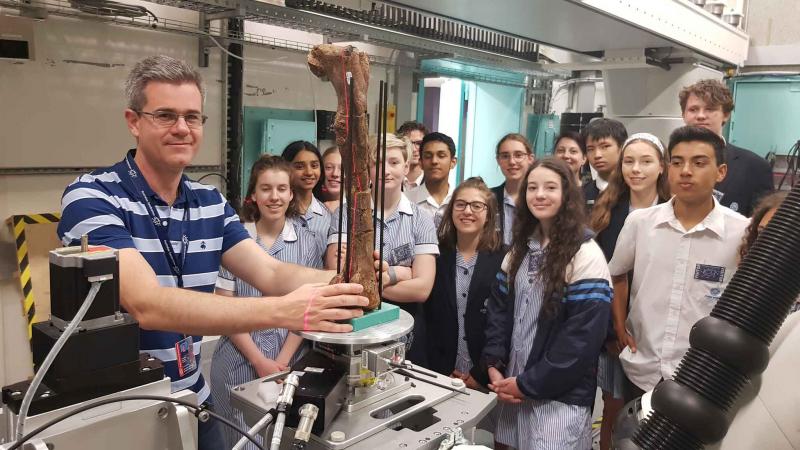 Using its flagship beamline technology, ANSTO scientists will discover more about this dinosaur through the use of Imaging and Medical beamline (IMBL).
IMBL delivers the world's widest synchrotron X-ray 'beam', which is perfect for analysing fossil relics of Australia's prehistoric past.
IMBL uses 3D x-ray imaging at incredibly high resolutions showing minute differences at the interface of air, tissues and bones. This technology allows us to see inside the fossil without causing damage to the
specimens.
ANSTO scientist Dr Joseph Bevitt, along with Dr Matt White of the University of New England will be looking to uncover further secrets from the bone, which might include details of the meat eater's age and life
history.
ANSTO's CEO, Dr Adi Paterson, said this was yet another wonderful use of Australia's Synchrotron.
"It is great to see the kids get so excited about science," he said.
"ANSTO works to get young people more involved in the wonders, discoveries and opportunities that science has to offer, and events like today can start a lifelong interest or career," he said.
Students from the John Monash Science School were fortunate enough to examine the femur of Australovenator, the 95 million year old dinosaur, as it was being scanned at ANSTO's Synchrotron.
Year 10 student, Liv Broadbent said: "This is an amazing insight into paleontology and scientific field work."
Parmis Hassani, also in Year 10, described the visit as, "An extraordinary and unforgettable experience full of innovative technologies and their use in the discovery of Cretaceous life."
"IMBL is only a few of its type and it's great to be able to show off both the femur fossil and the scientific techniques we use to high school students with an interest in science," Dr Bevitt said.
"Thousands of scientists from industry and academia benefit from gaining access to state of- the-art instruments every year."
ANSTO leverages great science to deliver big outcomes. We partner with scientists and engineers and apply new technologies to provide real-world benefits. Our work improves human health, saves
lives, builds our industries and protects the environment.
ANSTO is the home of Australia's most significant landmark and national infrastructure for research.