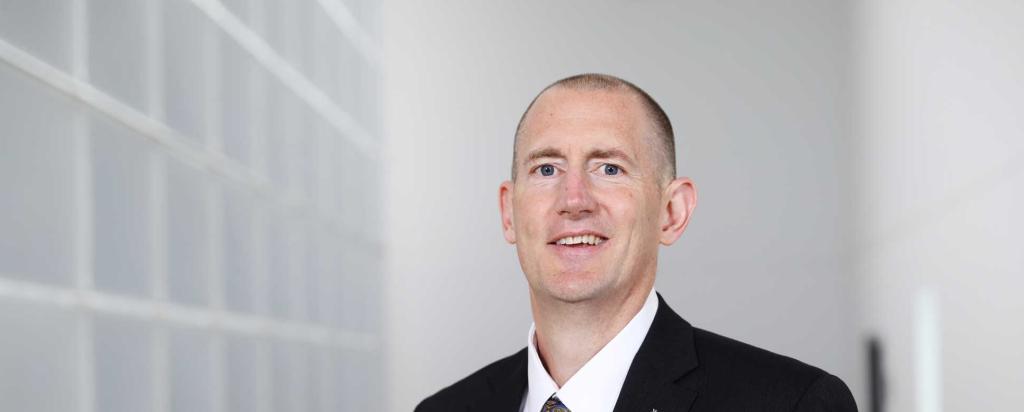 Published on the 30th October 2018 by ANSTO Staff
Professor Andrew Peele is amongst more than two dozen men and women with impressive track records in leadership and innovation, and translating that into impact, who have been confirmed as Fellows of ATSE today.
The Academy brings together the brightest minds in technology, engineering and science to offer world-leading, evidence-based, practical advice on all matters science and engineering.
Professor Peele has been Director of ANSTO's Australian Synchrotron facility since 2013. In this time he has been a driving force to secure funding for future development whilst garnering recognition of the value that the Australian Synchrotron is able to deliver, particularly in the areas of health research.
ANSTO's Chief Executive Officer, Dr Adi Paterson, said he was delighted but not surprised by the election. 
"The synchrotron is a force for medical and industrial innovation, and I doubt they'd have been able to keep the lights on or achieved what they have, without Professor Peele," Dr Paterson said. 
"Professor Peele has been instrumental in working with the Federal Government to stabilise funding, and with the private sector to secure technology expansions, and we are extremely grateful to him, the federal government and other partners for their ongoing support. 
"From cancer research through to studies that benefit our agricultural, engineering and manufacturing industries, the synchrotron exemplifies applied science at its best.
Most recently, ANSTO welcomed progress on the use of phase contrast tomography using synchrotron radiation for more accurate and earlier diagnosis of breast cancer, a project that Professor Peele supports and champions.
"Professor Peele has worked tirelessly to deliver these exemplary outcomes at the Synchrotron, while, at the same time, securing its future and promoting its capacity to facilitate scientific investigations to benefit Australia and beyond," Dr Paterson said.
"Today's announcement is wonderful news for ANSTO and Professor Peele, and, if I may say so, for the Academy."
"This Fellowship is a testament to Professor Peele's dedication and hard work in improving people's lives through the use of powerful synchrotron X-rays and infrared radiation as well as his work in supporting science as President of the Australian Institute of Physics."
Professor Peele said he was excited and humbled.
"I am honoured by this election and grateful to the Academy, and I hope that my experience can be of use in furthering the aims of the Academy," he said.
"This is an incredible opportunity for me, and I hope I can bring some benefit back to ANSTO. In particular, I would like to acknowledge the wonderful team that ANSTO has at the Australian Synchrotron, who, in partnership with Australia's research community, have delivered over a decade of innovation and spectacular science."
Academy President, Professor Hugh Bradlow, said the new Fellows strengthened the Academy's aim of ensuring that Australia remained a world-leading technology economy.
"We're motivated by what's best for our nation's future," he said. 
"And we do that by bringing together the brightest minds in technology, engineering and science to offer impartial, evidence-based, and practical advice."
Today's confirmation is ahead of the annual meeting of the Academy on the 23 November in Melbourne, where all of the new Fellows will be welcomed in an official ceremony.
ANSTO Media Contact: Phil McCall 0438 619 987